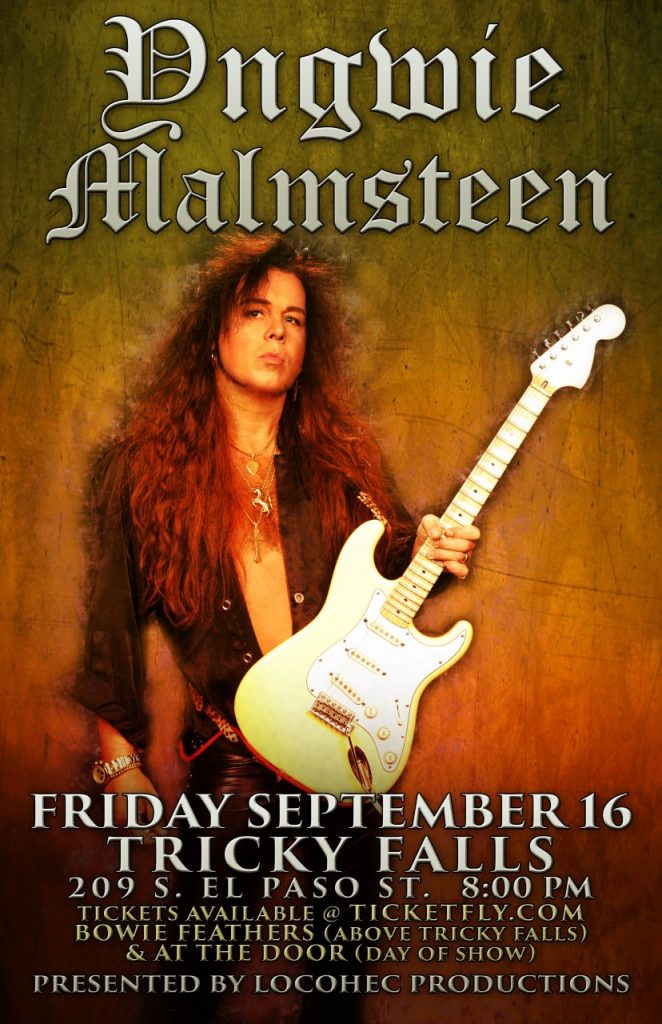 Very few moments in our lives do we get to witness legends stand before us. This Friday September 16, 2016 at Tricky Falls we will get to see not only a music legend but also a guitar god. Yngwie Malmsteen is coming to El Paso.
From the moment he first appeared on the music scene in 1982, the 18-year-old Swede named Yngwie J. Malmsteen raised the bar on guitar playing by bringing forth an articulated style of superior fast playing. The guitar world was forever change. Fusing classical and metal rock, hinted at earlier by Blackmore and Rhoads, Yngwie perfected what would be deemed neoclassical rock, his trademark signature style. In a time when metal was coming to the forefront of main stream, his talent and fiery execution of arpeggios and scale runs led the way for the shredding guitar style which dominated the late 80's. He was lightning fast but with a style all his own that set him apart from the naysayers and copycats. Driven by a passion and love for the instrument, his fingers blazed across the guitar neck in fluid like finesse, against a wall of thunderous chords creating a roller coaster ride of sonic emotions. It was passion and grace amidst a rapid-fire machine gun fury of searing notes. His live performances brought it all together in showmanship and performance leaving audiences in awe of his guitar virtuosity. He was a legend early on.
Now 53, Yngwie has toured the world over for close to 35 years, releasing over 20 some albums.  His latest effort WORLD ON FIRE showcases his trademark Malmsteen neoclassical metal with a less overproduced sound. He gives the listener the core and heart of the songs without the grandiose tweaking and wall of sound layering of previous studio albums. It is more in line of how he writes and presents the songs before they get dissected and built upon. The album is a barrage of blistering notes with him singing lead vocals, a rather surprising good effort on his part that lends itself to capturing the intended mood of the songs and lyrics. The album was released this past July so El Paso fans might be able to hear some of this new material played live for the first time. Yngwie's tour schedule as of right now only has El Paso and Irvine, California back to back so this show in itself is a very rare concert appearance for Yngwie Malmsteen playing El Paso. Get your tickets at Ticketfly.com or at the door the day of the show. Doors open at 7 pm and there is no opening act. Multitudes of thanks to Locohec Productions for making this happen.
From the beginning Yngwie Malmsteen has delivered his music on his own terms without making any compromises or giving any apologies. Loved or hated, his style of music is still revered throughout the world. There are guitar heroes and then there are guitar legends, and then there is Yngwie.