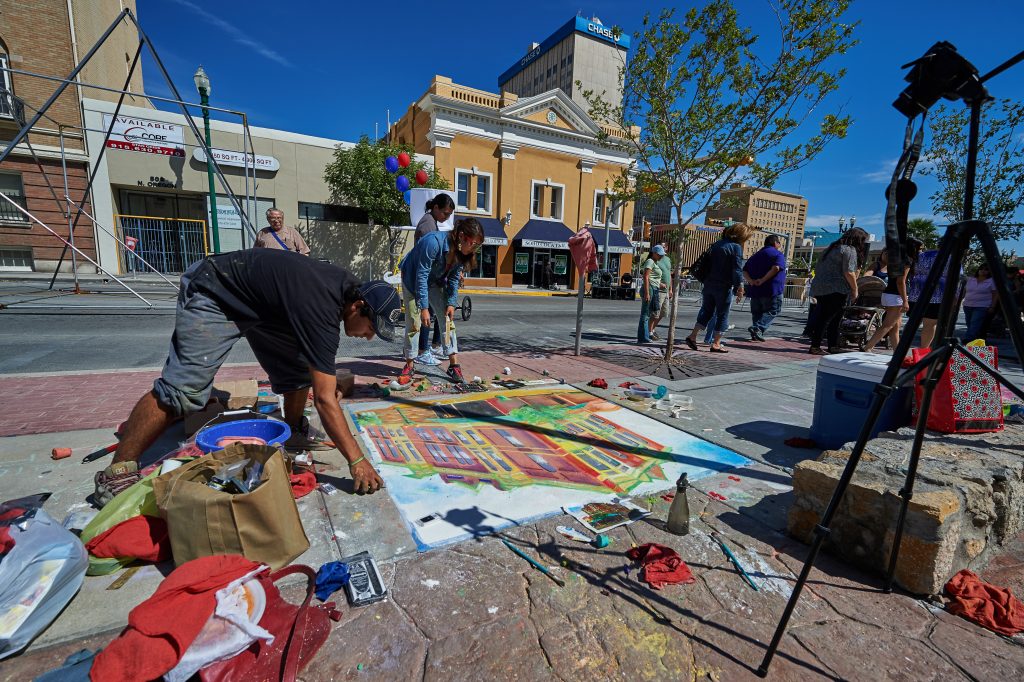 Downtown El Paso will soon be chalk-full of art lovers on October 9th to the 11th as Chalk the Block unleashes an explosion of creative energy across the Arts District for its eighth consecutive year. What started out as a one day sidewalk gallery of 12 chalk artists has become a multi-day, multi-street bonanza of more than 200 visionary talents, internationally acclaimed performers and artists that attracts over 40,000 people each year.
While most may reserve the joy of chalk drawings to their elementary years, Chalk the Block encourages all attendees to grab a piece of chalk and start drawing wherever they please. After they're done scribbling on Santa Fe Street, they can stroll through the festival grounds to watch over 50 sidewalk chalk artists compete for top honors in 3 categories: student artists, emerging artists and showcase artists.
The process for creating a single work of chalk art isn't simple; each piece requires hours of diligent planning and execution, only to be washed away with the elements after the fest is done. It's precisely that fleeting quality that adds to the beauty of this festival. For many of the artists, the process of creating the art is a type of performance in itself that can be more gratifying than the finished work. The festival is something you truly have to experience, because once it's over, you've missed out.
Though chalk art is at the heart and soul of this event, festival attendees definitely don't want to miss the featured artists. "Every year, we're on the lookout for fun and highly interactive installations," said Ben Fyffe, assistant director of the El Paso Museums and Cultural Affairs Department (MCAD). "People can come to Chalk the Block and see something incredible that has been seen around the world."
This year, Chalk the Block will feature 5 national and international temporary art installations: Hungry Castle's "Laser Cat," Maximo Gonzalez's "Walk Among Worlds," Los Dos' "Stargazer," Alice Farley's "Imaginarium" and an interactive pavilion designed by the El Paso Chapter of the American Institute of Artists in collaboration with EPCC and the Texas Tech School of Architecture.
El Paso art enthusiasts might recognize "Stargazer" when they see it. The giant, inflatable installation commissioned by MCAD is what Fyffe describes as a "beautiful synthesis" of husband and wife artistic team known as Los Dos. "We want to empower local artists to do something on a grander scale and for the pieces take a life of their own," Fyffe says.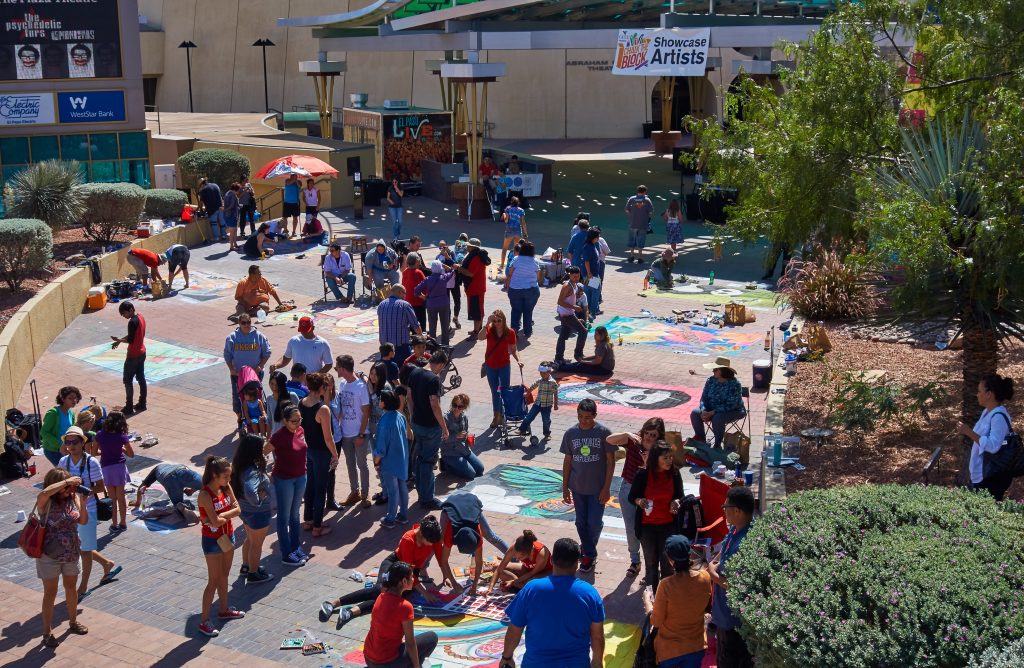 Getting your hands full of colored chalk-dust is just one of the fun and interactive things you can do while exploring the festival. Make sure to check out the American Institute of Artists' pavilion where you can touch and weave the elements on the installation yourself, or say hello to one of the out-of-this-world "Imaginarium" characters walking through the streets. Chalk the Block will also feature several local bands, food trucks and activities for children to get immersed in.
Chalk the Block is made possible by the Museums and Cultural Affairs Department and the El Paso Community Foundation and sponsorships from local businesses, most notably Rudolph Dealerships who will be giving away a Mazda 3 during the festival.
Get Connected:
www.chalktheblock.com
Facebook.com/chalktheblockelpaso
Twitter.com/chalktheblock
#CTB2015
Text: Crysti Couture | Photos: Courtesy of CTB