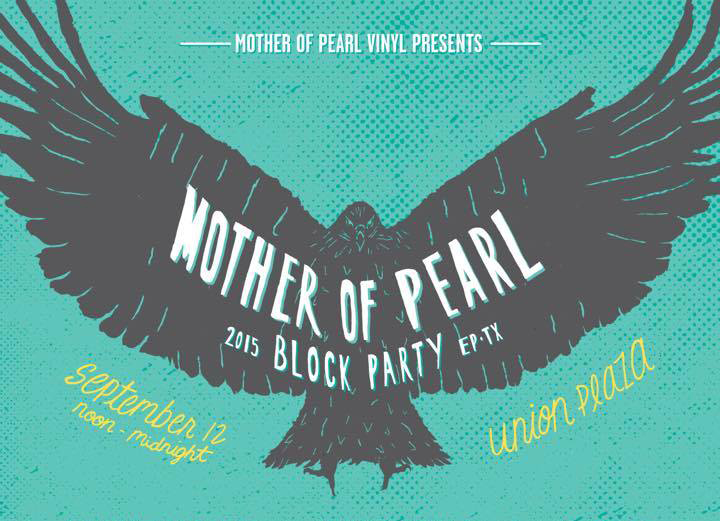 Mother of Pearl Vinyl has been pretty busy this year, and not just consistently stocking the bins with new wax, but also having events such as collaborating with the Punk Rock Flea Market, doing fun stuff like the Record Store Day Slumber Party, putting together a SXSW showcase in Austin (with the Chico's Tacos and Big Bend Brews flowing, provided by them) and releasing a record by synth poppers Part Time—and they haven't even been open a year. What's next for the record store and label? A free block party.
The action goes down Saturday September 12 in the Union Plaza, general admission is free (yes, free) and all ages. VIP will be available for $45 and will include 3 exclusive VIP areas by the main stages with 5 complimentary drinks, plus admission into the Garden for a special guest DJ yet to be announced. Already confirmed are Stone Throwers Peanut Butter Wolf and J Rocc, Neon Indian and Mike Jones. Local bands include Mattox, Nalgadas, Part Time, Sluur plus 30 local acts in total will perform.
Co-owner of Mother of Pearl Eddie Cepeda is exited for the event. "We just wanted a line up that include basically all the music we love," said Cepeda. "Having Peanut Butter Wolf and J Rocc is really exciting on many levels because not only do they represent Stones Throw, which in itself is a diverse label, but they bring a certain energy and music selection we love. And Mike Jones fits in perfectly because he's just awesome and his music bangs."
Local bands will rub shoulders with the big names as they share the stage and rock out to a big crowd. "Honestly, I'm most excited to see all of the amazing local talent we have playing on the bigger stages than they might be used to. Nalgadas, Mattox and Sluur are bands that are on our label or closely associated with us, so it will be great to see them with proper sound and lighting in front of thousands of people," Cepeda said, "and we're really excited for Tolidos. Back when I was starting my first punk bands we played a lot of shows with Ultra Tolidos Sonicos, who became Tolidos later on, and became this big touring band in Mexico. It's awesome to see Luis (Cortes, the singer) still making music after all these years, kinda coming full circle with it."
With a crazy line up that also includes El Paso favorites Neon Indian, it's an event that can't be missed. Don't sleep on this El Paso, it's time to party.
facebook.com/events/1585925391687996/
facebook.com/Mother-of-Pearl-Vinyl