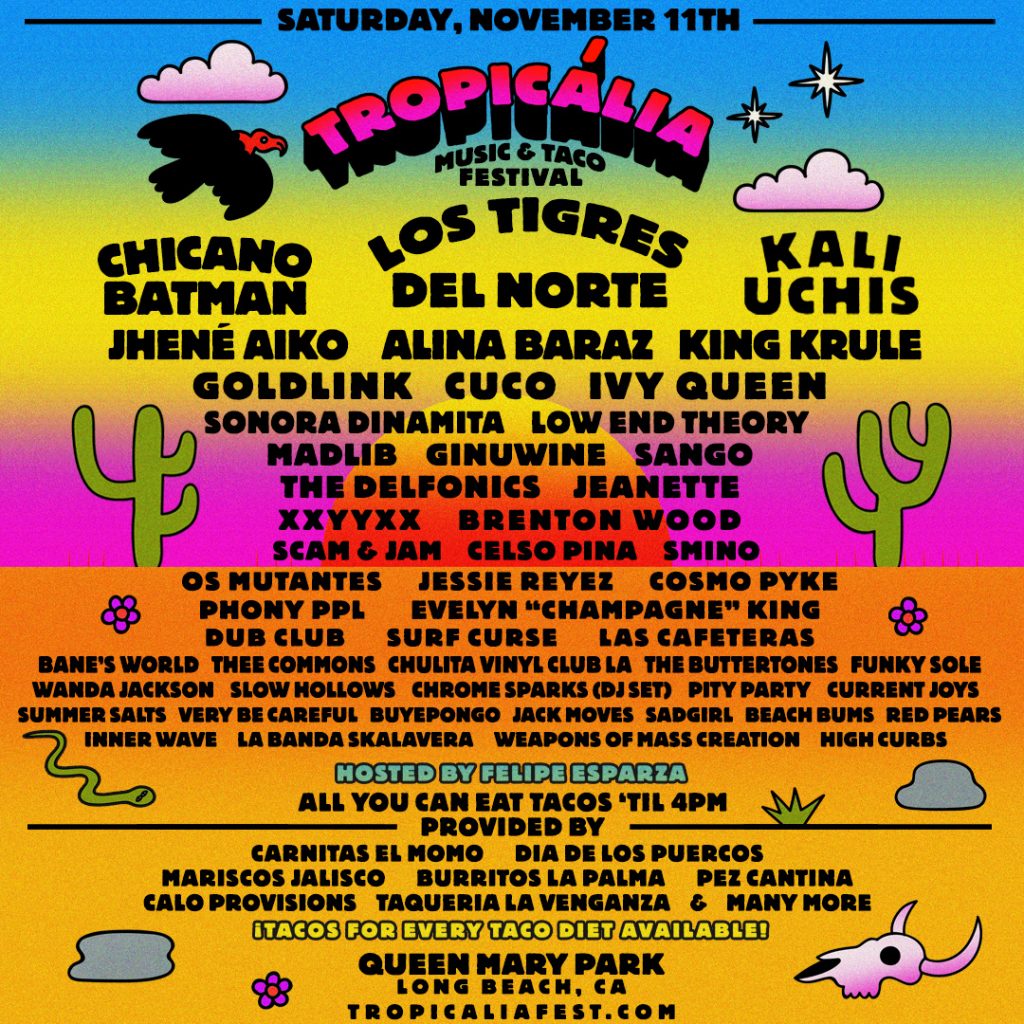 Text: Josh Luna
Who says music festival season is over? The Observatory Group from Santa Ana, CA, is set to put on Tropicália Music and Taco Festival on November 11, 2017, at the Queen Mary Park in Long Beach, CA.
Tropicália's goal is to keep the crowd dancing all day long with their eclectic lineup which is certain to resonate with fans of any genre of music ranging from electronica, lo-fi, Regional Mexican, 90s hip-hop, 70s soul and 50s rockabilly. There will be performances from soul music legends Brenton Wood, The Delfonics and the queen of rockabilly Wanda Jackson.
A throwback performance from RnB star Ginuwine will have fans reminiscing about the 90s, while the modish lo-fi singer/songwriter/rapper King Krule will offer a more futuristic set. Latin music will have a strong presence throughout the day with performances from cumbia group Sonora Dinamita, Celso Piña and Os Mutantes.
Los Angeles will be well represented by local talent Very Be Careful, Las Cafeteras, Buyepongo and La Banda Skalavera, plus plenty of DJ sets and ambiance. L.A.'s very own funk rockers Chicano Batman and indie-pop/electronica Columbian songstress Kali Uchis will make sure the beats keep the crowd moving and ready for the final act.
Norteño music icons Los Tigres del Norte are set to close out the festival where the plan is to send the crowd into a frenzy of Norteño dance twists, twirls and caballito kicks. Rounding up the rest of the lineup are artists like Jhené Aiko, Smino, Madlib, XXYYXX, Jack Moves, Cuco, Sango, Goldlink, Inner Wave and many more.
The event will be hosted by East LA comedian Felipe Esparza, who is best known for his raw, real-life comedy, his irreverent on-stage persona, wild hair and his often-imitated phrase, "What' sup fool?" 
The festival will also be featuring all-you-can-eat tacos provided from some of the hottest spots in town such as Carnitas el Momo, Dia de los Puercos, Mariscos Jalisco, Burritos La Palma, Pez Cantina, Calo Provisions, Taqueria la Venganza and much more.
Tropicália Music & Taco Festival's general admission tickets are on sale now starting at $75, and ranging to $95 as the festival date draws closer. VIP admission starts at $150, with packages like "Rage on the Stage" selling for $500. Those who want the ultimate VIP treatment can opt for "VIP Legend" and "VIP Cabana" packages.
View the entire line up and purchase tickets at http://www.tropicaliafest.com