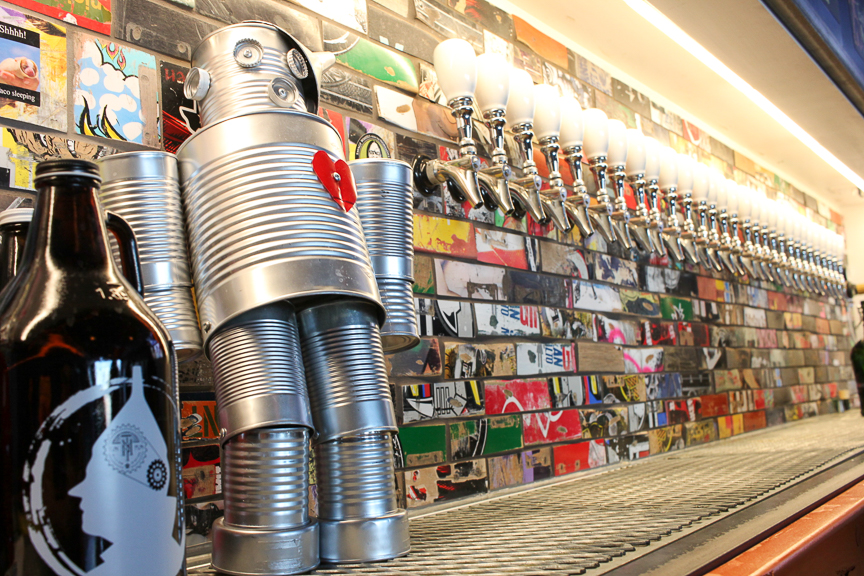 With more and more craft beer places popping up in El Paso, it's getting harder to stand out from the crowd. The guys at Tin Man have conquered that obstacle and established the city's first-ever growler filling station.
"The concept itself is not new; it exists all over the U.S. in all the major markets," said Kenji Shigematsu, Tin Man co-owner. "But there wasn't one here that did just growlers. We saw the need here and just did it."
Tin Man, located at 2301 N. Zaragoza, is also the only joint in town that sells Texas craft beer exclusively. Breweries like Cedar Creek, Deep Ellum, and No Label grace their taps, as well as El Paso's own brewing pride and joy, Ode Brewery, DeadBeach Brewery and Sun Brewing Co.
The Tin Man concept is the creation of business partners Shigematsu and Moises Alvarez. The location of the station is the far east side on Zaragoza. The reasoning behind opening on this side of town is two-fold.
"There are really no options for craft beer on this side, and we wanted to meet the demand,"  Shigematsu said. "Plus there's so much potential for growth on the east side."
Despite the stigma "Bud Light or Die" on the east side, Shigematsu says business is booming and they already have a healthy amount of regulars from the surrounding area.
We're looking at the whole market, and there's a need for what we're doing.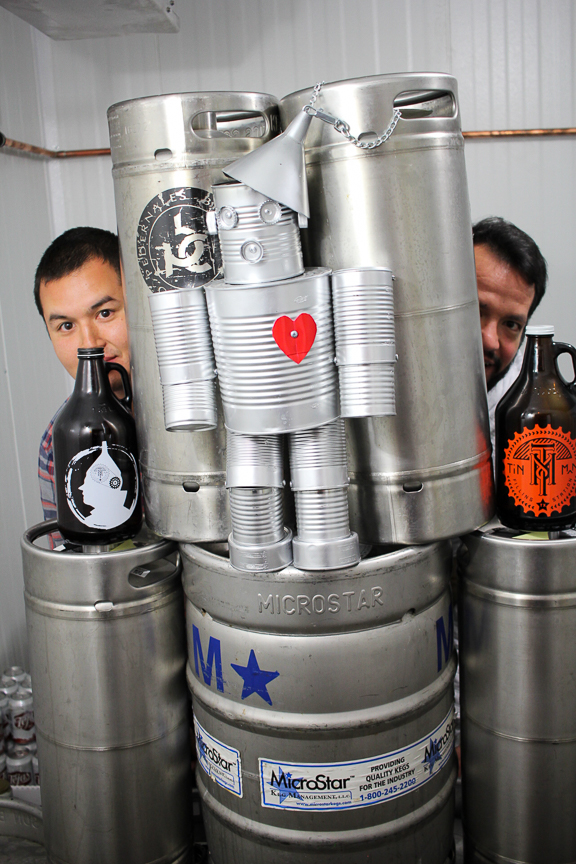 Another unique aspect of Tin Man lies in its décor. Reuse and reclaim are the buzz words  at the establishment. Repurposed bowling alley flooring, discarded skateboard decks and reclaimed metal have been enlisted to create a distinct allure and evoke a cozy, comfy feel, helping to shed the snooty stereotype that is often associated with the craft beer experience. Shigematsu said they wanted to create a welcoming atmosphere where people could relax and hopefully make craft beer more approachable.
Tin Man has 8 one-of-a-kind growler designs, including one that sports its namesake. And for all you tree huggers, they sell an eco-friendly version, the Eco Growler, which bears a strong resemblance to a monster-sized Capri Sun pouch. "You can take it places where glass isn't allowed and when you're done with it you can fold it up and put it in your pocket," Shigematsu said.
The average cost to fill your jug with frothy goodness at Tin Man is about $10. Considering each 64 ounce growler is almost equivalent to a 6 pack, there is a slight economic advantage to purchasing beer this way. Add to that the fact that you can't get beer any fresher than on draught unless you were to grow a long, scruffy beer and brew it yourself, Tin Man has capitalized on a delicious, lucrative concept.
It's all about the growlers; we want people to come fill their growlers, go home and have fun with their families
Tin Man boasts an impressive 29 taps of Texas beers and ciders, most of which get rotated on a weekly basis. The guys are always on the hunt for new and exciting brews to serve along with their top sellers.
Beer by the pint or flight is also available for folks who want to park it on any of the bar's 16 beer keg bar stools, each adorned with a hand-painted local icon or quirky pop culture image. You may find your rear on top of Chico the Chihuahua, a hops blossom or the deadpan expression of Hank from the TV show "King of the Hill."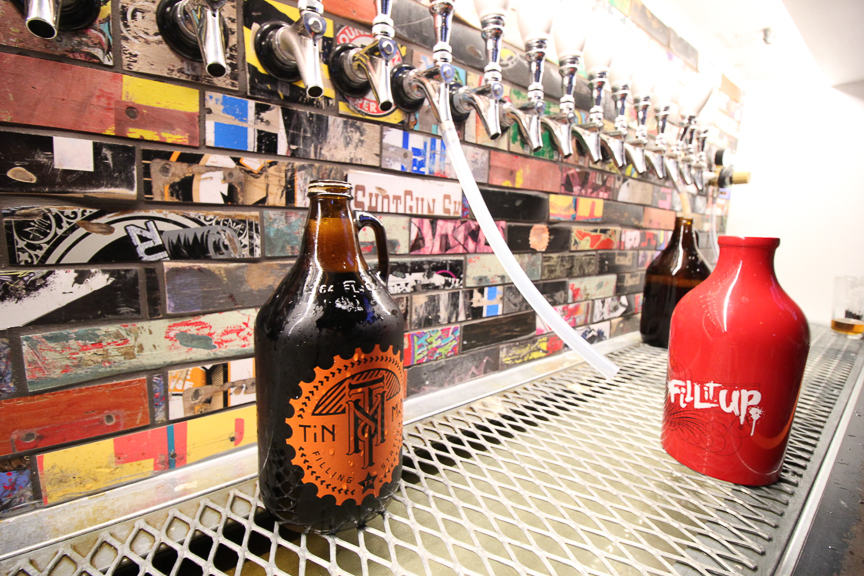 Shigematsu stresses the focus on the growler service though: "It's all about the growlers; we want people to come fill their growlers, go home and have fun with their families."
Plans for westward expansion are in the works and will come to fruition by May of this year. The team is opening Tin Man at TIME at Montecillo. This location will be the same size and will include a patio.
"We're looking at the whole market, and there's a need for what we're doing," Shigematsu said. "We're the only ones taking care of the market, so we might as well just do it, and open on the west side."
Tin Man has regular promo days: Sundays celebrate "Kill the Keg" with $3 pints and $7 growler fills. They kick off the workweek with the Texas Three Step and $3 IPA pints. The weekend gets underway early on Thursdays with buy a fill and get a second fill for a penny.
facebook.com/tinmanep | tinmanep.com
Text: Denise Nelson Prieto | Photo: Alex Durán