The Stress Free Tour feat. Pep Love, Opio, Equipto, L*Roneous, Z-man, Otayo Dubb, Michael Marshall, DJ True Justice & Zyme will be hitting El Paso April 11th. !
Equipto, one of San Francisco's most prolific MC's since the 1990's has released more than 20 albums as a solo artist, group member of 3 Shades of Rhythm, Bored Stiff, & collaborator with Berner, Andre Nickatina, Michael Marshall, Opio, etc. Having toured the world and accomplished many of his goals in music, the Stress Free Tour will be his last tour as a solo artist as he's recently announced his retirement from Hip Hop.
To concert attendees of this month long journey, it mirrors the '90s again with the underground Hip Hop scene being vibrant and full of great music. Highlights will include: Pep Love & Opio of Hieroglyphics debuting their joint album 1st Light. Also, Equipto who has collaborated with a vast amount of talent on a second Red X Tapes album. Soulful, Veteran Bay Area vocalist: Michael Marshall of Timex Social Club. Enthusiastic stage antics from Z-Man of One Block Radius. Serious lyricism from L'Roneous (back with a vengeance after a brief hiatus) and Otayo Dubb whose new album, Cold Piece Of Work, is packed with crisp beats & has given birth to very creative videos. This will prove to be an awesome performance night after night with all shows being anchored by The Bay Area's Most Exciting DJ, Guerilla Funk Recordings' latest signee: True Justice and Hosted by the always entertaining Zyme of The World Famous Bayliens Crew.
Date: Aprill 11th
Venue: Frankies East (upstairs)
Ages: 18+
Tickets: $12 Pre-Sale (under 21 + $3 surcharge @ the door)
Pre-Sale Tickets:
Buy Tickets online
http://holdmyticket.com/event/131919
Pre-Sale Ticket Locations
All That Music
The Headstand
Golden Goose Tattoos
The Pizza Joint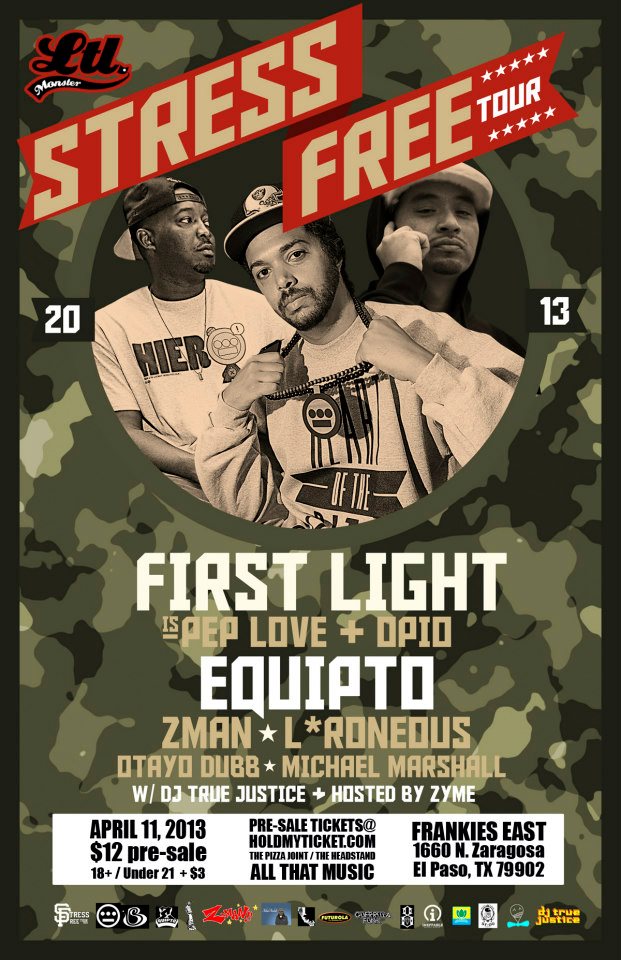 For more information about the artists check out:
Pep Love:
http://www.peplovemusic.com/fr_home.cfm
Pep Love, is an American hip hop artist and motivational speaker. He is also one of the founding members of the Oakland, California-based underground hip hop collective Hieroglyphics.
Opio: http://opio.bandcamp.com/
A member of the four-member, Oakland-based underground hip hop group, Souls of Mischief, and the eight-member, underground hip hop collective, Hieroglyphics.
Equipto: http://www.facebook.com/pages/EQUIPTO/479597120499
L*Roneous: http://www.facebook.com/pages/LRoneous/119594684800042
Otayo Dubb: http://www.facebook.com/otayodubbmusic
Z-man: http://www.facebook.com/pages/Z-man/230497610175
Michael Marshall: http://www.michaelmarshallusa.com/bio/
DJ True Justice: http://www.facebook.com/djtruejustice
Keep in the loop. Follow Ltl Monster:
http://www.facebook.com/ltlmonster