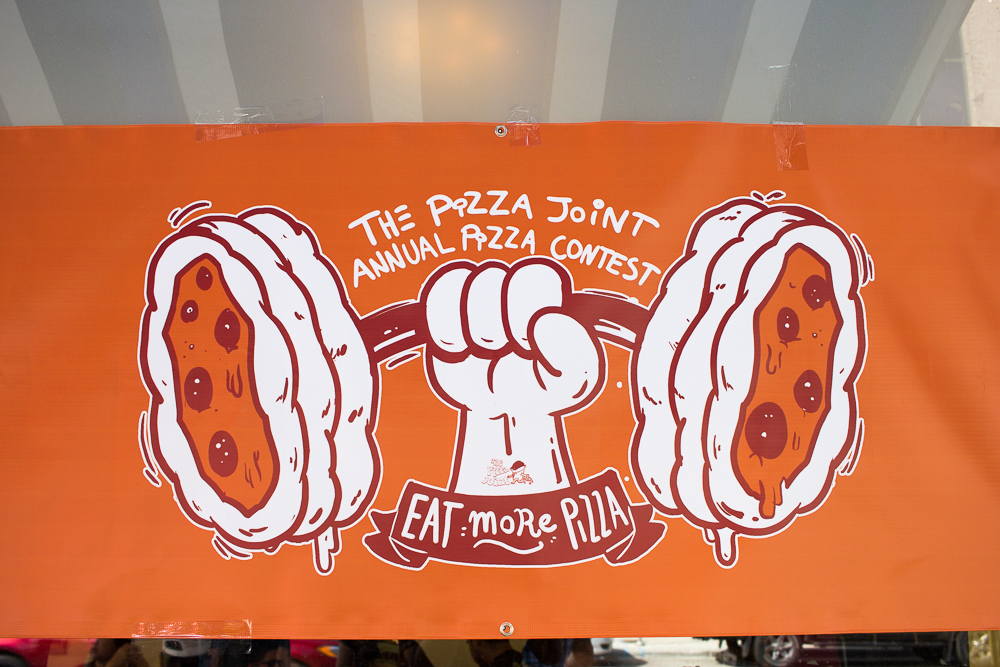 Text: Valeria Contreras | Photos: Alex Durán
Pepperoni. Cheese. Pierre's Red.
Oh, and don't you dare leave that freshly baked crust behind.
At The Pizza Joint, Mel Maese and her team have been serving fresh pizzas for 5 years. Creating 20-inch pizzas from scratch, The Pizza Joint makes their dough and sauces daily for its hungry and loyal customers. The process is simple, but artistic—combining different toppings, colors and food textures for all types of palettes.
It was after 5 successful years creating giant pizzas that Maese was urged by the community to put the town to the test, and so an idea came to life with a simple question—who can eat a 20-inch pizza the fastest?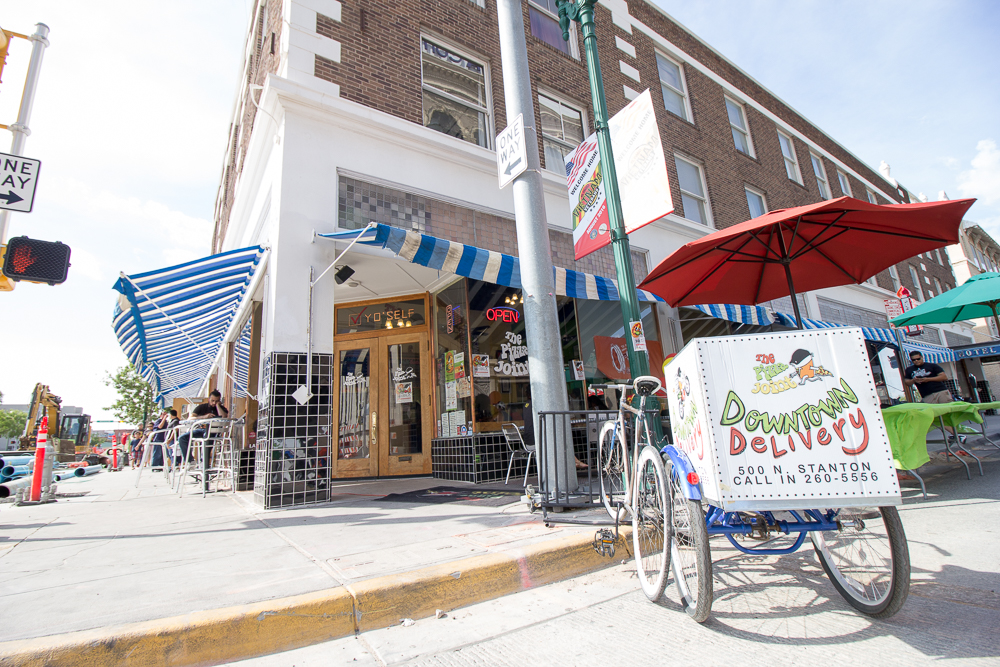 With the first annual pizza-eating contest, the winner would take home a free pizza every week for one year. The winner would also earn bragging rights as their name went down in local history—and on The Pizza Joint's wall.
The idea attracted the attention and interest of over 1,000 people on the Facebook event, as well as the press. In total, about 29 contestants stepped up to the challenge, as a crowd of over 200 people watched along Stanton Street.
And on a beautiful, sunny El Paso day, the contest began.
"It was fun! We had 3 rounds of 10 people competing in each round. It was a line of people, a line of pizza. We watched people eat as much food as they could as their friends and their family supported them," Maese said.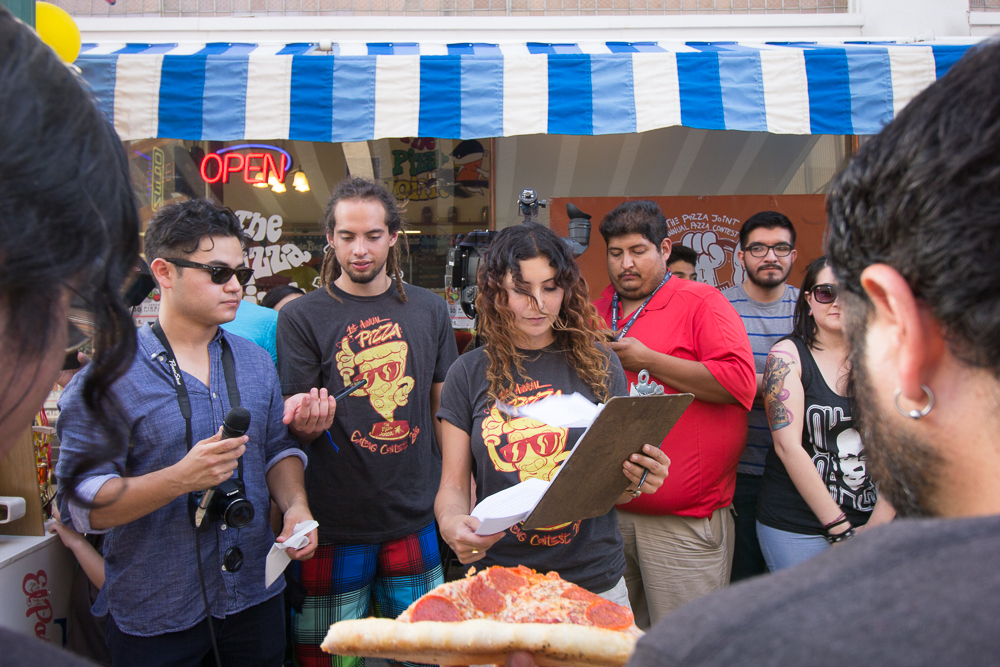 While some eager participants practiced leading up to the event, others came only mentally prepared. As the crowd surrounded the participants, the contestants brought their A game and pizza eating strategies. Some ate by the slice, while others opted to fold the pizza prior to digging in. In the end, David Rodriguez was the winner, finishing the entire 20-inch pizza in 10 minutes and 12 seconds.
The aftermath?
"A food coma. A horrible food coma," Rodriguez said, with a laugh. "But of course I redeemed my free meaty pizza 2 days later."
Although Rodriguez was the pizza-eating winner, the biggest success of the night was the sense of community felt at The Pizza Joint.
"We wanted to create a challenge and an event that brings people together," Maese said.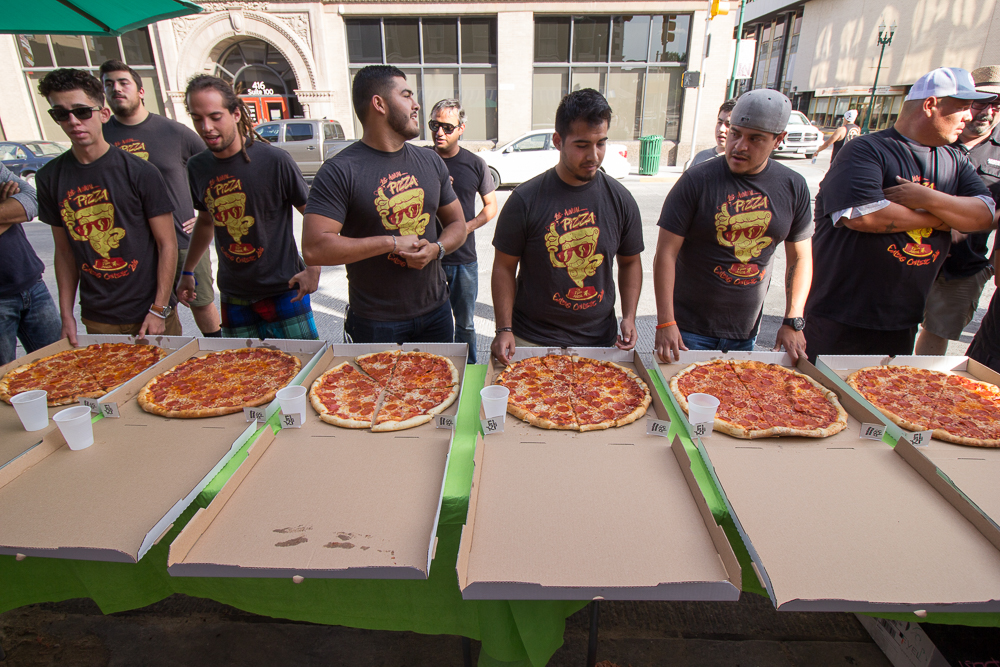 Throughout it's 5 years of business, The Pizza Joint has been notorious for doing just that, so it is no surprise that the event had a communal focus. The place itself is home to several artists and musicians, especially on open mic nights every Wednesday. Maese takes pride in supporting the local music scene and especially loves the artwork hanging on the walls, all created by El Paso artists.
"There's a lot of talent in El Paso and I try to support them because it's a circle, it's a cycle. It's one of the coolest things about being your own boss, you can make the kind of decisions that impact other people's lives. The foodies, artists, musicians and the student body, I feel connected to all of those different realms because of pizza," Maese said.
It is this love for pizza that brings musicians together on stage. But it is the sense of community and acceptance in the restaurant that has inspired the shy college kid, as well as the average, inebriated bar hopper, to give it a shot. In fact, it is on this stage where friendships and bands have been made, some who have since performed at bigger venues, such as The Lowbrow Palace.
The Pizza Joint has been so successful in gathering the community that Maese plans to continue hosting the open mic nights. She also plans to turn the pizza-eating contest into an annual tradition. Maese takes great pride in supporting her community because ultimately, the community has supported her. She enjoys sharing her space and feels that El Paso is the perfect place to do it.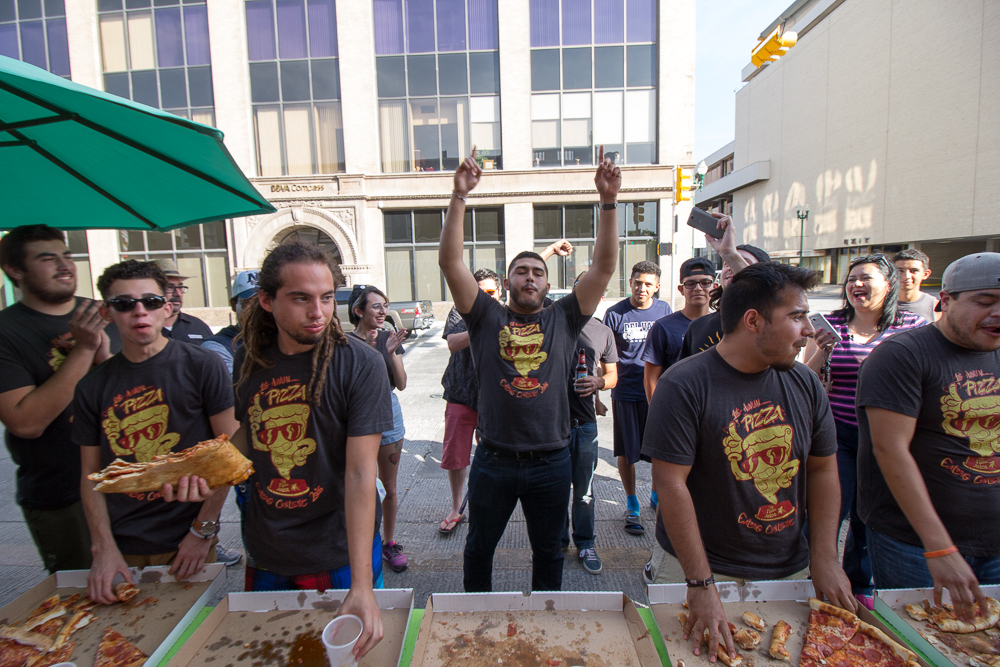 "I'm happy and I'm really excited to be a part of all of the change in El Paso," Maese said. "Had I gone to another city, The Pizza Joint wouldn't matter so much because there's so many things that are already happening, already commercialized. In El Paso we still have our identity. We can still create and show our personality and I think that's what The Pizza Joint does; it's really connected to the community, the musicians and the artists. I feel that it's an outlet for all of El Paso to express themselves."
It is elements like these that make The Pizza Joint a special, unique asset in El Paso's culture, because when you grab a slice of pizza, you also grab a slice of life.
—
The Pizza Joint has two locations:
-Uptown (By UTEP)
2900 N Mesa St # F, El Paso, TX 79902
-Downtown (In Pride Square)
500 N Stanton St, El Paso, TX 79901
Slice of Advice:
Pro Tip #1: They'll deliver to your office and save you from your hangry co-workers.*
Call (915) 260-5556 for help.
*No promises.
Pro Tip #2: They're open late.
And I mean super late, perfect for an after party snack.
Hours of Operation:
Mon : 11 am – 8 pm
Tue : 11 am – 8 pm
Wed / Thu : 11 am – 12 am
Fri : 11 am – 3 am
Sat : 3 pm – 3 am
Sun : 3 pm – 10 pm