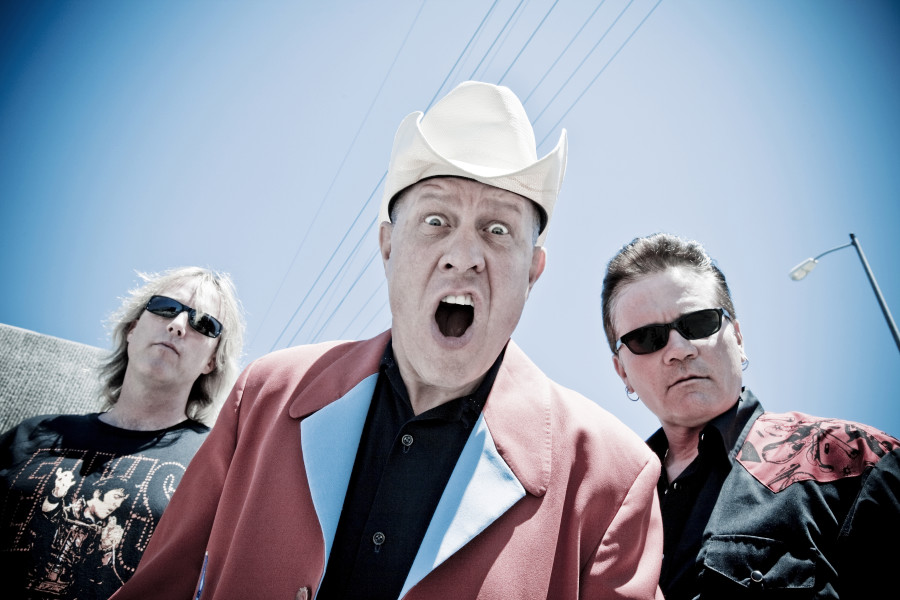 Text: Valeria Contreras | Photo: Courtesy of Reverend Horton Heat
At the upcoming Great American Rockabilly Riot, you'll be able to hear rockabilly music booming, with an energetic performance by none other than the godfather of modern rockabilly and psychobilly himself:
Jim "Reverend Horton" Heath
After touring the country at renowned festivals, such as Coachella, Heath and his band, The Reverend Horton Heat, will make a pit stop in the Borderland to entertain loyal Kustom Kulture fans with his wild, lively music, and tongue-in-cheek lyrics. His music has given The Reverend a dedicated, cult following, one that has accepted him as an important member and leader of popular Kustom Kulture.
The Reverend is a talented, Texas native who started his band in 1985, playing his first gigs in Dallas bars. At the time, Heath's tunes almost felt like gospel to his fans and was dubbed "The Reverend" by one of the bar owners. Eventually—the name caught on.
Since then, The Reverend has released 11 successful albums, and has even featured his songs in video games, cartoons and commercials. Most notably, fan favorites such as Beavis and Butt-head, Tony Hawk's Pro Skater 3, and Guitar Hero 2.
The Reverend's discography spans over 25 years. Starting with his first album, Smoke 'Em If You Got 'Em (1990), to the most recent, REV (2014), The Reverend continues with his well-known style of rockabilly, a genre that meshes together several types of music (such as country, R&B, bluegrass, punk, and rock 'n' roll) to create his own distinct sound. The sound echoes the energy of fast cars and hot rod aficionados and usually includes intentionally whimsical, campy lyrics.
REV's recent and popular songs include Zombie Dumb, an instrumental tribute to SoCal surf culture with a strong guitar riff, and Let Me Teach You How To Eat, an energetic tune that features lyrics with innuendos and pin-up girls in the music video.
Today, The Reverend Horton Heat is ready to make some noise on the U.S.-Mexican border. A performance veteran, The Reverand's shows are a must see, for his enthusiasm, charm, and passion comes through best when seen live, in concert. At The Great American Rockabilly Riot you'll be able to experience his famous rockabilly music first hand, and the hot rod, pin-up culture that surrounds it.
The Reverend Horton Heat is currently composed of Jim "Reverend Horton" Heath, (guitar, vocals), Jimbo Wallace (upright bass, vocals), and Scott Churilla (drums).