The Lost and Found
Morrissey Kill Uncle—1991
Seems like
I recently scored an 80s stereo system at a thrift store in the northeast—finally I get to listen to my records again; my last one sadly broke. The cool thing about my great find is that it has a dual cassette player, which I had been loosely looking for also, since I've been coming across a lot of tapes at shows from some of the touring bands (didn't you know cassettes are back?). I got to finally listen to the Dubois/Mijaas split tape, Brian Jonestown Massacre, Bad Vibes, Part Time and the Berkshire Hobbits recent tape releases, and some older stuff I couldn't pass up on my recent thrift store and swap meet outings—got some Bad Brains, The Charlatans and Mighty Lemon Drop added to the collection. Cassettes still sound good and have their own feel to them.
I decided to bust out some of my old tapes from back in the day, at least the ones that survived through the years. Wow, I forgot I had a cool Beach Boys and the Cure collection. The first thing I popped in was my favorite Morrissey album, Kill Uncle.
It's actually not one of Morrissey's favorites, and reviews have never been the best (who believes Pitchfork anyway!) but maybe I have a special connection to the album. I got handed down this cassette when I was in high school from a friend who had stolen some tapes and didn't care for this one. In the lot I also got The Cure's Standing on the Beach and Depeche Mode's Music For the Masses—although it was the 90s, a lot of people were still absorbing the 80s stuff, because it was so good. I still listen to those albums.
Morrissey's second album Kill Uncle is considered to be his weird transitional album—he had Smiths' engineer/producer Stephen Street on his side for the first one, Viva Hate, and he hadn't yet collaborated with his dynamic guitar duo Boz Boorer and Alain Whyte. Boorer and Whyte helped shape the sound of the band after Kill Uncle and the Moz finally had a solid connection with great musicians and found what he was looking for as far as the direction of the music.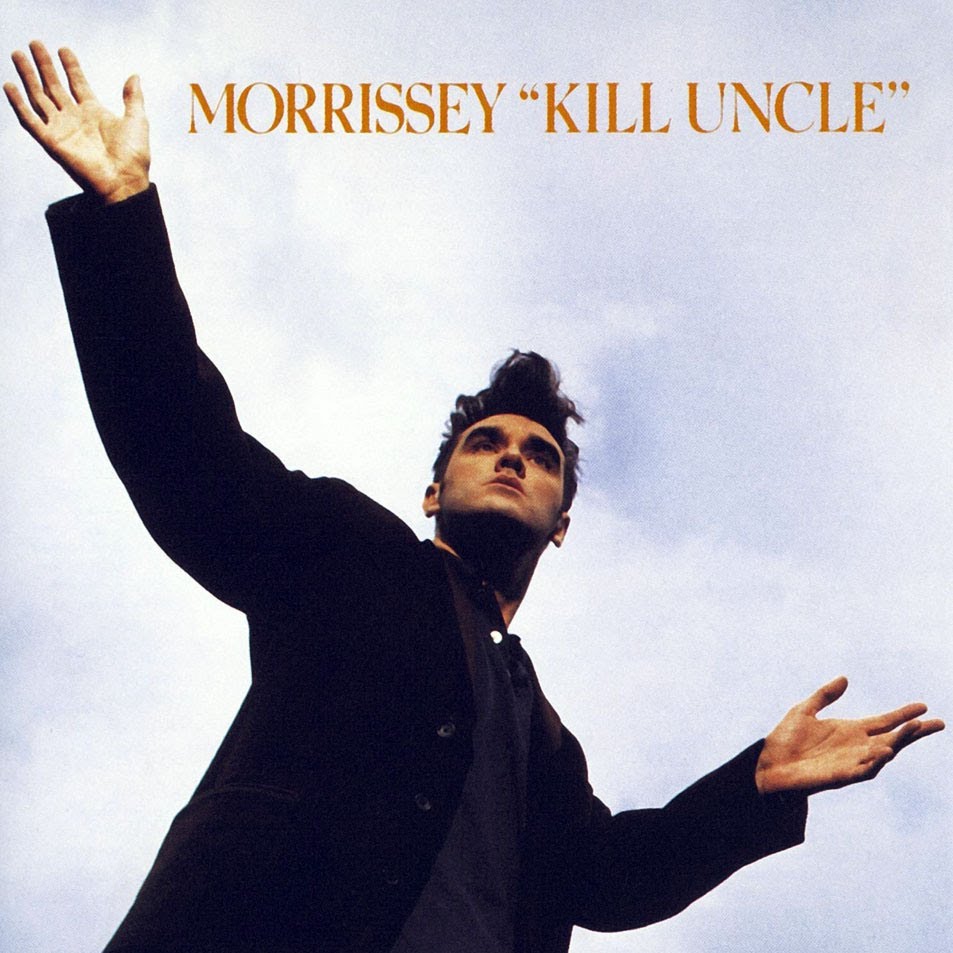 Kill Uncle does kind of stand-out awkwardly among the Mozer's discography, but its witty humor and dark undertones make it a unique listen, even without any heavy favorites and classics (not according to me, I think they're all great!).  The singles compilation Bona Drag was a massive hit, so it was already a difficult follow up.
The album starts off with "Our Frank" which also was the lead single. Right away, it sounds different than previous Moz material; especially when the piano crescendo comes in, you're like— is this Morrissey? But then the vocals come in, and the melody is great, and so are the lyrics: "Oh give us a drink and make it quick, or else I'm gonna be sick."
"Sing Your Life" is a bouncy rockabilly bopper that playfully rocks. This could be the song that sounds closest to a rock song, as most of the album sounds more theatrical , which is why I think this album is misunderstood; it's not a driving rock record, it's more like music for a play or a movie, but the songs work.  The album is balanced with standout slow songs such as the confessional "(I'm) The End of the Family Line" and the beautiful sway of "Driving Your Girlfriend Home" with its straight forward lyrics.
The album is always tongue in check, sarcastic and very dark. "There is a Place in Hell for Me and My Friends" closes out the album quietly and left many with their heads scratching not sure what to think about the album, but you either get it or you don't.  Although it doesn't have any of those Morrissey bangers like "Suedehead" or "The Last of the Famous International Playboys," the cynical weirdness of the album and quirkiness is what makes it also appealing.
The album is less rock and more baroque at times, but what carries on throughout and puts everything together are Morrissey's voice and lyrics. From all the Morrissey albums, this one is great to put on and sing along to. Sing your life.