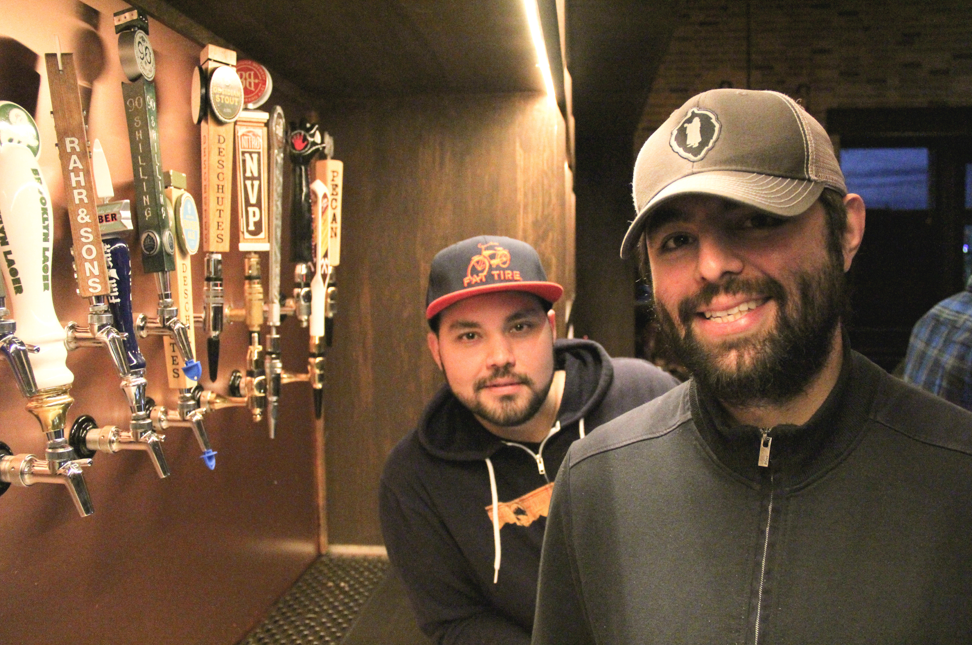 Joseph Valenzuela and Beto Longoria introduced beer enthusiasts to The Hoppy Monk, El Paso's first craft beer pub, 4 years ago. Their unique concept set in motion a craft beer movement that was seriously lacking in El Paso. Since then, these young entrepreneurs have been culturing and educating our palettes to a variety of national and international breweries. Their pub has been a success and in 2013 they announced they were opening a second location in San Antonio, TX. Their anniversary took place this past November 2015 and we had the opportunity to speak with Valenzuela and Longoria during their festivity.
What is the concept of the Hoppy Monk?

Valenzuela: The concept is that it's a collaboration of several ideas that we've seen throughout all of our travels. Whether it's in the US, in Mexico, in Brazil, and certainly in Europe, we obviously really enjoy Belgian beer, and we have some good memories of when we went to Belgium together. America has an amazing craft beer scene right now, so, we wanted to incorporate the American craft beer culture along with all the other beer cultures that we've seen throughout our travels.
How many different craft beers do you offer?
Longoria: Well, we have 99 on tap on our wall; 30% of those rotate. The selection varies throughout the year, depending on the season, depending on what we can get our hands on. There's a lot of specialty, limited release that these guys put out and, I mean, I can't give you like a set number, but there's a lot of variety that actually keeps our customers happy and coming back. Every time you come to the Hoppy Monk, there's always going to be something new for you.
I see you have many delicacies on your food menu such as IPA Korean fried chicken wings, porchetta, traditional moules frites, and my favorite Blue Fox burger. Can you elaborate on your food choices?
Longoria: First and foremost, our kitchen size is a lot bigger here. We are very limited in El Paso. Another thing is the purveyors. There are more local farmers that we can reach out to, and better quality ingredients. Unfortunately, we don't have that option in El Paso, but right now we are still trying to play with the menu. Chef Emil and Sous Chef Daniel are very excited to have items like duck on our menu, we're incorporating pork belly, or porketta, which actually came about through our travels both in Italy and Vancouver. But everything, pretty much, is because of the size of our kitchen. Unfortunately, we don't have that luxury in El Paso.
Valenzuela: So, some of the differences that we have in El Paso: we have our rabbit tacos, and over here our chefs wanted to go with duck carnitas tacos. We don't just wanna be a chain and have the same items, we wanna have some differences in our menu.
Longoria: We're heavily influenced by Belgium, I've said it before. I've always wanted Belgian steamed mussels with traditional pommes frites, and we have a station dedicated to that here. It's awesome.
You also have craft spirits. Tell me a little bit about your craft spirits.
Longoria: Well, we're still learning, I'm very new at it. Ranger Creek, that was actually one of our days in training, they have what they call a brewstillery. They showed us the brewing process, some of these guys were already familiar with it. But just seeing how they distill their whiskey was, you know, pretty awesome. We are trying to use true, local, Texas distilleries or even some of these around the United States. So that's been a challenge because it requires a lot of research. And in trying to figure out who exactly owns these companies, are they truly made where the bottle is saying that it's distilled?
Valenzuela: Well the exciting thing about a place like Ranger Creek is that it is the first and the only brewstillery in Texas. Its said that craft spirits are where craft beer was in the early 90s. Once again we are just introducing ourselves, trying to educate ourselves on the craft spirit moment because there are some really cool people doing some very exciting things on the craft spirits side. So it's just a whole other hobby, if you will.
Why open Hoppy Monk in San Antonio instead of a second location in El Paso?
Valenzuela: There's a combination of factors. We decided to come to San Antonio and not do another location in East El Paso, and I'm sure Beto will completely agree with this, it's that El Paso already has the Hoppy Monk. If you add another one I feel that it loses some of the essence, the homeliness of the existing location in El Paso. It's like a home for us, so to have a second home, I mean, a lot of people have a vacation home, but we wanted it to be The Hoppy Monk in El Paso. There is that one, and with San Antonio—well it's the 7th largest city in the United States; it's about to purchase some more land to become the 5th largest city in the US. Logistically speaking, we can get a direct flight from El Paso to San Antonio. We were both familiar with the area with myself having lived in Austin and coming down here to visit every once in a while. His brother living here in San Antonio for several years. We had already been to San Antonio a few times to check out the scene. We didn't feel there was anything like what we wanted to create. When you take all those factors, when you put them all together, San Antonio felt like the right choice, the smart choice. I would have to say after it's all said and done, there's no other city that we would rather be in at this moment.
What challenges did you confront building a new location from the ground-up?
Valenzuela: There were obstacles all along the way but it was something that we tried preparing for; it was something that Beto and I had discussed. I remember the time we spoke to each other and he said, "There are going to be a lot of obstacles, but somehow, someway we'll overcome that." There were contractor issues like there normally are in a ground-up project. There were financing issues, and things of that sort, but we knew there was a way, we just had to find that way. The nice part about not moving into a place that we had to completely remodel, was that we went to interview several different architects and talk to them about what we wanted to create. Ultimately, we found some architect that we felt really understood what it was that we wanted to create, so not being limited by what was already existing like in El Paso. We really were able to put together different elements we liked, again, from our travels.
Would you ever consider opening your own brewery?
Valenzuela: The answer to that is never say never. If we ran into the right person, if the timing was right, if the capital is there, it certainly would be something that we would explore. I wouldn't say that it's something in our 5 year plan, but things never go as planned so , who knows? If the opportunity is right, I would at least talk about the possibility of doing a brewery or even a distillery; it just all depends on a lot of factors.
Longoria: We've talked about it in the past, but like I said, the opportunity has never really been there, and the Hoppy Monk is still growing, it's in the beginning stages and we have a lot of work to do. So… but it'd be cool.
---
TXT & PHOTO: Alex Durán