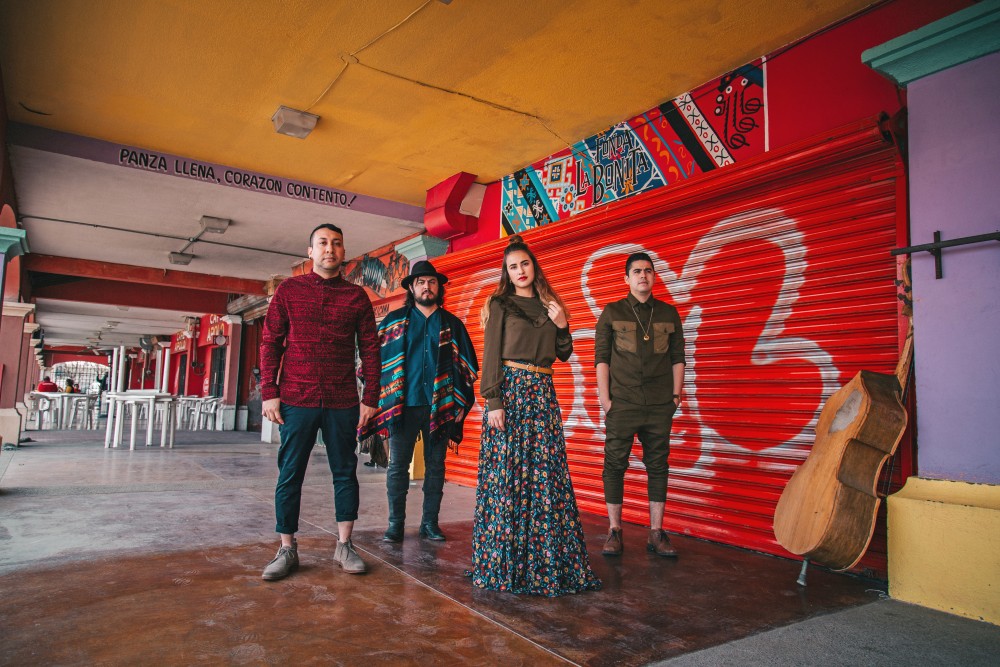 Text: Vianey Alderete Contreras  Photos: Darío Lizárraga
With great achievements and a personal loss, The Chamanas are facing 2017 with a force of inner strength and creativity. The group is made up of Paulina Reza on vocals, Alejandro Bustillos on drums, Manuel Calderón on bass and Hector Carreón on guitar.
Their upcoming album, Nea, is characterized by the tragic events the band has experienced. At the beginning of the recording process in October of 2016, Carreón's brother, Nea, suddenly passed away. A great friend of the band, The Chamanas decided to put a pause to the process. The group collectively decided to go back to the recording studio where Carreón wrote multiple songs for the album.
"There's sad undertones in Nea, something for those in need of comforting, sad music," said Calderón. But there is also a sense of hope by going back to a normal routine after sorrow. The album was recorded at multiple studios, mainly Sonic Ranch in Tornillo, and Calderón's personal studio.
Nea is more of a rock and psychedelic album, but the same essence of The Chamanas' mystical tones prevail. "You can feel the evolution," said Calderón about the comparison to their first album, Once Once.
Two tracks have already been released for Nea, which will be released in June in the United States and Mexico.
"El Farol" released in March, is a song characterized by the huaztechno beat unique to The Chamanas style. According to Calderón, it is a song about starting new relationships with people and having to trust people, and even when it's dark, you must follow that light—a "basic instinct" he calls it.
The other single "Feel It Still," released in May, is a Spanish-language cover of Portugal The Man's song with the same title. As opposed to the common belief that a cover of a song is easy work, Calderón said the process of translating the lyrics to something that makes sense in Spanish is harder, as well as "making it our own" when it comes to the sound.
The band has gone through recent lineup changes.  Their original vocalist, who had been with the band since its creation in 2014, was replaced by Reza in August 2016. According to Calderón, the band's tonalities and keys of sound have been changed to adapt to its new singer.
But the changes  have not stopped them from achieving success. The band was nominated for a Latin Grammy under the category "Best New Artist."  The Chamanas also played at last year's SXSW music festival, and then again this year with 3 performances.
When asked what is it about The Chamanas that the public does not know, Calderón said that because of their success, people assume they are making a lot of money. "Whatever we make, covers the costs of travel. There isn't a day we don't work on the band," he said.
The Chamanas await with excitement for the release of their new album Nea, which they will present at the renowned theatre in Mexico City, El Teatro de La Ciudad.
The Chamanas will perform at Neon Desert Music Festival.  "We love playing in El Paso. Local bands complain that  there is no [local] support, but people in El Paso and Juárez are very supportive [to us]," said Calderón.