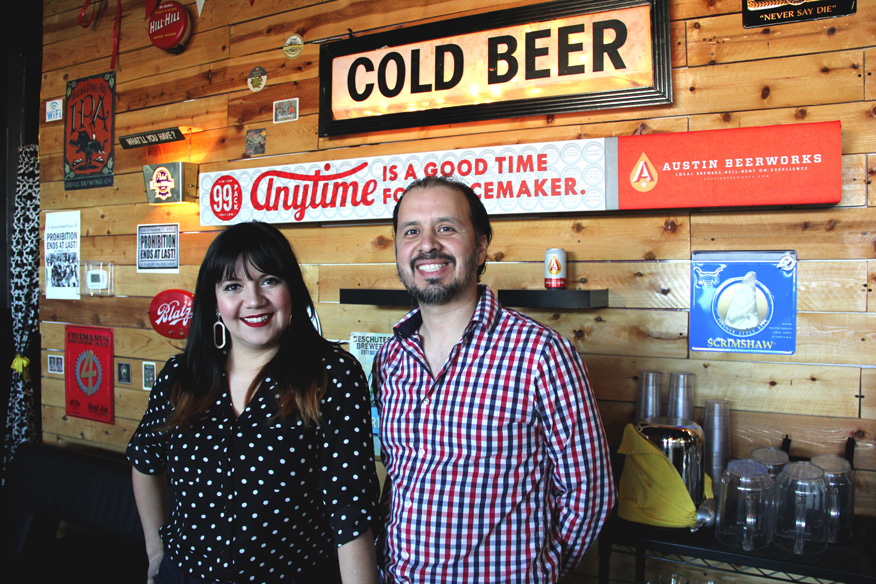 The Black Orchid Lounge is a unique bar in West El Paso that specializes in craft cocktails. Owned by Michelle Fierro-Quintero and Juan Quintero, the Black Orchid offers patrons a prohibition-era, speakeasy atmosphere with quality service and quality drinks you won't find anywhere else in El Paso. We had the opportunity to speak with them over some gin and tonics about their unique concept and their contribution to the local art scene.
Tell me a little bit about the concept of the Black Orchid.
Michelle: It helped a lot the fact that we traveled. Everywhere we went there was something unique—what we liked about New Orleans, the Sazerac Bar at the Roosevelt Hotel, it's very old and type of speakeasy, and the drinks that they have… and what do we like from New York, and what do we like from Chicago and LA…
Juan: You see a lot of places where they keep the classic but add their own little twist as well.
Michelle: And we just started picking from everywhere we went.
Juan: We really like bartenders—people who, you know, like to take care of the customers. They enjoy the classics. They understand the new trends and everything but they don't go crazy about them. It's not only about new drinks it's also about…
Michelle: What created it, what brought it in. Talking about prohibition, what started it, and we like to keep it classic. We give it a twist every now and then, and, you know, create something new. But we like to keep it very simple. The way it was supposed to be.
Juan: The way it's been known for so many years.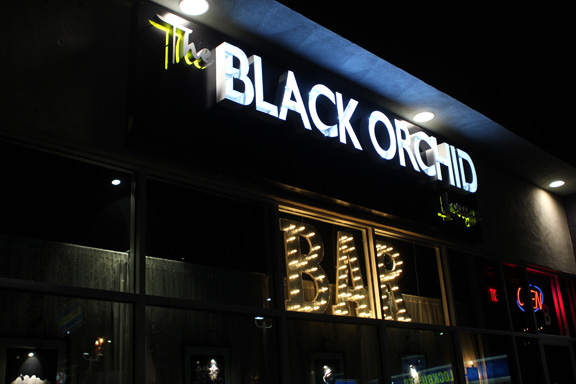 How did you guys come up with the name?
Juan: We were brainstorming different names when we finally decided that we were going to buy the bar.
Michelle: We were deciding what kind of bar it would be. Whether it would the same kind of cocktail thing, or if we were going to be more of a pub. Or a craft beer thing. That was already here, so when we decided it was going to be this concept it was…."what are we going to name it?" Something that sounds speakeasy, prohibition style. Elegant.
Juan: So we started with the color. Black.
Michelle: Well yeah, like, orchids. Black Orchid! It sounds, "Yeah!" It gives you that feeling like, "Oh. OK, that's special." Different.
Tell me a little about your craft beverages. What do you offer customers that you don't necessarily get at any other bar?
Michelle: It's more about the quality of the drink. We put more effort and time into it. We use all the ingredients, all the juices are made here basically. If they are not made here, we buy as close as to natural as we can possibly get. All the fruits, all the garnishes we get fresh.
Juan: We make our own syrups instead of buying syrup. Every single one of the syrups we have is made in-house. We make our own juices—not all the juices, but we make our own.
Michelle: The sour mix, you can find the bartender squeezing limes and lemons every week. I think that makes us different.
Juan: They [bartenders] know their classics and at the same time every season we change our menu. We have everything. We try to say, okay, we have all these ingredients to try to do all these drinks, especially this season. We do a good job, we're trying to bring different things. For this coming menu we're gonna bring some interesting mezcal drinks because mezcal is making it big in some other places in Texas and it hasn't really come this way. So, we're gonna bring some mezcal drinks.
Michelle: We're trying to get our hands on some brandy drinks as well, because brandy is making a comeback in other cities and its not here yet.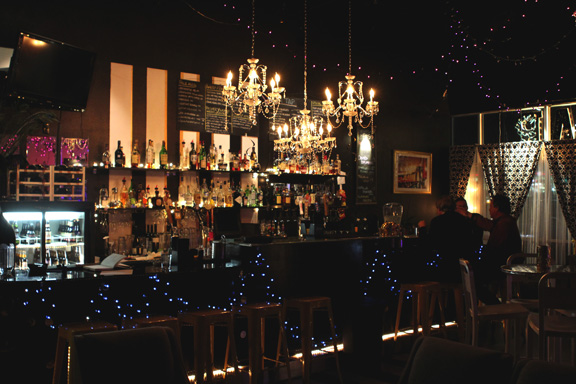 I think that makes you guys unique, the fact that you have fresh ingredients and local craft spirits.
Michelle: That's what we're focusing on.
Juan: Because of the rules in Texas, its difficult to cross county lines. They have to go through a bunch of paperwork for a specific spirit to cross county lines. So, if the distributor feels that it won't sell, they don't even try. Now that there's more people asking for special things they start bringing things that are different.
We like to look for small batch things that we can carry. At the end of the day we have to do the bigger brands as well because some liquors is very different—you don't have that much spectrum. We try to have a small batch of local Texas whiskey's, local Texas Vodka's, things you can't really find everywhere else.  We push the distributors to try and bring more things. Its really cool that we bring something and then we see some other people bringing it too, saying "I saw you got it and we got that too." In a very different way we are trying to educate as well.
Michelle: Craft beer is making it here also. The craft beverages, cocktails.
Juan: Spirits, craft spirits.
Aside from craft spirits, you also offer craft beer?
Michelle: Yes, because we are very much into the whole thing about craft beer. We've been influenced since Chicago, Juan started making his own beer, but now we don't have enough time.
You guys support a lot of local talent—musicians, artists, open mic poetry slams, etc. Why do you feel it is important to incorporate that element into your concept?
Michelle: I think it's very important to support local talent in this city. There's a lot of people out there that are trying to make it and they're great! They're amazing musicians.
Juan: We started bringing jazz first because it goes with the concept. In the beginning when we first opened it was difficult to find people who wanted to play because it was a new place. We started doing the open mic and more people started to know about us and now it fills every month.
Michelle: Now we have people asking, "can I play with you guys?", or, "when are you guys open." We get emails from bands that are passing by that are going to SXSW in Austin and they're like, "we are going to pass by, can we play at your place." And I'm like, I think they are sending emails to everybody but then they're very specific, "I've heard about the Black Orchid, can I play there?"
Juan: We had a guy that participated in "The Voice," the T.V. show that played here. It was a little secret concert. That was pretty good.
The Black Orchid Lounge
6127 N. Mesa Suite A
El Paso, TX, 79912
915-307-5617