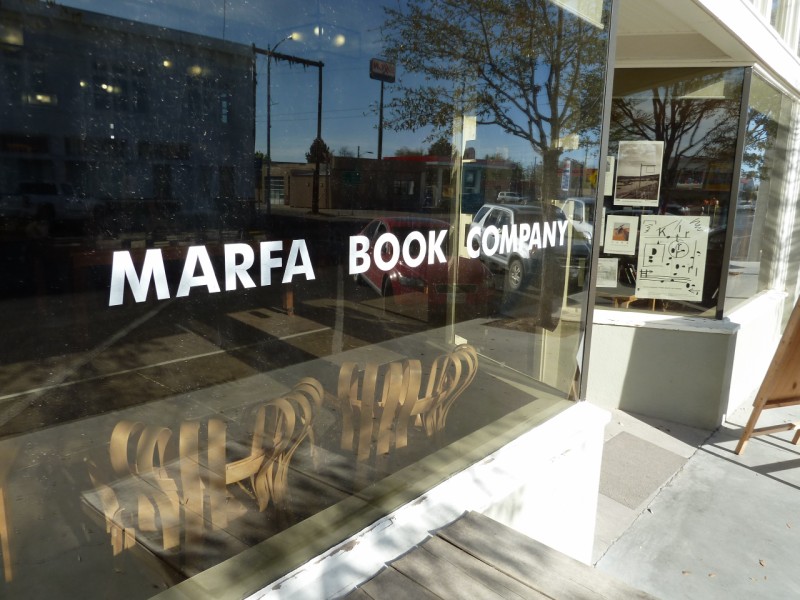 Text and Photos: Rafael A. Revilla R.
@rafastarix
Marfa Book Co. is a bookstore located on the main street of Marfa, Texas, a town located in the West Texas desert near Big Bend National Park, one hour drive from the border between Presidio and Ojinaga.
Although, some already know the importance of this town in regard to minimalist artist Donald Judd and the creation of his foundation and museum, there are also other cultural referents that add something special to this town.
Most people that go through it realize that it is a small town (a population of approximately 1,981), and the bookstore is worthy of a big city. For those of us that have had the opportunity to visit, we feel the need to go back frequently for those art and architecture books that are hard to find in other places. The city has several important cultural spots, but in my opinion Marfa Book Co. seems to be the catalyst of many of them.
Marfa Book Co. is located next door to Marfa's famous public radio station KRTS (93.5 FM), nearby Judd architecture studio and the gallery that exhibits John Chamberlain's compressed car sculptures.
Little by little, Marfa Book Co. has become a reference point and epicenter in town, with several galleries, coffee shops and stores besides The Chinati Foundation, one can know about the events in town just by arriving to the bookstore and seeing the flyers on its windows or asking Tim Johnson, its owner.
Besides the bookstore, Tim also has an art gallery annexed to it, where events such as book readings, film screenings and exhibits are held, impeccably curated by him and his partner, featuring high quality and avant-garde artists.
Tim and Marfa Book Co. along with some cultural associations such as Ballroom Marfa also set up concerts (recently they presented Cass McCombs among many others artists they bring to Marfa every month). Although Johnson is still very young, he is quite modest about what he does and tries to stay away from the limelight and stigmas that surround the art world, he even hates to be called a referent of culture in Marfa, but to me he seems to fulfill all the requirements to be called that.
I had the opportunity to interview Tim and this is what he told us: "If you are not interested in visiting the museums and galleries in town, you can just stop by Marfa Book Co. for a souvenir mug or the famous sticker that says: I █ JUDD", do not miss the opportunity to visit this awesome bookstore, where you will surely be welcomed by Tim with a smile.
marfabookco.com
marfabookcompany.wordpress.com
"I was drawn to the Chihuahuan desert, the remoteness of the town, and its activates and somewhat curious culture".