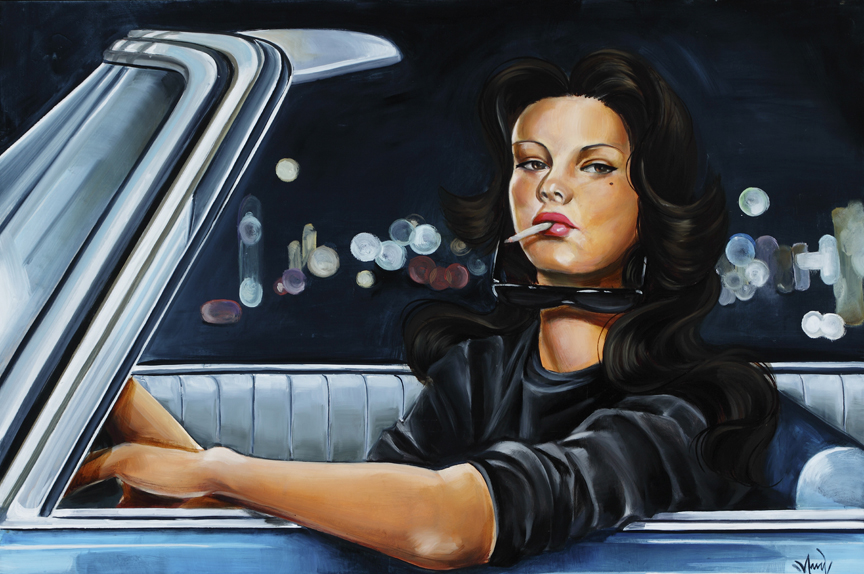 Nanibah Chacon, from Albuquerque, NM, first became involved in art through graffiti at the age of 15. After 10 years of creating graffiti art she moved on to studio work and then progressed to mural work with brushes and paint. Currently, she is part of a collective called "Honor the Treaties" who create propaganda or issues that effect Native peoples land and rights. She has art pieces installed in the Museum of Native Contemporary Art in Santa Fe and The Navajo Nation Museum in Window Rock. She also has a 30x 100 ft piece that was commissioned by the city of Albuquerque for the ISEA International Arts and Technology Symposium. We had the opportunity to speak with Nani about her art and some of the artists she admired growing up.
Where are you from (born & raised)?
I was born in Gallup, New Mexico, raised in Chinle, Arizona and in Albuquerque, New Mexico.
What is your first memory of art?
Drawing horses……the same one over and over and over and over………………
Watching my brother draw the album covers of bands and albums we liked….metal stuff.
How did you first become involved in creating art?
When I was 15, I got into doing graffiti.
How did you first become involved in street art / mural art / painting?
From doing graffiti. I did that for about 10years then got into doing studio stuff, more recently got in to doing murals with brushes/paint. I feel like my art career made a circle and brought em back to walls, I'm happy.
What was the street art scene like when you first became involved in painting, mural art, street art?
It was great! I really feel fortunate to have experienced graffiti at that time. It was PRE-Internet, it was so much different. I feel writers were much more oriented to the streets and watching them instead of watching social media. It was all kind of romantic; photos were taken on film still and we traded them like baseball cards or something. I love meeting old writers who still have tons of albums of trains they caught or old walls and yards, and there was Graff magazines! Since I was in Albuquerque that was one of the only outlets to graffiti of larger cities, unless some was was traveling and sent you stuff.
Younger writers always trip out when I tell them how we would send "packages" to one another with photos and stickers outlines etc. It really was a special time.
Who were some of the artists you admired during that time?
Locally, I admired ROCK, SUG , DASH AKA PESA, GIANT, DOC, AGREE, SOFA , NORES, GREY and, of course, WENT. These were guys who I either painted with or they were up so much at the time that I constantly looked at what they were doing and tried to learn from it. Most of these guys are the generation older than I so for Albuquerque they were like pioneers or something. On the larger scale, RISK, SLICK, FRAME, CHARLIE, KET, SEEN, Ghost, Zepher. I always loved Mode2 characters there's more I know I'm missing.  Why? In my mind all these guys were amazing and inspiring.
How has street art / mural art changed from when you first started until present day, today?
I know the internet has changed it a lot, all the new brands of paint have changed it, the main stream acceptance of it has changed it. But on a personal level—don't really know how much it has changed with in the scene its self because I don't really partake in it any more. I will paint something in a great while, but I don't call my self a writer or even prefer spray paint as my choice of paint. I acquired a mentor a few years back who is a muralist and sign painter he's been doing it for over 40years. He had a mentor who he studied from who had been painting over 40years, the guy saw and participated in an era were billboards were painted by hand. I have a great admiration for my mentors knowledge, so for now I've been focusing on learning the expanse of painting with paint and brushes. I don't really concern my self with graffiti although I still follow some writers work because I love seeing it.
Tell me a little about the art you create? What influences it? What inspires you
I'm a painter and I like to consider myself an illustrator because I try to evoke a narrative behind the images I create. I aim to create an archetype to which the viewer can relate and form their own narrative. As a painter I paint on any surface that lends itself to my work and what I need to use it for.
Right now, I am interested in sight specificity relating images to their natural surroundings and finding the story that exists with in that dialogue. I'm inspired by the natural world vs the constructed world vs. the literal world vs. the abstract world.
How or what has been your contribution to the art scene? What are you most proud of?
I'm most pround of the murals I've been able to do. Coming back to a wall made me realize I love painting big. I'm most proud of those pieces because I have loved doing them, learning from them, then leaving them to the public. There's a lot of freedom for me in that act. I am most content with those pieces, they truly came from my heart.
Tell me a little about some of the major projects you have led or been a part of?
My largest piece is about 30 x 100 ft it was commissioned by the city of Albuquerque for the ISEA International Arts and Technology Symposium.
I have murals currently installed in the Museum of Native contemporary art in Santa fe and The Navajo Nation Mueseum in Window Rock.
I designed and painted a hotel concept room for the Nativo Lodge in Albuquerque.
I will be painting a 60 ft mural in Russia commissioned  by the Consulate this summer June 2015.
I am part of an amazing collective with some great artists called "Honor the Treaties," we create propaganda or issues that effect Native peoples, lands and rights.
I am a Mother.
I am a home owner.
The last two are my the biggest on going projects to date.