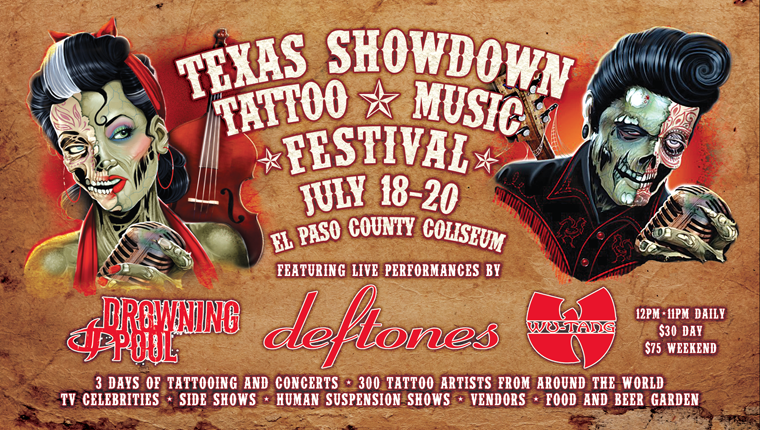 The Texas Showdown Festival brings together a 3-day festival outing for the whole family to enjoy—catering to all forms of artistry with a focus on tattooing and music. The inside of the El Paso County Coliseum will be buzzing with the sound of tattoo machines and outside will be an outdoor stage set up for live musical performances by numerous bands leading up to headlining acts DEFTONES, DROWNING POOL and THE WU-TANG CLAN.  All tattoo television shows such as L.A. INK, N.Y. INK, BEST INK and INK MASTERS, to name a few, will be represented.
Whether you are into tattoos or not The Texas Showdown is one event that is surely not to be missed. The Texas Showdown Tattoo & Music Festival will be held at the El Paso County Coliseum on July 18, 19, and 20. Tickets can be purchased through Ticketmaster and at the door on the days of the event. Prices are $30 for a daily pass to $75 for a weekend pass.
About Texas Showdown Festival 2014:
5TH Annual Texas Showdown Festival | July 18-20, 2014
The Country's largest Tattoo & Music Festival returns to El Paso County Coliseum for 3 Days Of Concerts and Tattooing. Get tattooed at the fest by your favorite TV show artist or one of over 300 artists from around the globe. Gates open daily 12 noon – 11 pm. This is an indoor and outdoor event. Enjoy some local food and ice cold beer under our giant circus tent all over looking the main outdoor concert stage.
texastattooshowdownfestival.com
facebook.com/TEXASSHOWDOWNFESTIVAL
ticketmaster.com/Texas-Showdown-Festival-tickets/artist/1709788