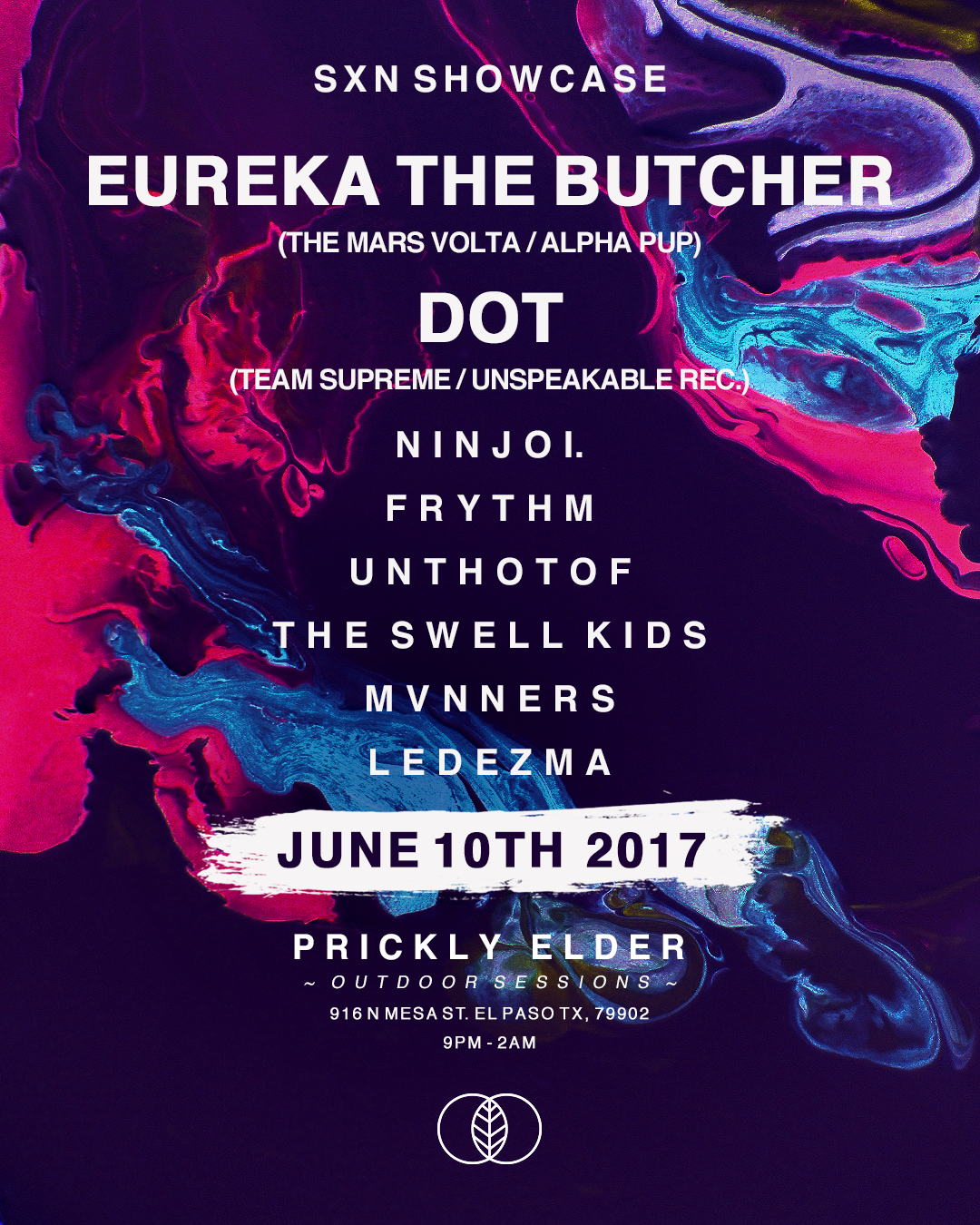 SXN is a Los Angeles based artist collective. Although the collective is based in LA it contains El Paso roots due to a handful of the artists living in the city and some of the founders being originally from there. They will be organizing an SXN Showcase with special guests, Eureka The Butcher who recently released his album ¡EUREKA!, through Alpha Pup Records on April 21 2017, and Dot, member of Team Supreme & founder of Unspeakable Records will also be joining as part of her North American Tour, Dot also released her album "Retrofuture" on May 12th 2017.

This showcase will be this year's first Prickly Elder Outdoor Session. Prickly Elder Outdoor Sessions is an outdoor concert series that will begin this Summer and will be also be featuring sets by some of our most prominent SXN artists such as:
El Paso native producer who's latest release featuring Rome Fortune was premiered through Complex UK and featured on a handful of international publications. Frythm will also be playing at Neon Desert Music Festival 2017. Complex Premiere: http://uk.complex.com/music/2017/04/premiere-frythm-breakthrough-rome-fortune
ninjoi.
https://soundcloud.com/kamijoi
New York City based producer ninjoi will be making his El Paso debut on June 10th. ninjoi recently released his "benkyou EP" now available on Apple Music, Spotify, and all other streaming platforms.
mvnners
https://soundcloud.com/mvnners
mvnners is a San Diego, CA based producer who is an El Paso native. He is a very dynamic artist who's music has became well known within the ambient music community, and can be found on many online playlists & blogs such as indieshuffle, Best Before, Blisspop, and more. video: https://www.youtube.com/watch?v=wP_agMsFoxA
The Swell Kids
https://soundcloud.com/theswellkids
The Swell Kids are an El Paso based artist duo who produce very danceable electronic beats. The Swell Kids are also known for the monthly event they curate known as SwellySessions. Find their music on Soundcloud & Apple Music
UNTHOTOF
https://soundcloud.com/unthotof
UNTHOTOF is an artist based out of LA / OC, California. He is a multi-instrumentalist producer who has shared the stage with many talented artists such as Lakim, & Daedelus.
Ledezma
https://soundcloud.com/mledezma