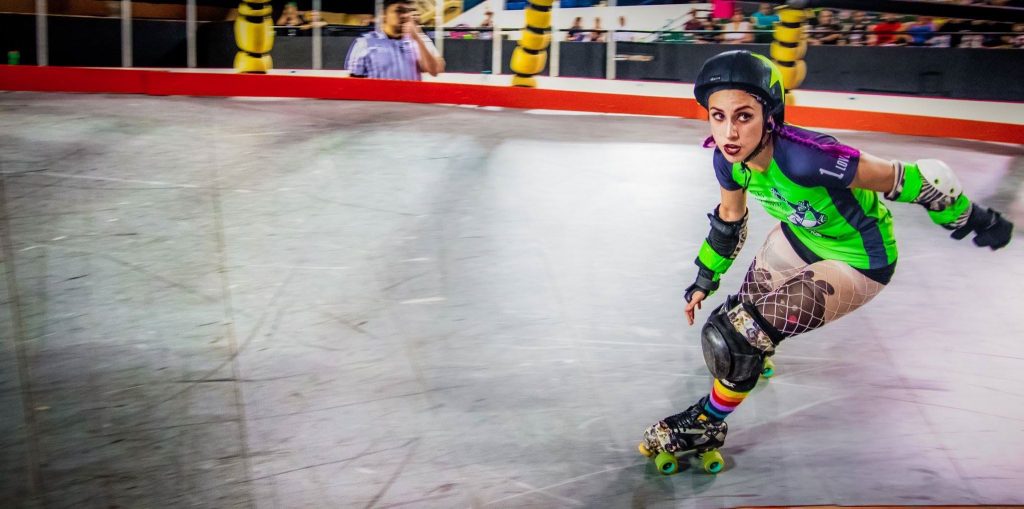 Text: Chantel Baul | Photo: Ginger Lambert
Since 2008, the Sun City Roller Girls have been bringing beauty, brawn, and all-around badassery to the El Paso sports scene. Known for its rough-and-tumble nature, roller derby pretty much eviscerates the stereotype of women as docile and passive. These women are hell on wheels. "You'll be amazed at the hits that go down," said league co-founder Teresita Lopez. "The girls are coming at them, and they're not gonna care.  They're going to ram them against the rail. They're gonna knock 'em on their ass."
Lopez and Josefina Herrera, better known as Frida Krueger and China tu Madre by the players in the league, started the SCRG as a way to corral camaraderie among women looking to do something different in the area. "There's girls out there that probably never felt like they fit in or they were just different. That's what pushed me to do it in my own hometown," said Lopez. "Basically, you get to hit each other for fun, and they're all your friends. They're all your sisters," she added.
Today, the league has grown to 5 home teams—Las Catrinas, Chuco Town Chulas, Las Diablas, Las Viudas Negras and the SeXecutioners—and one travel team made up of all-star players from the league. After almost 10 years on the track, the Sun City Roller Girls are about to take on a new arena: The Great American Rockabilly Riot.
Skating on a newly-built track on the El Paso County Coliseum grounds, the SCRG will play 2 fiery bouts at the Rockabilly Riot—the first at 6pm on September 2nd, with the second following at the same time on the 3rd. The roller girls are looking forward to a little friendly competition at the weekender. They'll be playing against members of Austin's iconic Texas Roller Derby League, which pioneered modern-day roller derby. In addition to the bouts, the SCRG will host an information booth with plenty of merchandise available for sale.
Lopez is sure that their Rockabilly Riot debut will pack a punch: "[People] are gonna be shocked to see how these women are so athletic and so fierce." As hard-hitting as these women are on the track, it's easy to forget that they're everyday people. "They're moms, they're teachers, they're nurses, different professionals, hairdressers, students, grandmothers. It's all walks of life," Lopez reflected. She encourages everyone to come out and see these ordinary women do extraordinary things, "It's fast. It's hard, and you will enjoy it."