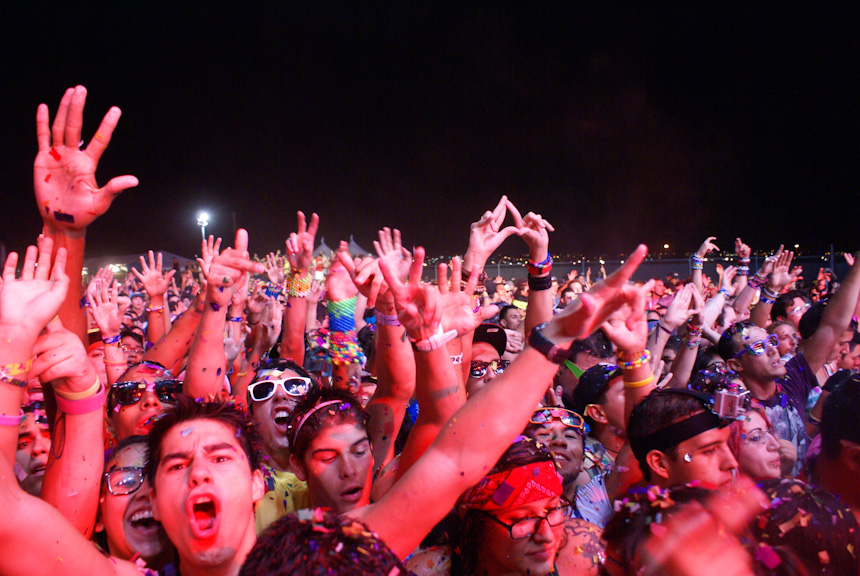 This past Labor Day weekend was a memorable one for El Paso and regional fans of electronica and rave culture! SMG Events and event promoter Disco Donnie celebrated their second anniversary as organizers of the Sun City Music Festival, which took place in spacious Ascarate Park within the empty lot where "Western Playland" once operated.
With three massive stages, over thirty DJ's, and music producers from around the globe, there was never a shortage of body moving beats and eardrum shaking drums and bass at this event. Headliners for Saturday, September 1st were Knife Party, David Guetta and Flux Pavilion. For September 2nd, English trio Above & Beyond finished off the festival.
Although the music was the centerpiece of the festival, other artistic elements were incorporated into the atmosphere: robot dancers painted in silver, dancers on stilts, and dancers riding giant butterfly bicycles. 'Human powered puppets' as they like to call them, and all were provided by the Austin Bike Zoo.
Local DJs were also given the opportunity to perform that were chosen by the results of an online competition, where fans were encouraged to vote for their favorites. Some of the local talent that made the cut were Johnny Kage, System A & Rob Bass, Curtis Dirt, Infernyk, DJ Panda and others.
More information about the festival can be found at the official website: www.suncitymusicfestival.com. Fans of the festival are encouraged to follow @OfficialSCMF on Twitter to get breaking news on Sun City Music Fest 2013!
TXT: Crysti Couture @crysticouture
PHOTOS: Hector Riveroll (C) 2012 www.riverollphotography.com