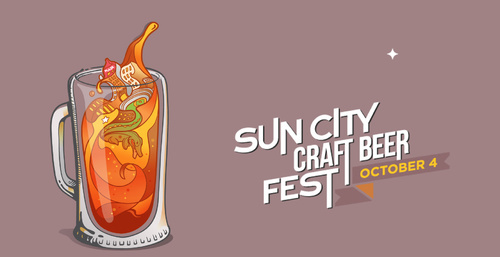 Sun City Craft Beer Festival returns to downtown El Paso for its second year. This year's fest, which takes place on Saturday October 4 at Cleveland Square Park, features over 50 regional and national breweries, various gourmet food trucks, restaurants, local musicians and art vendors, is guaranteed to make you smile! The festival's organizer Nahum Avila took time out of his schedule to speak with us about this year's fest.
Tell me a little bit about this year's festival, how's it similar to last year's and how's it different? 
It's similar in the way that we're going to have beer, but other than that, we reorganized the lay out. We expanded from 2 streets to 3 streets. We expanded the bar area—last year we only had three bar points where you could get either a tasting or buy the beer, now we have a total of 15. This year we'll also have a massive drop wall which measures 20 feet long and it'll host 40 special brews prepared especially for the festival by the brewers that are coming. We're having great feedback from people—either they're buying their tickets again or new people that are finding out about the festival this year.
Tell us about the breweries that are coming.
I'm really excited to see everyone so optimistic about the festival, especially since I've been talking to the owners from breweries and they've heard all the great news about it and the great feedback from last year. They understood that it was a first time event and there were mistakes. Not mistakes, we weren't prepared for everything—like in any other event. They're really happy to come to El Paso and they're really happy to have the market expanding, especially here on the border where we're recently new to craft beer. So, talking to them I get really excited. The best one I consider is The Stone Brewery and of course Big Bend Brewing Co. They're really close, they're expanding their market and I'm really happy to have them here. They were one of the first ones to confirm. We're still getting a few more breweries on board so I'm super excited to see everyone jump on board.
What vendors are you having this year? 
We're having 8 food vendors and other merch vendors. They'll be providing live printing on t-shirts so you'll be able to pick the color or pick the way you want it an they'll basically do it right there on the spot. We're having great restaurants coming to the festival. They're really excited to create their own menu and pair their food with the right beer.
Who are your musical guests this year? 
We're going from 1 stage to 2 stages. We had 3 bands last year, now we're going to have 9 bands. They are all local bands—Ruidos Diablos, The Sullivans, Souldies DJs, Bumpstreet Fonanza, Our Friend The Mountain, Biscuit Roller, Gila Monster and Great Shapes.
What is your favorite craft beer? 
Brown ale man, I love brown ale.
Give us your top 5 beer recommendations people need to check out at this year's beer festival?
Well, they definitely need to check out all of them—that's why we're giving out free sampling. It's a tough question but I would say, of course, Stone which is one of my favorites, Big Bend, Flying Dog would also be interesting for them to try… Lagunitas… I love Lagunitas and for the girls, Woodchuck. I've seen a lot of girls that love Woodchuck.
Anything else you want to add?
We just want to let everyone know that we heard everyone from last year. and this year is going to be bigger and better. We've fixed a lot of things with the festival—everyone knows it was a first time event. So, we're making it bigger and better and we're going all out with it. There's going to be a lot of brewing competitors here in El Paso so I hope to see everyone here supporting the event and drinking and having a good time!
TEXT: ALEX DURAN