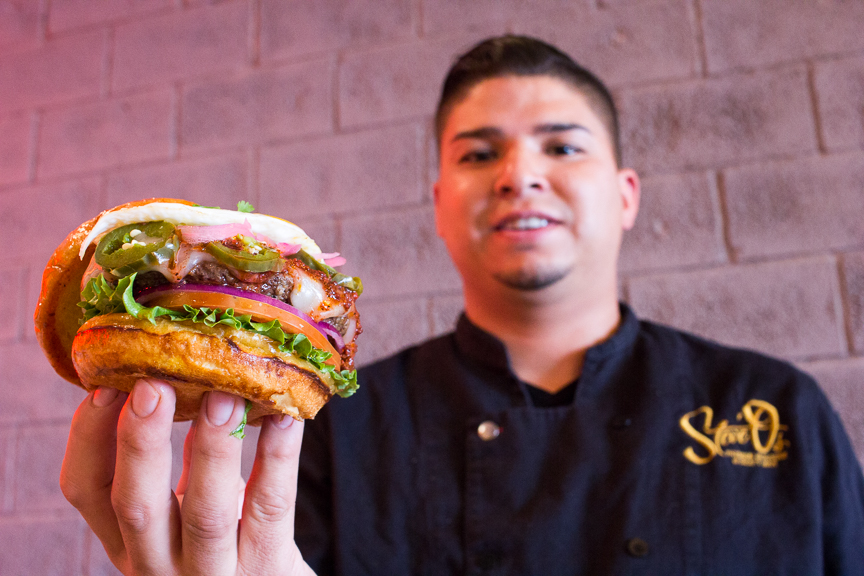 A well-done exterior with a tender center is what makes Steve Hernandez an El Paso burger legend. Beginning his voyage from cooking alongside his mother, to maneuvering behind the wheel of a food truck, then opening and managing his own restaurant, perseverance and passion have brought this chef a long way.
Yet, despite the restaurants success, you still can find him behind the kitchen devoting his culinary art to servicing and representing the city under the sun. His local Eastside joint, Steve'Os Kitchen & Craft Bar, most notoriously known for serving the "Hell Paso" burger, has been running for 3 years strong with a loyal following of El Paso foodies. Drawing inspiration from the city's culture, he fearlessly creates the most daring and tasteful burgers that leave people wanting more. We took a moment to sit down and reflect with him his progress, El Paso and the most delicious food of all time—burgers.
What it your first memory of a hamburger?
Steve: My first memory of a hamburger is when my mom would get chuck meat from the local grocery store and she would form the patty and pan sear it, and finish it with American cheese, cheap sandwich bread, pickles, ketchup and mayonnaise. My mom's homestyle burger was the best. Till' this day I always crave it, home-style. But thats my first memory, the home-style burger.
I've been in the kitchen because I never considered it a job because I love kitchen life so much.
So when you talk about your mom's home-style burger, how old were you?
Steve: Um, 7, maybe 8, when I started realizing flavor and not only that, but how much effort my mother put as a cook. My mother passed away at age 45. When she got sick, I started asking her a lot of questions about the recipes, cause that's when I really started digging into it. She was like, "This is interesting that you want to know my style of cooking because I would've never known that you wanted to become a cook," and I'm like, "Yeah Mom, I've been in the kitchen because I never considered it a job because I love kitchen life so much. My mom threw down in the kitchen, it was very impressive, and till this day, we rave about her. So whatever my mom did, I try to bring that passion with the restaurant and guests.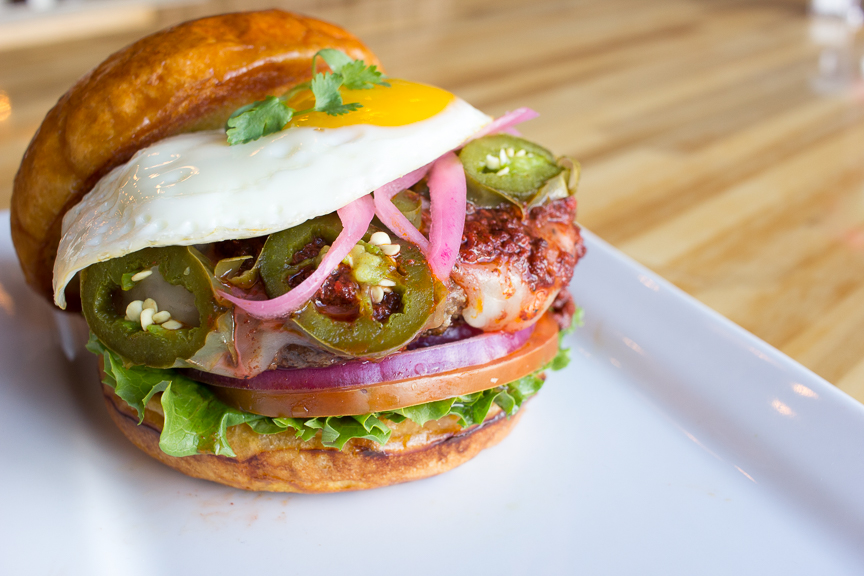 What home-style burger in El Paso do you think comes close to your mom's?
Steve: Our Hell Paso Burger. I always would ask myself, "What's going to say El Paso? What's going to say me?" You know what I mean? I'm huge on eggs, you know? I even put eggs on pizza. Have you ever tried a pie with egg? It's pretty awesome. So, I'm like okay huevos, chorizo, let's take this somewhere, you know? Let's put some pickled jalapeños and run with it. I'm catering to El Paso and if the out-of-towners come and say "Chorizo, pickled jalapeños, and egg?" This is El Paso in a nutshell to me.
I think with our imagination, consistency, quality and service, we did make a name for ourselves on the local food scene.
How did you get into burgers?
Steve: When we came out on the food truck, we started experimenting and we started playing around with burgers, burgers, burgers.  My wife and I said, what would be a hot niche other than tacos, which was what everyone else was doing at the time? We wanted to set ourselves apart from the get go. I think with our imagination, consistency, quality and service, we did make a name for ourselves on the local food scene.
Since you're on the topic of the food truck, how did you get started on the food truck?
Steve: I love the kitchen, I love the adrenaline, the fast pace you endure on a day to day basis. I used to work for corporate, I was a sous chef for a corporate food chain, when they would open in other cities, I would go out and train people. That was a good gig, but I wanted  to gain the experience and work for a local restaurant. I did just that. I started doing the features that sold out every Friday night. I would work doubles, 6 days in a row. I worked a lot because I loved it, I worked a lot because I'm was trying to prove something of myself. I didn't want to be a dead beat cook that was not going to contribute anything. I wanted to become something and I refused to have anything handed to me. Unfortunately, I didn't get the recognition I was supposed to. I got overlooked 3 times on promised opportunities. I spoke with my wife on starting the food truck idea and she told me, " You do what you need to do, I'll back you up 100%." Thats what she did. I'm very lucky that she loved kitchen life and adapted to it so quickly. She has a degree in fashion but her calling is being a restauranteur. Drina got her training from the food truck. I taught her restaurant life. I wasn't easy on her. I really trained her from back of house to front of house operations. She always says if it wasn't for my training she wouldn't be able to run the restaurant as successfully as she has. I appreciate her hard work, she is the face of our company.
What's the timeline on that?
Steve: I would say 2010, that's when we were going back and forth to L.A. At the time I skateboarded, I would skate, to Venice Beach and Santa Monica, those are my places to go. Food trucks at the time in Venice Beach was the thing to do. Nobody was dining in at a sit down restaurant. Everybody was twittering and Face-booking the hottest food trucks in the area. I'm like, "F*ck this, you know? I'm doing this." The rest was history.
Do you miss the truck?
Steve: I absolutely miss it, let me tell you this, it is a grind, it is, you have to break your back for it. This is how it works: it's literally opening up a restaurant by yourself and closing it by yourself on an everyday basis for 3 years—it's exhausting, but you love it.
Was it worth it? Would you do it all over again?
Steve: In a heartbeat. If it wasn't for the food truck, I don't think we would've been such a successful restaurant. Cause that only shows us where we came from, who we were and how we became ourselves, you know? And if it wasn't for that, it wouldn't have taught us discipline and the consistency we have now.
What constitutes a good burger?
Steve: If your going to eat a burger, it has to have fat—you can't come in here and say, "I don't want a greasy burger,"  because that's not what a burger is. A good burger has to have a good balance. A good burger has to have a good bun to burger ratio. The bun is very important factor. You need to have a very buttery roll. Next are crisp and fresh veggies—our produce is local quality. Now that's when your creativity comes to play, who are you as a person? Who are you as a chef? How original are you going to be?
That was going to be my next question..
Steve: What's going to set you apart form the dudes across the street? Stick to your guns and follow your gut instinct. Be yourself. Be who you are, don't try to impress people. Do it because you want to do it and find your originality in it. Are we going to be that same restaurant that's doing what everyone else is doing? No, we are going to set ourselves apart. I would never want to be known as "the biter" as "the follower"—you know? If anything, I would want to start a trend, I would want to start the movement, not follow the movement—you know what I mean?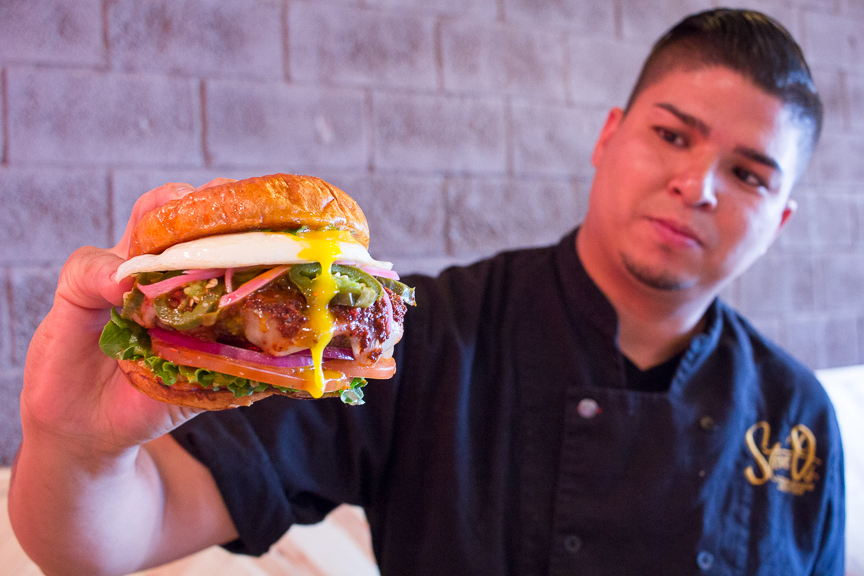 With Spring and Summer coming up, what recommendations do you have for people at home with grills who want to make burgers?
Steve: I say go out of your comfort level and really cook comfort food that you grew up with but, put your twist on it. Being in an outdoor grill, the possibilities are endless. Play around with stuff—you never know what your final product will be. Don't get some frozen patties from Wal-Mart and slap it on the grill. Really experiment and go out of your comfort zone and say, "Okay I'm going to grill to impress my party," and be the best host you can be. Don't forget alcoholic beverages–that always helps too.
Stick to you guns and really be who you are and don't follow the trends.
Top 5 burgers in El Paso?
Steve: My cheat meals are on Sunday and Mondays because those are my days off. So top 5 burgers, okay, I would say my moms pan seared burger, Steve-O's Hell Paso burger, Papa's Burgers on Piedras with the not-all-the-way-cooked bacon, thats the best, Good Luck with the double patty and double cheese and refried beans,  and I would say, I'm going to do one out of town, Umami Santa Monica, the Umami Burger.
Toreados, how did you discover the recipe?
Steve: Oh that's a secret recipe, I'm a big pickling guy—pickled jalapeños, picked carrots, pickled asparagus. The product that you get after pickling stuff is amazing. So we kind of fermentate it with soy sauce and 4 other sauces and spices. I think we pretty much nailed it. I have regulars that come in every night and order toreados on nachos and in our mac and cheese. It's a good thing when you see that. Recently we started shaving some onion that we pickle it with it. This recipe is always ever-changing.
Tell me about pairing beer with burgers?
Steve: So if your going to do like a nice hearty and fiery burger the best balance is a Pilsner. Your going to get your citrus notes, that's going to tone it down and balance the heat. If your going to do a hearty mushroom burger with some caramelized onions and a nice little A1 sauce, I say go stout on it, or go porter on it, it's going to meet the character of the caramelization of the onions and it's going to meet the nutty taste of the mushrooms. If your going to do a veggie burger, definitely go with Session IPA on it, veggie burgers are just beans and you want to really harden it up with a nice malt and hops. I think an IPA is well for a burger like that.
Anything else?
Steve: Stick to you guns and really be who you are and don't follow the trends. Be who you are as a restaurant and as a person. Always try to be better, not bitter.
facebook.com/steveoselpaso | steveosep.com
Text: Stephanie Hinojosa | Photos: Alex Durán @Jam_bi