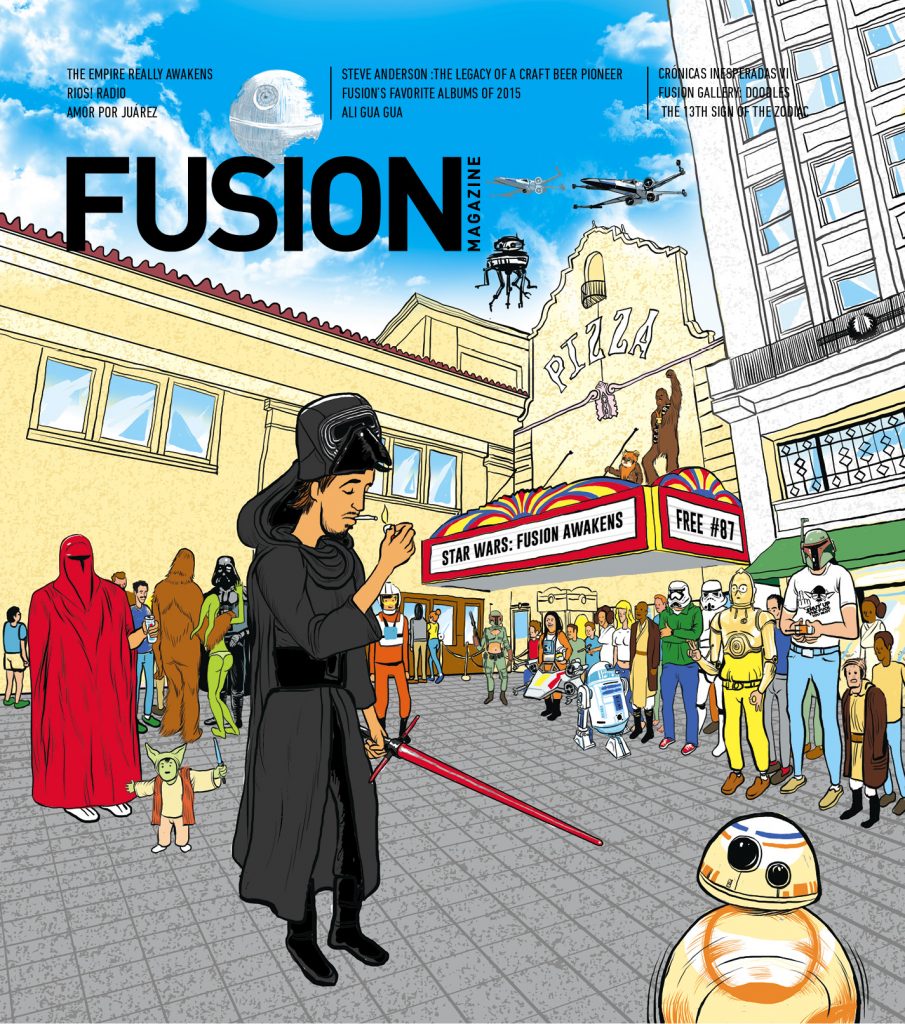 STAR WARS: Fusion Awakens! Fusion Magazine #87 is HERE!, No spoilers included!
We have only a few days left of the year and this issue just made it on time for the perfect close of it. We had so much fun working on all the content through all these months and this edition wasn't an exception. Like we've been telling you, we love all things Star Wars, and in spirit of celebration for the new movie, Tim Razo made this pretty sweet cover (if you look really close you can find our creative director somewhere around!). Now let me tell you what's inside the mag this time:
You probably know her name from bands like Las Ultrasónicas or Kumbia Queers, but maybe you didn't know all her other multiple projects, so in this interview with the amazing Ali Gua Gua you'll find out more.
On Fusion Gallery we feature Mayra Arvizo, a young and hard-working girl founder of Doodles, where she brings all her illustration work to life, be sure to check out the little Chewbacca sticker she made for us!
Amor por Juárez celebrates 5 years of supporting local talent and being a meeting point for a creative community. With all their effort came the opening of Juárez Contemporary, a new open space for exhibitions.
Rios Radio is an El Paso radio station streaming local music 24/7. They are in love with their city and try to give exposure to all kind of genres and bands that wouldn't have it otherwise.
Have you been out of town for so long that you don't even know where are the cool places anymore? We tell  you about 10 spots on El Paso you need to visit when you hit home for the holidays.
We had a small talk with Hank Keller from Lights All Night and he tells you about this year's line up and recommendations for your first time at this festival.
Mistress Ruby is a professional dominatrix that will explain to you how she prepared for her job and why it's still a big taboo for some people these days.
Did you know there's another zodiac sign? It's called Ophiuchus, so maybe you are not a Leo anymore.
We tell you about the legacy of Steve Anderson, a pioneer that changed Texas' craft beer culture forever.
Lily Ville shares her big Star Wars collection with us, from autographs, to action figures, clothes and weird finds that only real fans would get. Also her struggles on being a girl on this fandom.
And of course we have our staff's favorite albums of the year.
WE ARE PRINT | WE ARE REAL
#PRINTISNOTDEAD
#TheForceAwakes #StarWars
Nos quedan solamente algunos días para que se acabe el año y este issue llegó justo a tiempo para el cierre perfecto. Nos divertimos un montón trabajando en los contenidos de todos estos meses y esta edición no fue la excepción. Como les hemos estado diciendo, nos encantan todas las cosas relacionadas con Star Wars, y en espíritu de celebración por el estreno de la nueva película, Tim Razo creó esta buenísima ilustración para la portada (¡si buscan bien pueden encontrar a nuestro director creativo parado por ahí!). Ahora pasemos a lo que les preparamos en este número:
Probablemente hayas escuchado su nombre de bandas como Las Ultrasónicas o Kumbia Queers, pero es posible que no conozcas sus otros múltiples proyectos, así que en esta entrevista con la fenomenal Ali Gua Gua te enterarás de más.
En Fusion Gallery te presentamos a Mayra Arvizo, una joven y trabajadora chica, fundadora de Doodles, donde le da vida a todo su trabajo de ilustración. ¡Este mes nos hizo un grandioso sticker de Chewbacca que tienen que ver!
Amor por Juárez celebra 5 años de apoyar talento local y de ser un punto de encuentro para la comunidad creativa. Con todo su esfuerzo vino la apertura de Juárez Contemporary, un nuevo espacio abierto para exhibiciones.
Rios Radio es una estación de radio en El Paso que hace streaming 24/7 solamente de música local. Ellos aman su ciudad y tratan de darle espacio y oportunidad a bandas de todos los estilos que muchas veces no logran ser escuchados por mucha gente.
¿Has estado fuera de la ciudad tanto tiempo que ya no sabes dónde están los lugares que la gente está visitando ahora? Te decimos de 10 lugares en El Paso que necesitas conocer cuando visites casa para las fiestas.
Tuvimos una pequeña charla con Hank Keller de Lights All Night y te dice acerca del line up de este año y algunas recomendaciones para tu primera vez en este festival.
Mistress Ruby es una dominatriz profesional que te va a explicar cómo se preparó para su trabajo y por qué su labor sigue siendo un tabú para mucha gente en estos tiempos.
¿Sabías que existe otro signo zodiacal? Se llama Ofiuco y probablemente ya no seas un Leo después de todo.
Te contamos del legado de Steve Anderson, un pionero que cambió la cultura de la cerveza artesanal para siempre en Texas.
Lilly Ville nos compartió su extensa colección de Star Wars, que va desde autógrafos, hasta figuras de acción, ropa y algunos artículos extraños que solamente verdaderos fans consiguen. Así como también las experiencias de ser una chica dentro de este fandom.
Y claro, tenemos por parte del staff, los álbums favoritos de este año.
WE ARE PRINT | WE ARE REAL
#PRINTISNOTDEAD
#TheForceAwakes #StarWars