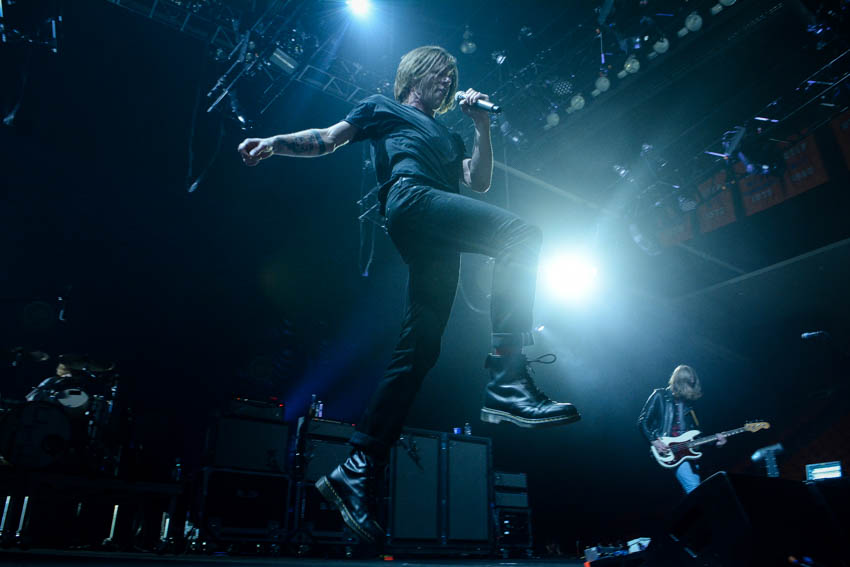 One grows up hearing about legendary concerts with star-studded lineups like "Blue Öyster Cult and Uriah Heep", with those bands producing incendiary live albums like "On Your Feet Or On Your Knees" and "Uriah Heep Live". I've seen pictures of happy youngsters wearing the cutting edge of fashion (at the time) while the people telling these stories smile and revel at the joy and peace that existed at those particular moments in time. They're the kind of stories that make you wish time travel were real so you go back and experience these shows in person. That vibe was alive and kickin' at the Don Haskins Center last night for Cage The Elephant and company.
Attendees of every kind, teenyboppers, die-hards, and poseurs alike walked up and down the stairs – in harmony at a time and place where that would not usually be the case. This was an environment I have never felt in El Paso, at least not at this scale. You could feel people's hearts racing as the clock ticked toward the moment of truth. And when the lights went out, everyone lost their minds…
Bear Hands were fine. "Agora" is a great song, but other than that, they weren't really suited for this large of a crowd. Foals, on the other hand, were the right band to set the mood. It's a wonder they're not more popular here like they are in their native UK. "Providence" and "Inhaler" delivered energy that could suck the oxygen out of the room and peel paint. Silversun Pickups were fine. They performed accurate renditions of their songs that I was frankly not very familiar with. "Nightlight" stood out, and the band was very good, but frankly a step back from the focused energy of Foals.
I've said it before and I'll say it again: Cage The Elephant may be the best live band on Earth right now. Cage's criminally underrated 2012 live album Live From The Vic In Chicago is possibly the most blistering recording of raw power since, well, Raw Power. Last night Cage delivered heavily on cuts from their most recent two albums, which like their first two, improve greatly in the live setting. Matt Schultz is a modern day Iggy Pop, his stage presence is dictated by the music, not his own charisma. After all, he is the king of the beat.
The people who saw last night's show will be buzzing about it for days and will tell stories about it for decades. For one moment in March of 2016, everything was alright. Even more surprising: most people DID NOT spend the entirety of the concert watching it through their phone screens. There is hope for humanity after all.
Txt: Vincent E. Arrieta  |  Photos: Saul Torres.