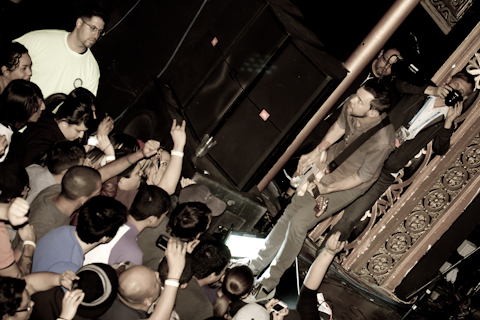 It has been four years since the band members of Sparta decided to go on hiatus. The break was intended to be short so they could rest and regroup from a lifestyle that consisted of constant touring.  During that break, each band member went back home to pursue their own ventures. Jim Ward, lead singer and guitarist, decided to stay and invest his time and resources in his hometown of El Paso. His projects consist of opening a successful bar, Hope & Anchor, while also starting a new band, Sleepercar, and a solo project. Presently, Jim is investing in a concert venue, Tricky Falls, which supports local bands and musicians as well as national touring acts. Through all of this, he is gratified yet the satisfaction he feels on stage with his Sparta band mates is not being fulfilled. The moment has arrived for Jim Ward to go back to what satisfies him, making music and playing on stage with his band mates. It is time for Sparta to wake from their slumber and come back to life!
You announced in August that Sparta is "awake," how did it all come together?
People have been asking me what has been going on with Sparta and the way that I would respond to that was we were taking a nap.  We just needed a break after 7 or 8 years of solid- straight touring and making records. It was supposed to be a year, year and a half, two years and it turned into three, three and a half, four. Last December, Tony was in town for the holidays and we went to our studio, Clap of Thunder, and just kind of messed around and wrote some songs, talked, and hung out and it was fun. It felt really good. As this stuff that I've been doing, solo records and stuff, as its winding down, I started getting a pretty big urge to make loud music again. When we signed the deal with this place (Tricky Falls) I called the guys and said hey I got this place do you guys want to play some shows? It started with you want to play a show, then it was like, if we're going to play a show then let's write some songs, and if we're going to write some songs, let's just start making a record. There's no timeline. It could be a year, it can be two years. I don't know. That's why I wrote on the blog that we're awake. It was when everyone agreed let's go back to work, in whatever format we're in now. Which is different; all grown, there are families now, there are kids. Sparta is a different animal than it was four years ago and I think it is all the better.
Your current line-up is Tony, Matt, and Keeley. Can you tell me a little about them?
Tony and I have been playing together for a long time, since At the Drive-In. Matt joined right when Sparta started and Keeley came in on Three's. It was a good time for Keeley to come in. It was a breath of fresh air; we say a lot of that in interviews around the time Three's came out. It was just nice to have a new energy, somebody who wasn't connected with, even though Matt wasn't with At the Drive-In, he's from El Paso, we all grew up together so there is this sort of long line of knowing each other and knowing the same stories and whatever.  So, it was nice to have new blood, I guess. I'm happy that all four of us are going to be in the same room again together. I look forward to it.
You're currently working on your follow-up to Three's, can you tell me about the material you're working on?
Right now, I think it's everybody's individual writing. Those three guys were in L.A. a while ago and they wrote some stuff and sent it to me and I have some stuff that when they get here we'll work on. But I think right now it's super early in the conception stage. You can never say what an album is going to sound like before it's made but I'd like to think that this is going to be a really heavy record and that's kind of the direction we're all writing in is just pretty brutal, heavy, for Sparta, obviously it's not that heavy, heavy for us.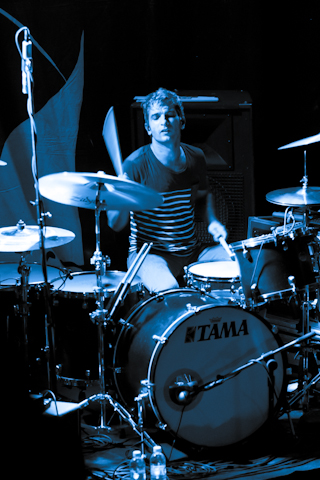 You'll be working at your studio?
Yeah, for at least part of it. I think all of us have small studios. Tony has a studio, I have a studio, Keeley has access to studios in Richmond that his friends have. I think we'll make it in a variety of different places.
After the album is complete, do you plan on doing a full-scale tour or will you tour small venues at selected cities?
I think we're just going to have to see how it goes. First thing would be to get through these shows and then the second thing would be to work on the record and probably do some festival stuff. We definitely will tour differently now that there is kids and other jobs. We all sort of have other businesses and stuff as well as other bands and other projects.
It's been 10 years since At the Drive-In broke up and since then you've pursued various projects like Sparta, Sleepercar, solo work, your bars, did you see yourself being where you are today?
No, I don't even know where I'll be tomorrow. I've never been very good at seeing the future or I don't really think very far ahead to be honest with you. There is not much of a master plan going on. It's a lot of just go with the flow. I like to just see what happens. Whichever way life has worked out for me is great for me, I'm fine with it. It's weird, it's a weird life.
November 17 and 18 you're playing here at Tricky Falls, what can your audience expect from those two shows?
I think it's going to be like four years of energy exploding through four dudes. I think we're all very excited to do it and I can feel my excitement building. Just doing press today, doing interviews and sitting in the studio and starting to turn guitar amps up and we start rehearsals, everybody will be in town in a couple of weeks and I can't wait! I think what you should expect is a fucking whirlwind! That's what I hope!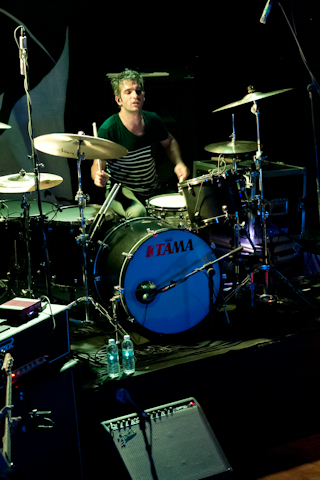 For more information go to
http://spartamusic.com
http://www.trickyfalls.com
TXT: Alex Duran
alexduran@thefusionmag.com
Photos by: Hector Riveroll (c) All Rights Reserved
http://www.riverollphotography.com