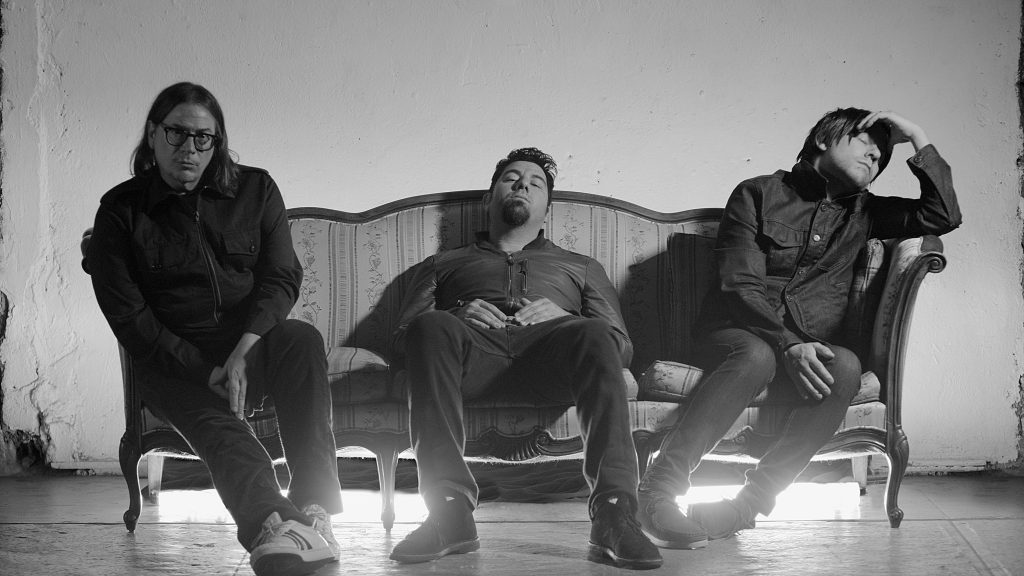 Crosses ††† is the latest creation by Far guitarist Shaun Lopez, Chuck Doom and Chino Moreno of Deftones. They recently released their debut self-titled album and they've hit the road to play the songs live! Crosses will perform Friday March 21 at Tricky Falls in El Paso, TX.  After various phone calls we caught up with the creative Shaun Lopez and spoke with him about their recent album release and tour.
Where was the album recorded?
In Los Angeles. Most of it was done at my studio and then we mixed the record at a couple different studios.
Who else participated in the making of the music?
It was just the three of us. Me and Chuck, we wrote the music. Chino heard it and he wanted to sing on it and that's pretty much how the band started. But I recorded and produced everything. That's pretty much how it goes.
Was it all recorded together or separately in different places and times?
I know a lot of times for a project like this, mostly that's how people do it, sending stuff around, a lot of email. But actually none of this was done that way. All the music was recorded with me and Chuck in the same room and then Chino cut all the vocals at my studio. There was never any emailing of stuff. Not that I'm against that, it's just not really how it happened.
What was the artistic approach you took in making this music?
There wasn't really an approach. We never really talked about what direction we were going. A lot of times Chuck would have an idea or a chord progression or I would have an i dea and I'd start programming drums to that idea. After that Chuck would want to play some bass on a part, he'd play bass, I'd program more drums, we'd maybe throw some synths on top of that then I'd play some guitar. That's pretty much how it was. We never really talked about how we wanted anything to sound like. We were just making music. There really was no purpose to making music. We made music because we felt like making music and this is the music we felt. A very laid back approach.

Was that any different to any of your recordings with previous bands or projects?
It was much different. Just because in that band there was always a timeline or restriction like, "We have two months to make a record." This was not like that at all. At the time when we started creating this music, during that time I was really busy with Far because we were still playing. So it was like, "Do you want to come over next Tuesday and work for five hours?" It was just a very different approach. It was coming in here and there. Then as time went on, we had a lot of songs made. Then the first two EPs came out. Then once while we were going to finish this certain one, we already signed a record deal with Sumerian and then there was a timeline of when to get things done. That was finishing the last five songs. There was a bit of a time constraint on there.
Did that time constraint change your dynamic with Chuck or Chino?
Not really. I think doing the deal and knowing that it was going to come out and that it was going to come out on a larger scale, in a way, maybe we took it a little more serious then. Not that we ever took it very serious. I shouldn't use that word, "serious." It was always serious, but it was, like, we could do it when and how we wanted to do it. So when we signed the deal, people were expecting things out of us. But it didn't really change that much.

How did you get the name Crosses ††† ?
Originally, we had the name "the Holy Ghost" and then we realized there was already a group with the name Holy Ghost. They were starting to come up and put stuff out. We already had the name for a while. I already started a Twitter for the band and we still had the URL for "Holy Ghost" and then I think I just changed the name on the page and put three crosses. I just liked the way it looked. Then I designed the logo and I really loved the way it looked. So I presented it to the guys and they were into it and it made sense and there's three of us, too. It wasn't too thought out. It kind of just came to be.
Is there a spiritual or religious reference to the band name?
Not really. I think we in the band are all interested in all kinds of religion, but I wouldn't say that any one of us is fixed on a particular lifestyle. I know how just because we have three crosses as a name that people would think we're a Christian band. I don't really care. People can think what they want to think. I would just have people think what they want to think.
What song stands out the most to you?
I always liked "Death Bell" because that's the newest song, the last song on the record. Well, we wrote the music a while ago. That's one where we finished the vocal the night before we mixed it. That song was just going to be an instrumental song and Chino sent me a voice note on my phone where he played the instrumental and sang over it. I remember thinking it was so cool and I think we had it. But I like them all, but that one I do most probably because it's the freshest one.
What do you look forward to most when you're on tour?
There's a lot of down time. It's great when you play and people are really excited to hear you play and a crowd is really enthusiastic. When we're on the road, I try as much as I can to work on music. There's 15 other hours in the day that you have to figure out what you're going to do. So I like to work on music and check out the city we're playing in. But the show is always the best part.
Have you ever been to El Paso before?
Yeah. I think I've driven through it before. I may have played it. I'm not sure.
Do you have an elaborate stage design for your tour?
We do have a little bit of lighting we bring with us, but mainly it's the just three crosses we have in the back. We definitely want to get more stuff as long as it makes sense with the show. I think we can go much further with it.