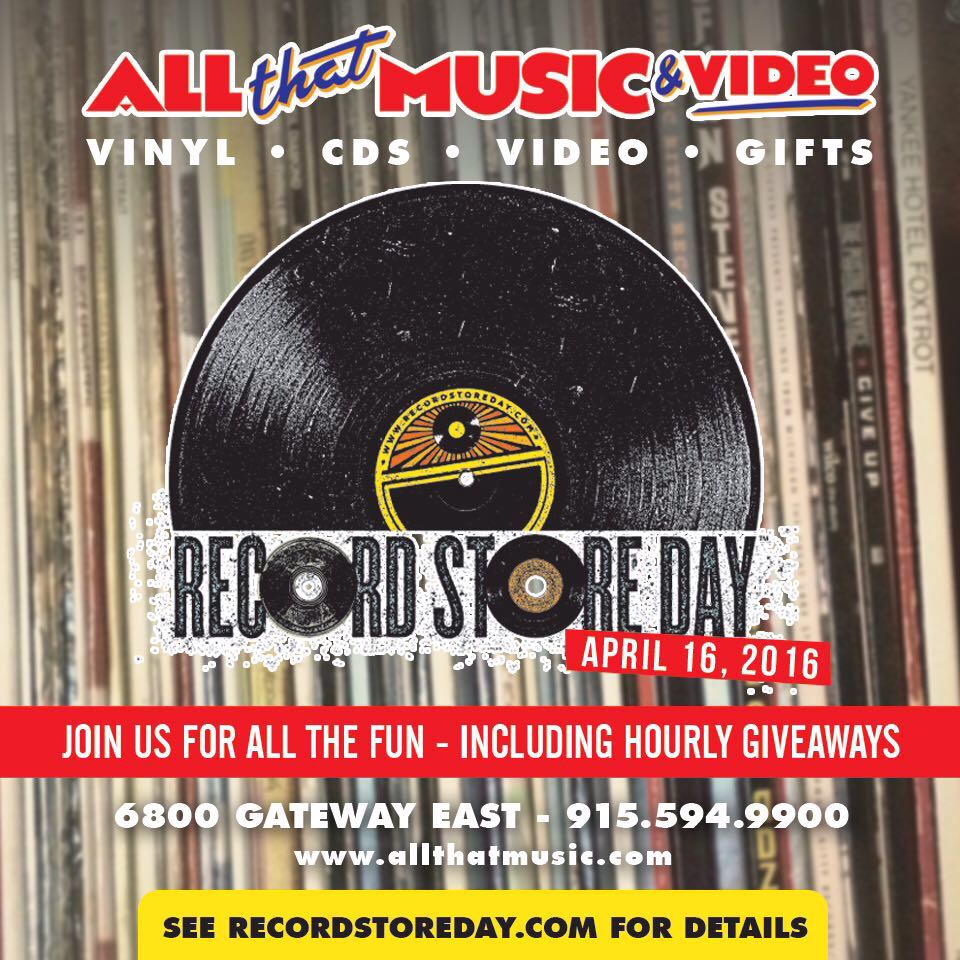 Vinyl junkies. Crate diggers. No matter what they're nicknamed, record collectors look forward to the now-annual Record Store Day, a day that recognizes and celebrates participating independently owned record stores throughout the United States. This year's Record Store Day is Saturday, April 16.
For decades, El Paso's largest independently owned store has been All That Music & Video Collectors Marketplace, located at 6800 Gateway Blvd E, directly across I-10 from Cielo Vista Mall.
All That Music & Video has planned a Record Store Day that's certain to make fans of the vinyl musical format very happy. Dozens of Record Store Day exclusive and limited releases will be featured, and drawings will be held every hour.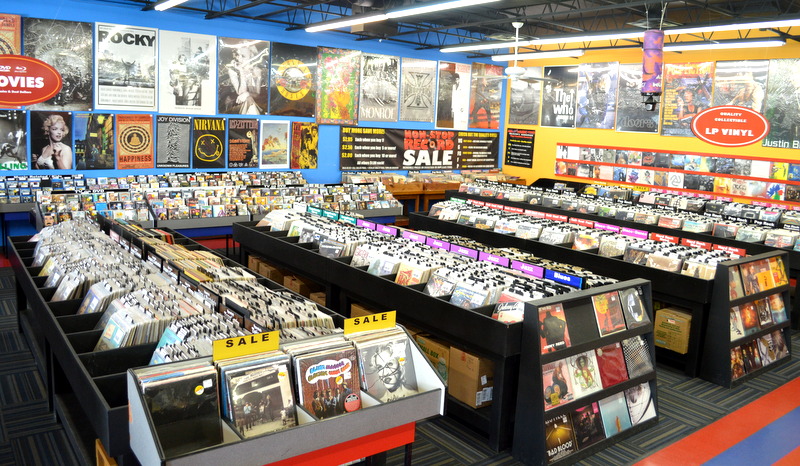 "We're extremely proud to be a part of the El Paso community," said George Reynoso, owner of All That Music & Video. "From indie kids to their parents and even grandparents, we've served generations of El Pasoans with great music."
Indeed, All That Music & Video has been around since the days before CDs, mp3s and digital streaming, when Reynoso opened his first record shop — Nostalgia Records — on Montana Avenue in Central El Paso in 1980. Back then, vinyl was still the primary format for music fans to enjoy their tunes.
When CD sales overtook cassette and vinyl sales in the late 1980s and early 1990s, record shops found their business changing. However, with the advent of digital media, independent record stores often found their business struggling to stay in business, as the need for visiting a physical store became less necessary. Many small record shops throughout El Paso closed their doors. But not All That Music & Video.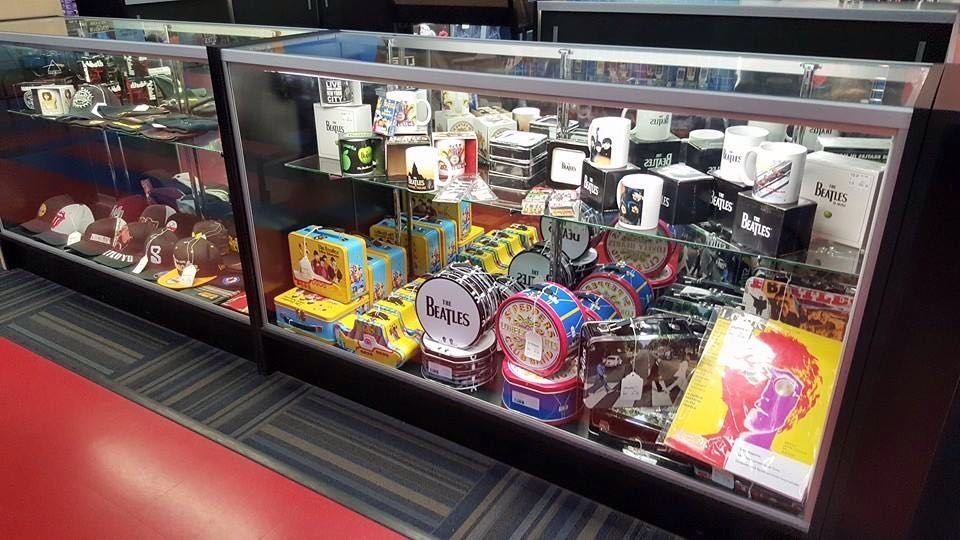 Reynoso credits diversification and location as the keys to surviving the tough years of the mid-1990s to the mid 2000s. The store began offering exclusive collectibles such as posters, turntables, memorabilia and rarities that big box retailers simply did not carry. In 1987, he moved Nostalgia Records to Lee Treviño, and by 1998 had grown & relocated to another Lee Trevino address. The store moved to its current location in 2012, where it was re-branded as All That Music & Video – Collectors Marketplace. Today, the shop is more diverse than ever, and even features a "mini-museum" with El Paso music rarities and an impressive display of Beatles memorabilia.
Something interesting happened in the music industry starting about ten years ago. Vinyl sales started to make a comeback. It was very small comeback at first. But in the past five years, the growth has been exponential. Artists from Adele to ZZ Top have new releases on vinyl. The question is…why? Why has vinyl made a comeback when people can get seemingly unlimited albums with a streaming subscription?
"There's something truly special about vinyl that digital streaming simply can't deliver," Reynoso says. "Hardcore collectors will talk about the superior sound that vinyl offers. But what really makes vinyl special is something that customers can connect with. It's something to hold, to look at, and to treasure. For record collectors, it's simply a more genuine listening experience."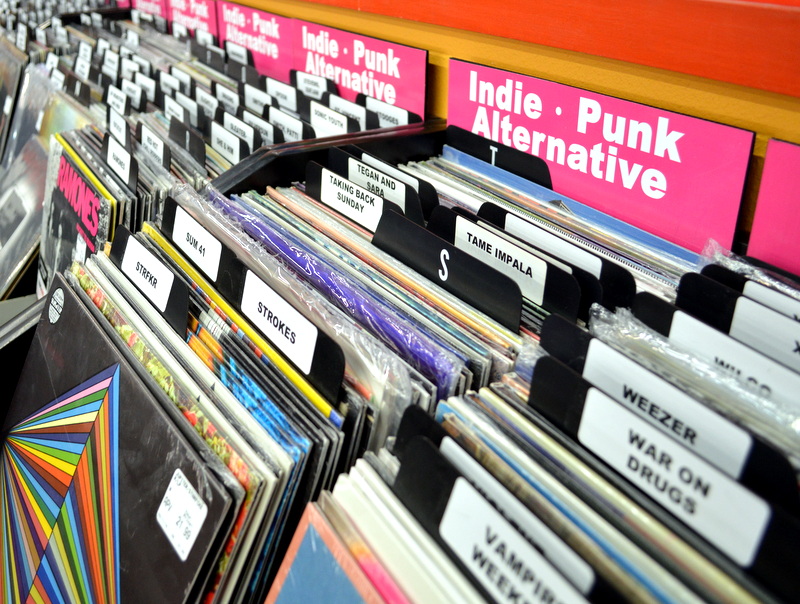 All That Music & Video offers El Paso's largest selection of new and used vinyl records, including biggest inventory of alternative and indie music, classic rock and roll, jazz, funk, soul, Tejano and Mariachi between Austin and Tucson. The store also stocks a huge selection of rare CDs, DVDs, and other memorabilia. For customers looking to start a vinyl collection, the store also offers a selection of turntables and record maintenance items.
In many ways, Record Store Day is the culmination of the rebirth of vinyl, and the re-connection of the independent record store and music lovers. "I'm truly grateful that the El Paso community has had faith in us here at All That Music & Video. We're here for our community, and we're always looking forward to the next generation of collectors!"
• Date: Saturday, April 16, 2016
• Customers can view the list of exclusive releases by visiting www.recordstoreday.com. Most releases will be available.
• All Record Store Day title are extremely limited and will be rationed. They are first-come, first-served. Due to exclusivity, no advance requests or holds can be accepted.
• Doors will open at 9 AM, with controlled access until 10 AM. For fairness, the first shoppers in line will be limited to two Record Store Day purchases. Buyers can rejoin the line.
• Hourly Drawings for fabulous prizes to be posted at www.allthatmusic.com and at www.facebook.com/allthatmusicandvideo.
• Drawings will be held every hour, on the hour. The drawing box will be cleared every hour.

Facebook event: https://www.facebook.com/events/1690698561182216/