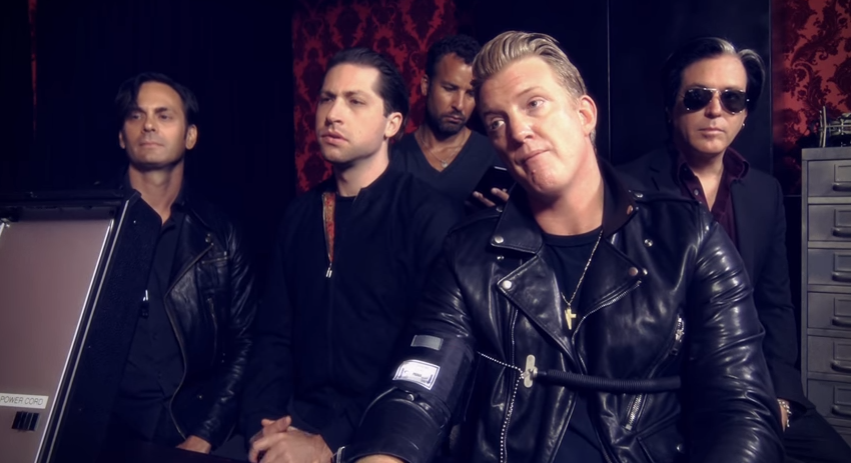 "El título Villains no es una declaración política. No tiene nada que ver con Trump ni nada de esa mierda. Es, simplemente:
1) una palabra que se ve fantástica y
2) un comentario en las tres versiones de cada escenario: lo tuyo, lo mío, y lo que realmente pasó… Todos necesitan a alguien o algo para ir en contra – su villano – lo mismo que siempre ha sido. No puedes controlar eso. Lo único que realmente puedes controlar, es cuando lo dejas ir."—Joshua Homm
Después de cientos de shows épicos, lesiones inexplicables, una desviación de un año con Iggy Pop y múlitples nominaciones al Grammy, Queens Of The Stone Age vuelve a emerger del desierto con cicatrices con un séptimo álbum de la suerte, Villains, programado para el 25 de agosto en Matador Records. Ya disponible en preventa en vinyl de lujo, CD y digital (todas las preventas incluyen una descarga instantánea del sencillo "The Way You Used To Do").
Villains consiste de las siguientes canciones:
1. Feet Don't Fail Me
2. The Way You Used To Do
3. Domesticated Animals
4. Fortress
5. Head Like A Haunted House
6. Un-Reborn Again
7. Hideaway
8. The Evil Has Landed
9. Villains Of Circumstance
Producido por Mark Ronson, coproducido por Mark Rankin y mezclado por Alan Moulder, Villains es el primer álbum de larga duración de Queens Of The Stone Age desde el álbum de 2013 …Like Clockwork, el cual le dio a la banda su primera posición #1 en EUA (y #1s en Australia, Bélgica, Irlanda, Portugal, Escocia, #2s en Reino Unido, Canada, Suiza, Noruega, Nueva Zelanda, Finlandia… pero realmente, ¿quién está contando?). Con el impresionante arte del ilustrador que está de vuelta, Boneface, el sello sonoro de la alineación que llevó a …Like Clockwork alrededor del mundo y de vuelta – el fundador, guitarrista, vocalista y letrista, Joshua Homme, Troy Van Leeuwen (guitarra, teclados), Michael Shuman(bajo), Dean Fertita (teclado, guitarra), Jon Theodore (batería)— es menos confundible que nunca antes,. Como Homme lo pone, "El aspecto más importante de hacer este disco era redefinir nuestro sonido, preguntar y responder la pregunta de '¿a qué sonamos ahora?'. Si no puedes hacer un gran primer disco debes parar – pero si puedes hacer un gran disco pero sigues haciendo discos y el sonido no evoluciona, te conviertes en una parodia del sonido original".
En su rol trabajando en un ecosistema cerrado y concienzudo como Queens Of The Stone Age, Ronson dice, "Queens son y siempre han sido mi banda favorita de rocanrol desde que entré a Tower en Sunset y compré Rated R el verano del 2000, así que fue increíblemente surreal haber sido bienvenido a su secreto, el clan pirata – o el 'jacuzzi' como Josh le llama. También saber que mi super fanatismo no me mantendría en el jacuzzi. Hubo momento durante la creación del álbum en los que estaba consciente que veía a mis hérores musicales creando algo que seguramente se iría a convertir en uno de mis momentos favoritos de un disco de Queens. Y tener algo que ver con eso fue como estar en un sueño – un sueño muy pesado, oscuro y genial".
Mark Rankin agregó, "Despues del bautismo del fuego …Like Clockwork, estaba emocionado de entrar al esudio de nuevo con el reto de empujar más el sonido de este disco, especialmente con la adición de Ronson a la mezcla creativa. Queríamos evolucionar la producción para que estuviera procesada de tal forma que fuera moderna pero totalmente orgánica y que se pudiera interpretar por completo en vivo, como quitar el velo y lo que pensabas que era electrónica realmente sería en vivo y las cosas no son como parecen ser… Lo que hemos hecho es vanguardista e indiscutiblemente Queens".
Queens Of The Stone Age también ha confirmado una serie de fechas en Norte América llenando el espacio entre sus apariciones ya anunciadas en Outside Lands y Riot Fest.