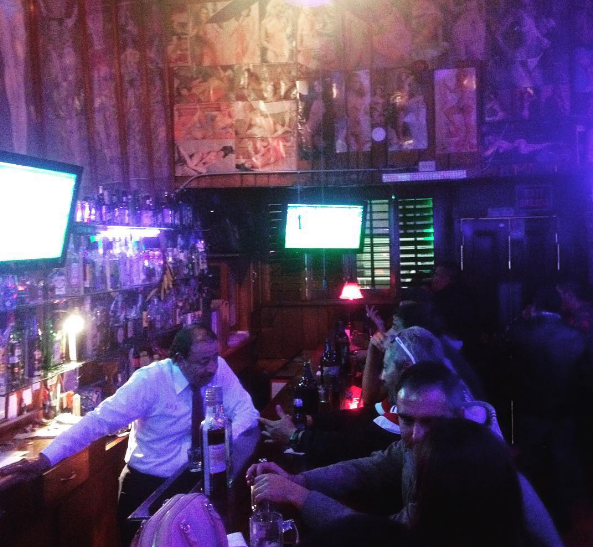 Text: Alex Durán | Photos: Rafael A. Revilla Romero
The article was published in 2009 December in Fusion Mag.
I love Juarez, Chihuahua! I'm so bummed out with all the violence that has been going on. Juarez used to be the hot spot for bars, clubs and restaurants and now its image has been tainted and tourists are being discouraged from going over there. I still go to Juarez, although everyone always freaks out on me when I tell them I'm going over there, "why are you going over there? Aren't you scared that something might happen to you? We have bars and restaurants here in El Paso." Yes, I know these things, but I can't even begin to tell you how much more appealing Juarez is in comparison to El Paso. Everything about Juarez is very different from El Paso including the culture, people, lifestyle, and even the food! Yes, even the food is different over there, and I'm willing to sit down and argue my point on this one! I prefer going to Juarez bars and I will continue to cross over despite the violence; I refuse to live my life in fear. If any of you are brave enough to go to Juarez for a drink, I recommend you check out one of these bars.
La Campana (closed now)
La Campana is unique and cool.  It has been open for about half a year now but the bar has been there for three years. This place is located off of 16 de Septiembre right across from the Mercado. It is decorated with Juarez Indios memorabilia and from what the bartenders and owners tell me is that after the Indio soccer matches, people that attended the game flock to the bar. The jukebox also has a lot of rock n roll music. I like to play The Beatles, Doors, Stones, Led Zepp, Ely Guerra, etc. The best part about the jukebox is that it is free!  The bartenders are friendly women who are very prompt with your drink order.  The shot glasses they use are unique because they look like tiny mugs made out of clay. The décor of the place consists of bean bags, soccer memorabilia, license plates, and Mexican Revolution memorabilia. La Campana is a nice little hang out spot for someone who just likes to chill and enjoy sometime with good friends or it is a great spot to stop and lube up before you hit the dance clubs.
Yankees
Yankees has been around for thirty four years. It is located on the Juarez strip across from the Kentucky Bar. Yankees is dark and has cheap drinks.  Their jukebox is also cool and has everything from rock n roll to Spanish rock.  The crowd varies from young people to your regulars.  They have chuchus, which is a shot of tequila that has been fermented with the root of a tree called xuxupaxtle which grows in the Tarahumara mountains.  They have karaoke in the back room as well as a live band, a trio who are great musicians, they take requests and they let you sing and play music with them.  Bartenders, Tony and Lupe are permanent fixtures there and they are very attentive as well as friendly.  Yankees used to get super packed on Fridays and Saturdays and I usually avoided going there on those days.  I preferred going when it wasn't that crowded.  Of course, this was before the violence took a stranglehold on the city and its businesses.
Club 15
This is my most recent find and the one that rocks the most; in fact, I spent my birthday there this past November!  Club 15 was introduced to me by my friend Michael Red. It is called Club 15 because their maximum capacity is only 15 people.  The bar is really small but very unique.  Club 15 has been open since 1932!  The thing that I find most appealing about this place is its décor which consists of pictures, portraits, paintings, and centerfolds of naked women all over the roof and walls. Chuy, the bartender, has worked there for over 16 years and he knows how to treat his patrons well! Indeed he gives you the rockstar treatment. Chuy stated that before the violence began in Juarez, Club 15 was frequented by bohemian people as well as bullfighters that would perform at the bullfighting ring which is only a couple of blocks away. Chuy makes an incredibly delicious "carne preparada" that I highly recommend when you feel the need to snack on something. Club 15 has a great jukebox; I love rock music and their jukebox has plenty of it!  I usually play The Beatles, Led Zeppelin, The Rolling Stones, The Doors, and Enrique Bunbury. Club 15 is located on Juarez Ave., a block before 16 de Septiembre.

El Recreo
I had no idea that El Recreo existed until February of 2007. The funny thing is that is that it has been open since the 1921. When I first walked in I felt like I was out of place, as if I had completely stepped out of my comfort zone. I guess I was a little nervous because I was there on a first date with a girl I was trying to hook up with. In fact, it was her that took me there; she kept telling me that this bar was really unique and that a lot of interesting people hang out there. People such as local artists, writers, intellectuals, musicians as well as bohemian people go to lube up there. I immediately stepped up to the bar and ordered a lager. After a few drinks I finally loosened up and started feeling comfortable. She introduced me to one of the smoothest bartenders I've met in my life, Don Vic. Victor has been working at Recreo for about five years; he is a permanent fixture there and adds to the bars' appeal. Vic is familiar with every drink in the book and he has very interesting stories to tell. Also, Don Vic is a recovering alcoholic and has not had a drink of alcohol in over 18 years. Wow, he has incredible will power! I later found out that Don Vic and Chuy from Club 15 take the same rutera home when they get off of work. El Recreo is dark, red and narrow. They have two television screens where they like to play movies or soccer matches. Recreo also it has a pool table and an awesome jukebox that has albums by The Beatles, The Doors, Lucha Villa, The Rolling Stones, Chavela Vargas, Tin Tan amongst others. This place is my favorite bar in all of Juarez because it has an atmosphere that doesn't compare to other bars. This place is cool and I would recommend El Recreo to anyone and everyone who is willing to go somewhere unique and different from your usual dance clubs and typical bars.