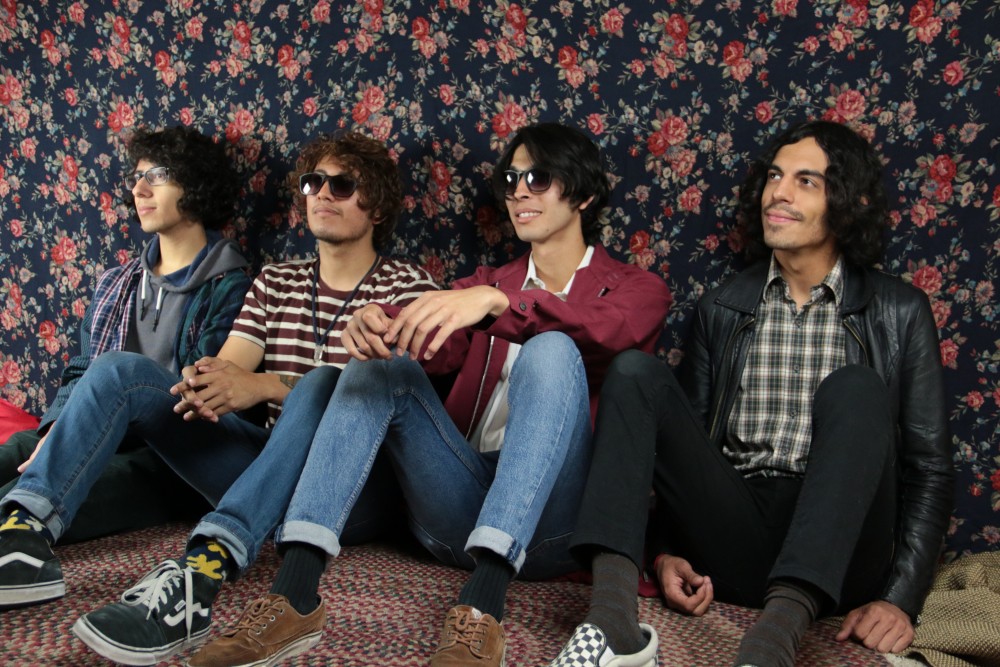 Text: Isabel Aleman | Photos: Viridiana Villa 
El Paso is filled with talent. On any given day if you look hard enough, you can find an array of local talent ready to make Chuco Town dance. Nico and the Silent Films is a great new addition to the local music scene.  They are bringing surf-rock to the Sun City, with a cool personal style and a great stage presence.
We first saw Nico open up for The Drums—sold out show, and the Lone Stars were flowing. That is when the young foursome started setting up. Just before they stared, the guitarist and the singer took off their shoes, and that's when we knew it was gonna be a comfortable treat.  With band members Andrew Betancourt (guitar and vocals), Steven Maldonado (bass guitar), Fernando Corona (guitar) and Derek Lopez (drums)—Nico and the Silent Films are badass.
Tell us about your songs and song titles
My songs are usually about love and unity, maybe even about freedom a lot of the time. I talk about travel and nature, and space being together.  We fight against it like we're separate entities and the songs sort of say, look, wake up, you're already everything you need to be.  Why fight it?  That's what causes your suffering. Anyway, some of the songs talk about time, such as "Take Your Time"—kinda self explanatory. Songs like "Le Voyage de Lune" named after an old silent film by Georges Méliès, it's sort of my own interpretation of the films walking around an old town, on a date with someone looking at the moon.
We're very much into psychedelia, and I guess when I saw that this movie was one of the first in color, I just thought that it was so great to see that this artist wanted to bring more life into his art more than just black and white. Life and emotions aren't just black and white.
How did you guys get together?
We just started jamming, me and AJ just started playing together; just kind of jamming, then Stephen came into the picture. We'd always been jamming together before Stephen came in, and then Ferni came a little later—it just worked.
 So you guys bonded with music?
Originally, it wasn't music, we liked Rock Band. I guess music, or just the boys I used to skate with all the time, it was skating mostly, and that's how we got connected. In high school we got more into playing music. That's when we started playing with everybody more often. We were in a band called Creature Comfort before. It was basically the 3 of us just playing.
 Where would you guys play with Creature Comfort?
Sumatra Hookah Lounge. It was a little jam band, nothing too serious. We broke up after a while. A couple of years later, this came to be.
How was it opening up for The Drums?
Honestly, it was kind of funny how people cheered for us walking on. I kind of wanted to laugh—it was definitely a different vibe. We weren't used to playing any sold-out shows, so it was great to see a whole crowd already there and not having to say, "Hey come on down here guys."  Yeah that was really good experience. Honestly, definitely got more people to know about us. I had fun that night. The first time at a show where I looked around and there were faces everywhere. That was pretty cool.
What do you want El Paso to know about you?
We're no different from anybody else; we're just like everybody. We're just trying to do the best at something in our own art. We want people to see that if they have a passion for something, to  just go for it. Just do what you want to do—there are no rules in this life.