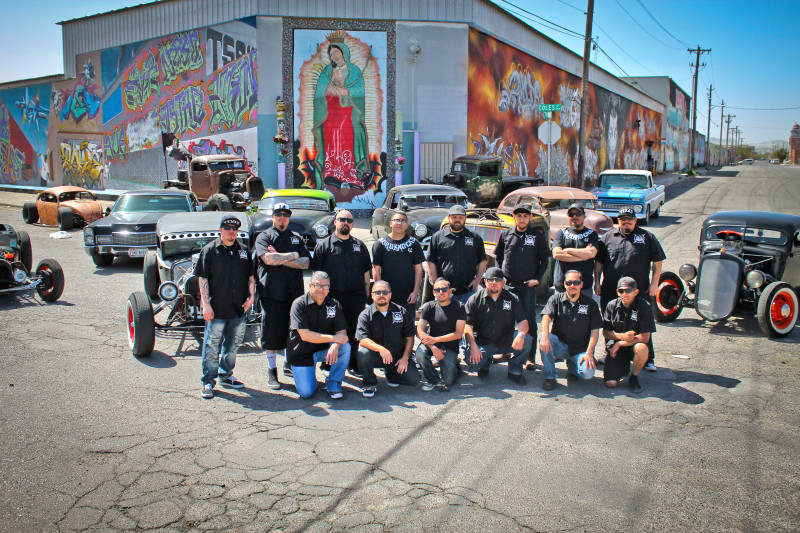 Text: Valeria Contreras | Photos: Adam Avenue
Kustom Kulture is a sort of umbrella term that encompasses the art and cars, as well as the distinct fashion style, created by those with a passion for custom-built cars. The movement sprang throughout America after the 1950s, largely influenced by SoCal hot rod culture. Today, Kustom Kulture continues—alive and pulsing, through the veins of El Paso, Texas.
Within those veins, you can find HardKnocks Texas, a local car club that indulges in the love of anything vintage, so long as its motor goes fast. Originally founded in El Paso, the club has grown exponentially, due to the great interest in Kustom Kulture in the area. Since the club's founding in 2009, Hardknocks has attracted over 30 dedicated members and expanded into 3 chapters: Texas, New Mexico and Nevada.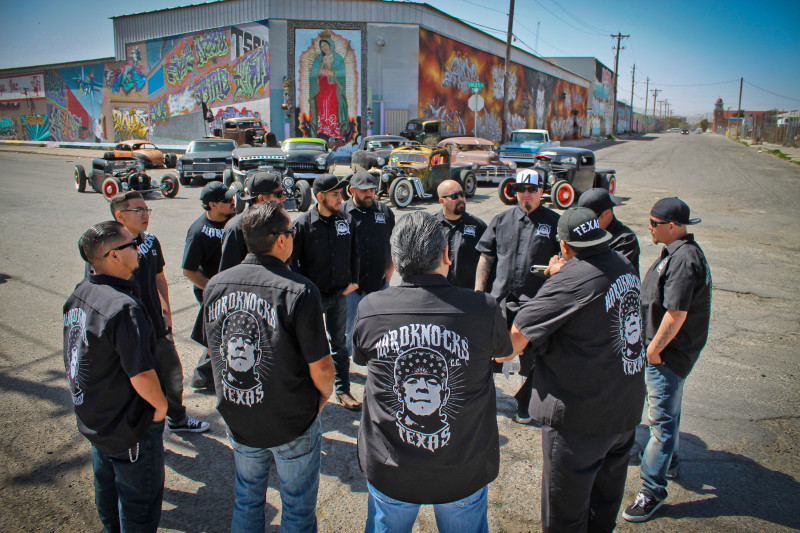 Butch Coronado is the vice president of Hard Knocks Car Club, as well as an event promoter for The Great American Rockabilly Riot, an upcoming local event that celebrates Kustom Kulture. Coronado's excitement and passion for this culture truly showed as he described the types of cars in the Hard Knocks Club.
"[The cars] originally started out as rad rods, pre-1950s, old school lead sleds and what have you. Over the years we've kind of evolved. We're more hot rod inclusive, pre-1974," Coronado said.
Coronado was especially proud of the car he has nurtured over the years, a 1934 Model A with a hardcore motor—454 Big Block. Although Coronado did admit that his favorite car would have to be a 1950 Mercury, he also raved about the tires, the speed and the beauty of his cars.
"I love the lead sleds. I also have a 1953 Plymouth Cranbrook that you'll be able to see at The Great American Rockabilly Riot. That one's probably as close as I got to my dream car," Coronado said.
It is precisely at The Great American Rockabilly Riot where you'll be able to see cars like the 1953 Plymouth Cranbrook and more. It's a place where hot rods, vendors, artists, musicians and others alike will come together to share your love of Kustom Kulture. Most importantly, it is a place with an accepting community, where you can truly be yourself.
"I just want to encourage everybody to come out to the Great American Rockabilly Riot Kustom Kulture Extravaganza here in the Southwest. It's great to have a show that we got people coming in from coast to coast to come here to our hometown, to El Paso, Texas. Every year people within our hot rod community are always talking about going out of town to go to other shows and events across the nation, and I just think it's about time people start coming to El Paso instead of driving through it," Coronado said.
The Great American Rockabilly Riot will take place August 27, 2016 at Ascarate Park, in El Paso, Texas.
A portion of the proceeds from the event will go to local charities in need.
Please go to http://rockabillyrioteptx.com/ for tickets and more information.