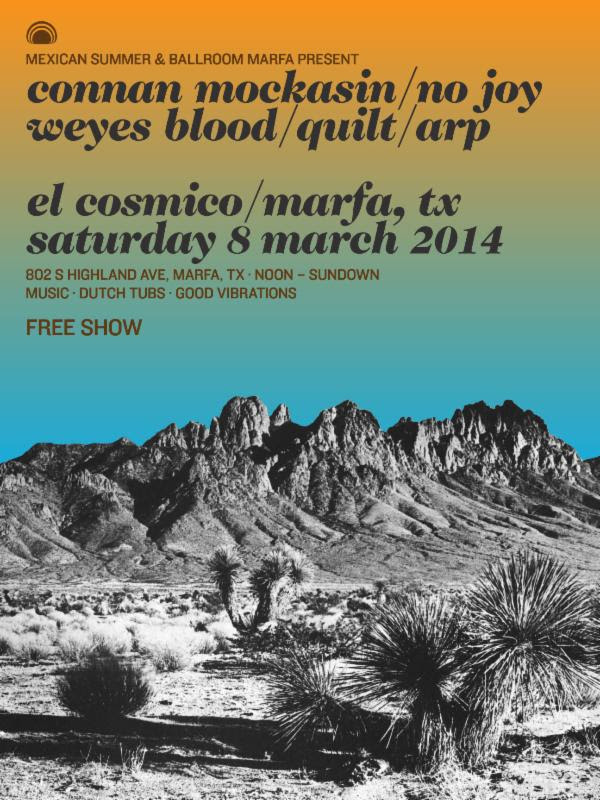 Ballroom Marfa and Mexican Summer Present
Connan Mockasin/No Joy/Weyes Blood/Quilt/Arp
March 8, 2014
Noon to Sundown
El Cosmico, Marfa, Texas
Free
Join  Ballroom & El Cosmico Marfa in our first high desert grasslands serve as a waypoint on the road to — and escape from! — Austin's annual SXSW gathering. It's Southwest of South By time again! #SWSX
First up, Mexican Summer and Ballroom Marfa are presenting a free celebration of music and good vibes at the El Cosmico hotel and campground. The daytime festival features a lineup that runs from ambient pop music through deeply lysergic folk and breezy shoegaze, all performed under the endless blue skies of the Trans-Pecos. Local food and drink will be on hand as will El Cosmico's famous wood-fired Dutch tubs.
This event is free and open to the public, featuring performances by an auspicious slice of the Mexican Summer roster:
Arp (2pm)
Weyes Blood (3pm)
Quilt (4pm)
No Joy (5pm)
Connan Mockasin (6pm)
Preview the festival with Marfa Public Radio's monthly Inter-Dimensional Music program this Sunday, March 2 from 9-11pm as Arp's Alexis Georgopolous plays guest selector on the Big Bend's number one New Age radio broadcast.
Then tune in for Marfa Public Radio's Talk at Ten radio interview with Mexican Summer's Keith Abrahamsson and Adam Lekach on Friday, March 7, at 10:30am on KRTS 93.5FM or via their online stream.
Info via: Ballroom Marfa