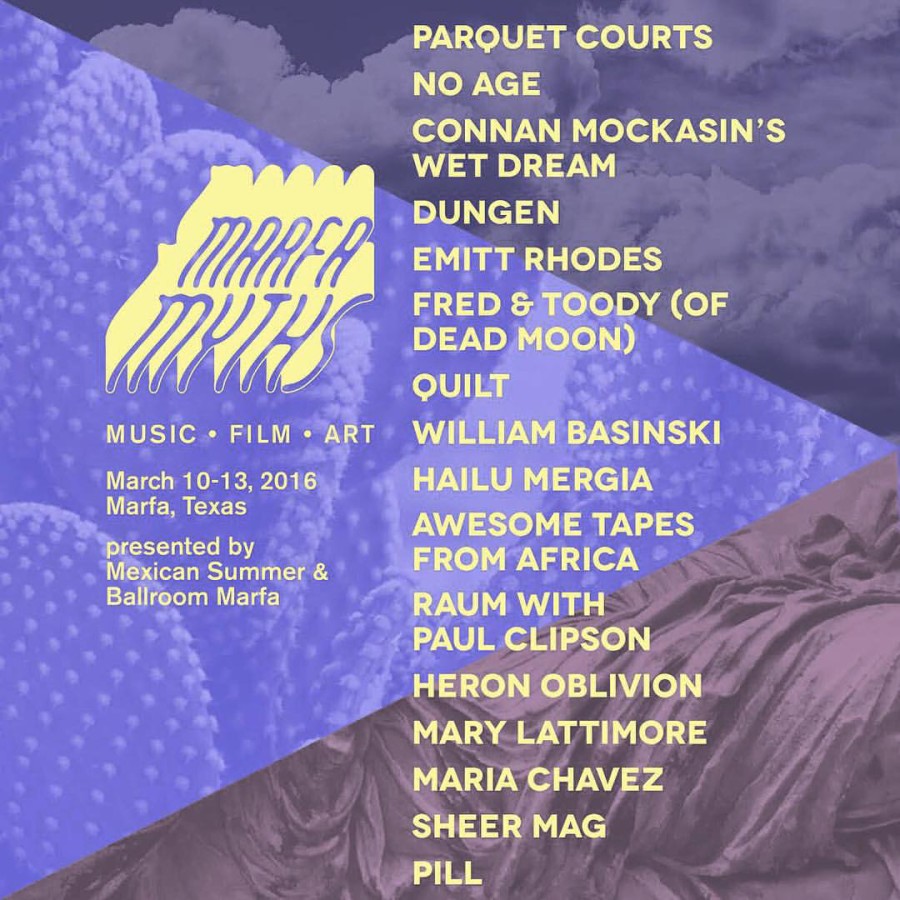 In 2014, Ballroom Marfa and New York City-based record label Mexican Summer collaborated on their first festival, which would evolve into the much-hyped and much loved 3-day long Marfa Myths Festival one year later.
The first year's one-day event, then known only as Mexican Summer Festival, saw the label's artists Arp, Weyes Blood, Quilt and No Joy performing on a small stage to a scattering of festival-goers in the El Cosmico field on a windy, cold March day, whose grey skies threatened rain.
Label darlings Connan Mockasin, who were to perform at the stage in the trailer, tent, and teepee hotel, were forced to crash a bill with local punk rock favorites Solid Waste at Padre's once the sun fell into the western horizon and the mercury in the thermometer fell further down.
"We really wanted to find a place that would be both difficult to get to and create all sorts of on-site logistical hurdles," wrote Mexican Summer co-creator Keith Abrahamson in a cheeky e-mail. "We're gluttons for punishment here at Mexican Summer. Luckily, it turns out Marfa really is magical… and worth every drop of our sweat and tears."
"It was a great party," said Quilt guitarist/co-vocalist Shane Butler of the first year. "It was really intimate and small. Everyone got to hang out."
The Boston-based quartet, who released their third album Plaza on Mexican Summer in February, will mark their return to the festival on Saturday, March 10 after sitting out last year's show.
Sitting in with the band this year will be harpist Mary Lattimore, who contributed to Plaza and will play a solo set at Wrong Gallery that Friday.
2015's installment of the festival saw the expansion of programming, which included the opening of artist Sam Falls solo exhibition at Ballroom Marfa, as well as a sound bath with Jefre Cantu-Ledesma before the big show which included Iceage, Grouper, Tamaryn, Steve Gunn and Weyes Blood.
Despite the low turn out for the first festival in the far reaches of west Texas, Marfa Myths 2015 attracted a considerably larger audience; enough to fill the spacious venue, The Capri at The Thunderbird Motel.
This year's festival promises to continue this upward trend with a fourth day added to assure those that find their way to the middle of everywhere, that the face value of their ticket was well worth it.
Along with the Saturday show, you will see the likes of No Age, Parquet Courts, Connan Mockasin's Wet Dream, Quilt, Sheer Mag and Emitt Rhodes (who will take the stage for the first time since 1973) perform at The Capri; festival promoters have scheduled movie screenings, workshops, parties and a live scoring of The Adventures of Prince Achmed,with Dungen providing the soundtrack.
Ballroom Marfa will also hold an opening reception for the group show After Effect, which will include artwork from Dan Colen and Loie Hollowell, as well as historical works from the Transcendental Painting Group from 1938-1942.
Aside from the official festival activities, promoters and bands are also looking forward to taking in the sights and sounds of the sleepy, dreamy art town.
"We're really looking forward to driving through the desert," Butler added with a yearning for the landscape in his voice. "West Texas is its own place."
"Whoever is the conductor of the Marfa Lights, let them know we're coming!" added co-vocalist/guitarist Anna Fox Rochinski.
For tickets and a full schedule, please visit http://shop.ballroommarfa.org/collections/tickets/
Text: John Daniel García