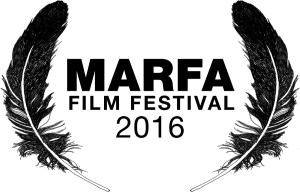 On Wednesday July 13th, the Marfa Film Festival festival opens earlier that evening at Crowley Theatre, with a 5pm screening of Transpecos, a gritty tale of corruption in the ranks of the Texas Border Patrol.
That evening, the festival will shut down Texas and Highland streets at 7pm in front of the Presidio County courthouse to host a 1956 Hollywood-glamour themed block dance party. The night will feature DJ Manolo Black, Mariachi and Jazz music, and free tours of the historical rooms where the stars lived during the making of the film classic GIANT. Attendees are encouraged to dress in the glamorous style of a 1950's gala premier, and have their photos taken at a red carpet photo booth. This event is free and open to the public.
The festival goes into high gear Thursday the 14th, with films starting at 11am and running until 5pm, and a pool party in the early evening, culminating with the outdoor screening of the lost Japanese animation classic, Belladonna of Sadness at El Cosmico, event starts at 9pm.
Friday, July 15th's screenings start at 9am and runs till 9pm. That night the Golden Dawn Arkhestra, a 12 piece theatrical funk-soul band that is as much a stunning psychedelic spectacle as they are the rightful heirs to the legacies of Sun Ra, Fela Kuti and Parliament Funkadelic, will have a horse led procession from the back of the Crowley Theatre at 9:30 to the Capri for a mesmerizing show at 10pm. This evening event is free and open to public.
After a full day of programming on Saturday, July 16th, at the Crowley Theater, Marfa Film Festival is proud to host a 60th anniversary celebration of the film GIANT. Locals will take over Marfa Municipal Golf Course with BBQ pits in tow, and at 6pm, their efforts will be judged by local picnickers. There will be a potluck picnic and guests are invited to bring a side dish to share and a instrument if they would like to join in the musical jam. A Sunset Dance with then commence featuring Lucky Tubb and the Modern Day Troubadours, fronted by the grand nephew of Texas Country legend Ernest Tubb. The crown jewel of the evening is a beautiful 35mm print of GIANT, shown under the stars in the town where it was filmed. The event is free and open to the public. Marfa school buses will shuttle people back and forth to town. Guests may enjoy a scenic hayride from the Presidio Courthouse start at 5:30 PM.
The festival wraps up on Sunday, with screenings starting at 11 AM and ending with an ethereal shorts program beginning with a special surprise screening. Another pool party helps attendees get through the siesta hours. Marfa Film Festival dedicates its 2016 Closing Party to saying farewell to Prince and David Bowie, two highly-influential cultural and artistic Icons both lost to us while this year was young. Admission is $5, free for anyone wearing a Prince or Bowie themed outfit. 9pm, Saint George Hall.
This festival features visionaries and their films, from all around the world; including Greece, China, Canada, and the United States.  The Marfa Film Festival continues to promise great films and great times for the entire Far West Texas Community. More secret events to be announced.
Marfa Film Festival would not be fully possible without the generous support of our sponsors. Special gratitude to Tequila Don Julio, a like-minded brand that has the same core values of passion, craftsmanship and authenticity. Tequila Don Julio will proudly be offered at many of the supporting parties as an ultra-premium option for guests to enjoy in specialty cocktails, and is available for VIPs throughout the festival in our Filmmaker Lounge. Tequila Don Julio will also be sharing their own film at the festival entitled "Don Julio. The Man, The Legend." which allows an inspiring rare first-person glimpse into the story of how their tequila was founded, as spoken by Don Julio González himself in his last known interview.
Those who don't want to miss a thing can purchase passes at MarfaFilmFestival.com. The festival 5 day pass 100% off for El Paso residents and Day Passes discounted to  $50.00 (must show proof at purchase in Marfa Tx.)