Marfa Book Co. will be reopening this Wednesday, February 24th at 9 am. In a way, it's a return: to our long-time home at 105 South Highland; to being a bookstore where you can enjoy a cappuccino or a glass of wine poured on the premises (the absence of which I was never allowed to forget!); and to our series of readings, talks and exhibitions, which never really ceased, but which we were unable to provide its merited attention due to the significant energy required to develop this new iteration of the store.
 In another way, it's a new beginning for us. We have many new projects and many new products to share with you. A number of these develop from our new context, the Hotel Saint George, which we expect to be a diverse and lively environment and one that we hope to contribute to in a variety of ways. Others are the result of many years of thinking about the role of bookstores in our culture and our experiences running this one for the past decade.
Marfa Book Co. remains, fundamentally, an opportunity to explore the various artists and ideas that interest us, inside and outside of commerce, which we feel are significant at this time and place. Much of this comes through our interactions with the incredibly inspiring people of this area and all the visitors we get to meet. As ever, we are grateful to all our of friends who have made this whole thing possible, many of whom have contributed in ways beyond telling.
I'm especially happy to say that we have more ideas, publications, and events in mind than ever. And so I hope you'll clear your calendars and your bookshelves, to make some room for all of this…
To celebrate the reopening, and to celebrate the publication of his latest book, MBCo employee Josh Edwards will be reading from his really quite wonderful Castles and Islands this Sunday at 7 pm. The venue will be the hotel bar, which is where we intend to host this type of thing in the future. We've tried a few preliminary events in there and it's feeling pretty damn good.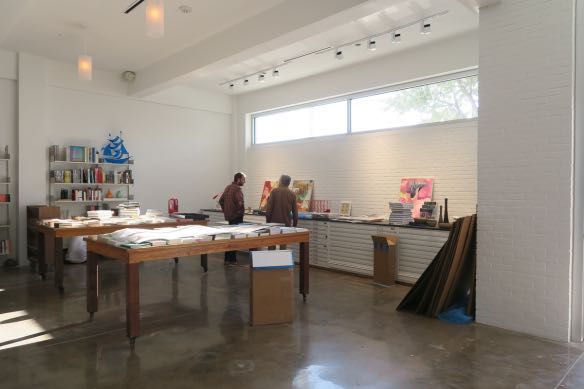 Marfa Book Co. is a bookstore located on the main street of Marfa, Texas, a town located in the West Texas desert near Big Bend National Park. It is one hour from the border between Presidio and Ojinaga.
Some already know the importance of Marfa in regard to minimalist artist Donald Judd and the creation of his foundation and museum, but there are other cultural points of interest – like Ballroom Marfa and El Cosmico, among others that add something special to this town.
Although it is a small town (a population of approximately 1,981), the bookstore is worthy of a big city. For those of us that have had the opportunity to visit, we feel the need to go back frequently. They have a great collection of art and architecture books which are hard to find in other places. The city has several important cultural spots, but in my opinion, Marfa Book Co. seems to be the catalyst of many of them.
Photo: Mary Lou Saxon | Rafael A. Revilla
Text: Tim Johnson | Rafael A. Revilla