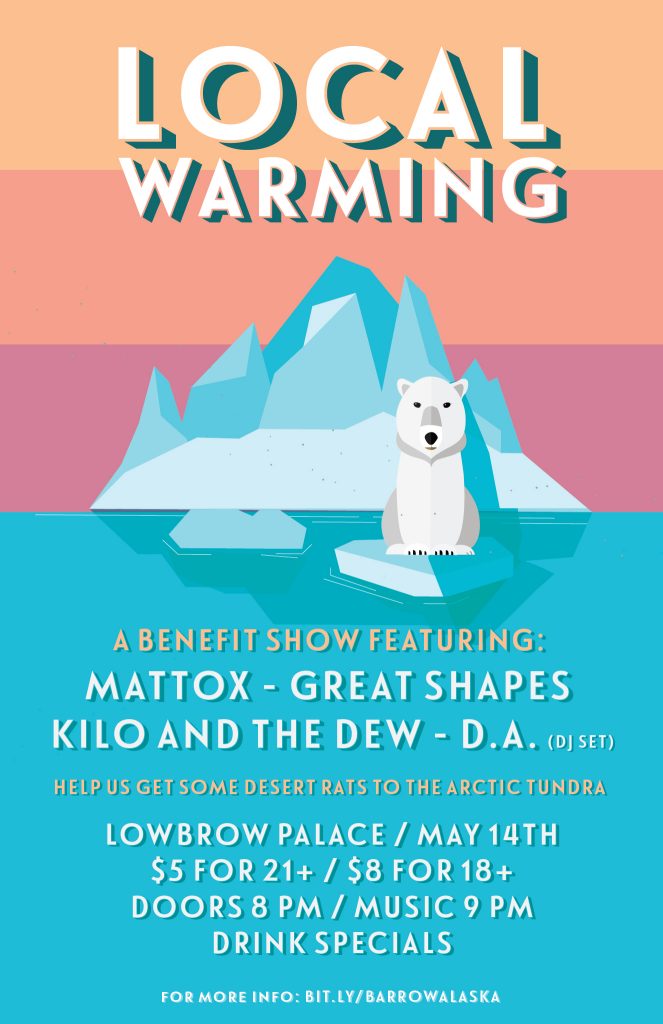 Local Photographer is first artist ever invited to join Scientists from the UTEP Systems Ecology Lab in Barrow, Alaska to document Climate Change
Florencia Mazza is the first artist that has ever been invited to join environmental scientists, biologists, engineers, and computer scientists as part of an Artic research group traveling to the northernmost city in the United States, Barrow, Alaska. The group, led by UTEP's Dr. Craig Tweedie, will be comprised of students and researchers from the University of Texas at El Paso's Systems Ecology Laboratory, and leaves June 1st of this year for a three-month excursion into the artic tundra to examine pressing geographic issues such as global rising temperatures, shrinking summer sea ice, and thawing permafrost – all of which are the result of climate change. Mazza, whose work has taken her across the globe, will focus on documenting these deep explorations both technically and artistically as well as the local culture and peoples in order to further provide insight and education in a medium not normally utilized by scientists.
Throughout the three months, Mazza will work to produce a photo essay titled, "Barrow, Alaska: A Photographic Journey into Arctic Research and Culture," the content of which will be used in scientific publications, online mapping applications and for general outreach. The images and video resulting from this experience will also be showcased as a multidisciplinary exhibition (photo, video and mapping installations) at The University of Texas at El Paso and other local exhibitions. In addition, Mazza has been invited to contribute her work to Climate Prisms: an interactive and self-guided exhibition that will provide users with insights into the science and implications of climate change headed by Francesca Samsel from the University of Texas at Austin and Los Alamos National Laboratory. Furthermore, her plans to document and profile the native Inupiat people, their culture, and their hopes for the future given these global implications will help to provide audiences and researchers with a personal and provocative narrative from those experiencing these changing landscapes first-hand,
To help fund this once-in-a-lifetime opportunity for Florencia Mazza, her colleagues, fellow artists and friends have started an online fundraising campaign to help raise funds for polar gear, exhibition materials and other expenses. Secure online donations can be made by following a link on her website at www.florenciamazza.com.  She, with the help of other artists, photographers, and musicians, is also inviting the public to attend a variety of fundraising events in an effort to help get to Barrow, Alaska.
Saturday, May 2nd. 8:00 P.M. Joe Vinny & Bronson's Bohemian Cafe, located at 824 Piedras.
Art Auction and live music
, featuring art from: Exist 1981, Jason Lucero, Julian Quiambao, Matthew Poe, Eric Mckillip, ElSol25, Peter Svarzbein and more. Raffles from local establishments. (
link
)
Thursday, May 14th. Door 8:00 P.M. / Show 9:00 P.M. Lowbrow Palace located at 111 E Robinson.
Benefit show featuring: Mattox, Great Shapes, Kilo and the Dew, D.A. (DJ Set). Drink specials. 21+ $5 / 18+ $8
Friday, May 15th. 8:00 P.M. 
Proper Printshop located at 800 Montana. 
Ping-Pong Tournament and Game Night featuring two tables, Nintendo games on projection screens, art stations, live print making and more, plus DJ System.A. 
Door entry. 21 and over – free drinks while supplies last.
Bio: Florencia Mazza Ramsay Photographer and retoucher whose editorial credits include Playboy Spain, Mercedes-Benz (Argentina) and Porsche (Argentina), and Mustique Latin America. For more, visit www.florenciamazza.com
About the Systems Ecology Laboratory at UTEP The Systems Ecology Laboratory (SEL) is focused on understanding the biocomplexity associated with environmental change and plant and ecosystem structure and function in extreme environments – namely Arctic tundra and the Chihuahuan Desert.  For more information, please visit http://academics.utep.edu/Default.aspx?tabid=42725
About Climate Prisms: Climate Prisms is the Bradbury's museum latest addition to their environment exhibit. The exhibition intends to reinvent the way the public processes climate change data by utilizing art, poetry, images, videos, and scientific presentations that will enable users to follow threads they choose leading them toward their own self­-constructed understanding and action plan. For more information, visit http://www.lanl.gov/museum/events/calendar/2015/February/02-17-15-climate-prisms.php\