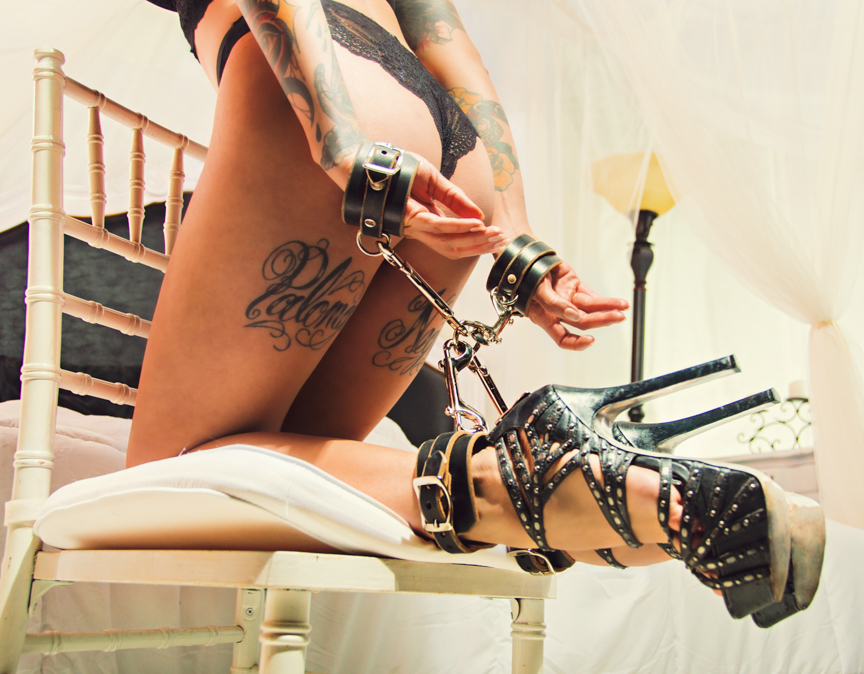 *BDSM stands for Bondage and Submission/ Domination & Submission/ Sadism & Masochisn
"Necessity is the mother of invention."—The creators of Hell Paso Alternative Wear boutique have taken that adage as creed, and established a shop that caters to all flavors of kink. Located inside Nequim Pin-Up & Boudoir Photography Studio, 7100 Gateway Blvd East, Hell Paso carries items for dyed-in-the-wool BDSM* lifestylers, as well as those who are just dabbling.
Photographer, editor, and owner of Nequim Pinup & Boudoir Photography, Frank Villasana, and modeling coach, manager and designer Sabine Green noticed many of their clients were interested in purchasing items they were using for photo sessions, but really had limited to no options to buy bona fide devices intended for BDSM play. Villasana explains the spark that ignited the idea:
"A lot of our clients at Nequim didn't know where to purchase gear for some of the soft BDSM boudoir shoots they were doing; we'd have to toss them to the adult stores, or Victoria's Secret and Eve's. The more we tried to find a place that might offer what we were looking for, the less we found, and that's when we decided to collaborate with as many local artists as we could and created Hell Paso. We have gear designed by [BDSM] lifestylers, for lifestylers."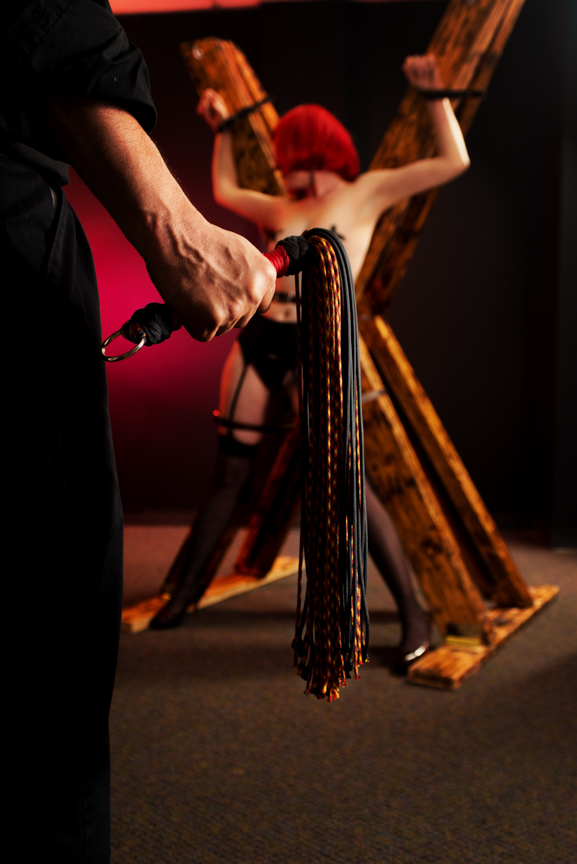 Green and Villasana offer one-on-one consultations for proper product use, as safety is also a primary concern.
Products with names such as Little Ms. Red, Brat Tamer and Slave Maker, adorn the walls and shelves at Hell Paso. Other gear includes bondage wear, cuffs, collars and hobble sets; discipline tools like floggers, restraint devices, and cages; and even wearable items including leather corsettes, Bigger items consist of a couple's St. Andrew's Cross, cages and a little device Green originated herself called the Submissive's Litter Box. She explains the concept:
"It's my pride and joy. I saw something similar on the Kink documentary and it inspired me to do something that's portable and discreet and concealable within a household. . . . The Submissive's Litter Box is a restraint that sits on the floor; the sub is [down] on all fours with cuffs or Shibari rope to restrain [him/her]in multiple ways. There's a bar that goes behind the legs to make sure the sub is restrained in a most comprised position. You can you put things in the box like litter, ice cubes, frozen marbles—whatever you want to do to make your sub uncomfortable."
The pair executed a soft launch of the boutique last year during "Taboo: A Gallery of the Forbidden"—a Nequim anniversary celebration which featured the unveiling of 5 photographic projects, a fashion show, entertainment and BDSM demonstrations.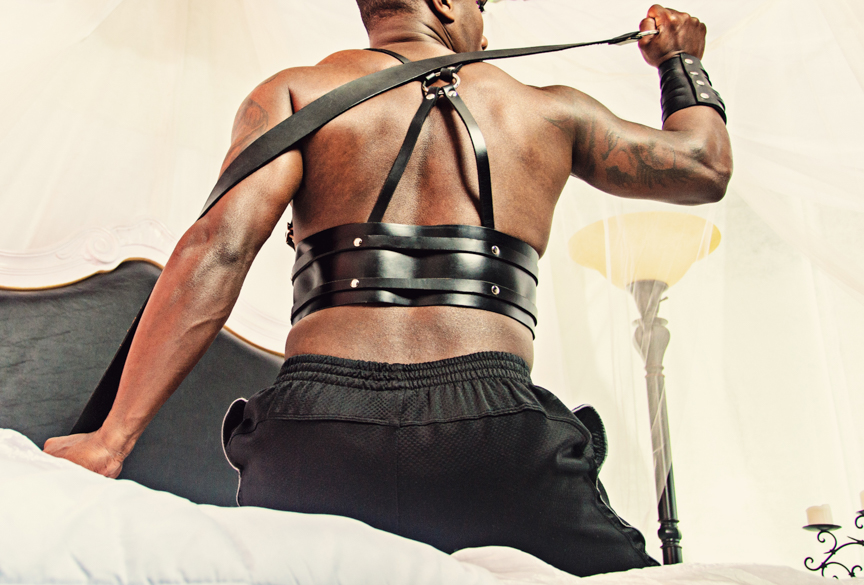 "We've yet to do a full hard launch because we've been looking for and gathering a variety of [other] artists," Villasana said. "But we are open for business by appointment and 24/7 on the website."
The majority of the items carried at Hell Paso are handcrafted and custom-designed by local artists, although the shop does carry some lines of prefab products as well.
"We do have a lingerie line that's mass produced—simple things like the back seam and Cuban heel stockings and some of the lace garter belts," Green said. "We carry that stuff specifically because a lot of our boudoir clients for Nequim may put holes in their stockings right before the shoot, and it's a lot easier to carry those items here."
Designer Sara Macias, creator and owner of Eclectic Visions has several items on consignment at Hell Paso. She explained the origins of her designs:
"I designed some stuff for the Taboo show.  My theme and inspiration was antique medical stuff, like asylum wear and quack doctors [items], like straight jackets and shock therapy [items]. At Hell Paso I have a jump suit inspired by a straight jacket. A lot my stuff also touches on the bondage theme."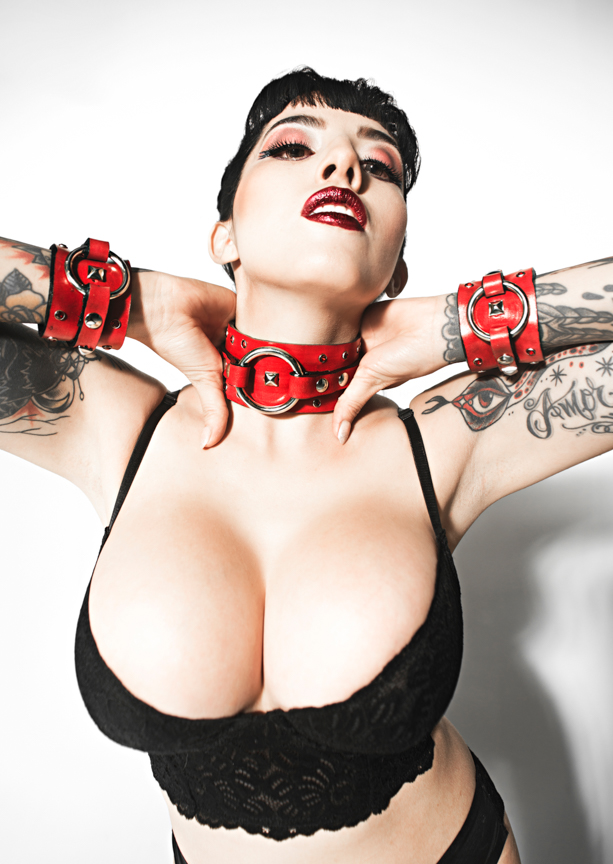 Other Eclectic Vision items at the boutique are retro and pinup-inspired, with a dark, bondage-like edge.
Future plans for Hell Paso include implementing shoe lines popular with the kink, goth, steampunk and pinup scenes. Possible brands include Bordello, Pleasures and Demonia.
"We're also negotiating with a steampunk gear fabricator and pinup costume designer," Green said. "It's a matter of finding the right consignment contract that everyone's happy with."
Whether you're a hard core kinkster or just looking for a way to spice up your wardrobe and your love life, Hell Paso has you covered.
7100 Gateway Blvd East, Lower Level
915-307-2945
Text: Denise Nelson Prieto | Photos: Nequim Pin-Up & Boudoir Photography Studio