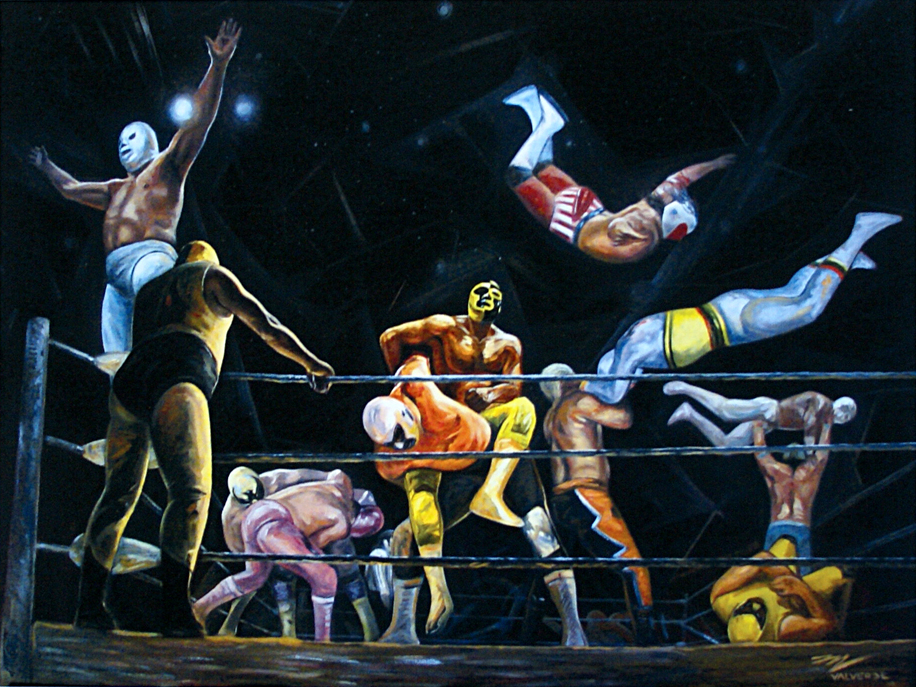 Title: La Campal
Artist: Miguel Valverde Castillo
Size: 17″ x 14″
Edition: Limited to 25
Description:
The battle between good and evil is manifested in wrestling. Dynamism,
mystery, power, victory and defeat are just the beginning of this war as
the leading gladiator clung to eternity.
Artist Bio:
Miguel Valverde's work can be found embellishing the walls of some of the
most important academic and cultural buildings in the state of Chihuahua.
His name currently figures amongst the most accomplijshed young painters
and muralists in Mexico and has been named a representative in the Youth
Program for the Chihuahua Institue of Culture.
His murals reflect his interest in the knowledge of science and culture
and are found in diverse institutions such as: "Life in movement,"Faculty
of Physical Education (2006); "Consolidation of the Mennonite culture,"
Agricultural Credit Union (2006); "Mother Earth," Faculty of Agronomy,
Decias city (2007); "Engineering in Chihuahua," Engineering College
(2009); "Cultural diversity,: Chihuahua Convention Center (2009);
"Stockbreeding work and tradition," Stockbreeding Association of
Cusihuiriachi Cuauhtémoc (2010)
The original piece is valued at $2,500
Pre-Order Dates: Feb. 22nd – March 14th, 2012
SHIPPING INFO:
After the pre-order period has closed allow 3-6 weeks for your purchased artwork to arrive. After sales have closed the prints must be shipped to the artist to be signed and back to us, then they will be shipped directly to you.