Jay J. Armes has always been an ambitious person and hard worker. A tragic explosion at the age of 11 claimed both his hands and twenty seven days after the accident his hands were replaced with prosthetic limbs. This life changing event transformed him and drove him to work hard to be the best at anything he chose to do. Jay J. pursued an acting career but was disenchanted with the Hollywood scene. Shortly after, he began to study law and law enforcement. During that time he made the decision to become a private investigator guaranteeing results. Jay J's tenacious work ethic helped him become the world's greatest investigator. His list of clients included Marlon Brando, Elvis Presley, and John Lennon. Jay J. has lived an adventurous life solving crimes and cases all over the world. He was even approached by Stan Lee to create a comic book character of him. Jay J. Armes is a real life super hero and El Paso legend.
What other jobs or titles have you had outside of being an investigator?
As I grew up I had different jobs. I worked in movies as an extra since I was 17. I went to Pasadena Playhouse, a theatrical school. I got disenchanted when I was working in pictures because I would see all these people go into my dressing room and they were smoking marijuana and I knew that wasn't right. I always wanted to get ahead. I really never wanted to be an investigator. I got into this business by mistake. I started studying criminology and I started studying law. I did research on all law enforcement agencies. I found out that the private eye had the worst reputation of all because of B movies. They would show the ex-cop become a private eye and he was playing both ends against the middle. I said, "The private eye has the worst reputation, that's what I'm going to do and I'm going to be the best one in the world!" I got my license to be an investigator. I wanted to be different, I wanted to guarantee results, I wanted to be international and go all over the world. That's what I've been working towards all my life, to be better than everyone else.
The rescue of Christian Brando, Marlon Brando's son, was a highly publicized case. Can you tell me a little about that investigation?
I had met Marlon Brando in my younger years when I was working in pictures. We used to hang out together and when I became a private investigator I sent him a note and explained to him if he ever needed anything. I received a call from Paris and it was Brando, he said, "Jay, I need your help! My son has been kidnapped." I started on the case and I went to the place where Christian was living, with Anna Kashfi, his mother. I started doing a neighborhood survey. Three houses across from Anna Kashfi's house, I interviewed an elderly lady. She said, "A week ago, they were having a party at Ms. Kashfi's, there was a car that parked in my drive way. I called the police and I wrote the license number. By the time they got here, they had already moved from my drive way. It was a red bus, like a van." So, I had something to go by and I ran the plates. I went to the port of entries and sure enough the title of the car was there. There was a town called San Felipe (Mexico) and there was one road right next to the ocean; they had no other roads going in to it. I flew a helicopter and I landed on a school ground. I hired 5 federal police to follow me in a jeep. I searched by air, I took off searching by a bunch of caves by the walls of the ocean. I searched for 4 days. The following day, the 5th day, I was searching close to the ocean and I saw the Volkswagen; half of it was in the bushes. I landed near by. I checked the license plate and it was the one I was looking for. There were a bunch of sleeping bags in the caves, 8 of them. I had scoped out everybody. I got my 30 caliber and went in there. I unzipped the sleeping bags and got them all lined up with their hands on the wall. The last sleeping bag was Brando's son. I recovered Brando and flew him to Los Angeles and called his house. Marlon Brando answered and I said, "I have Christian with me, I found him."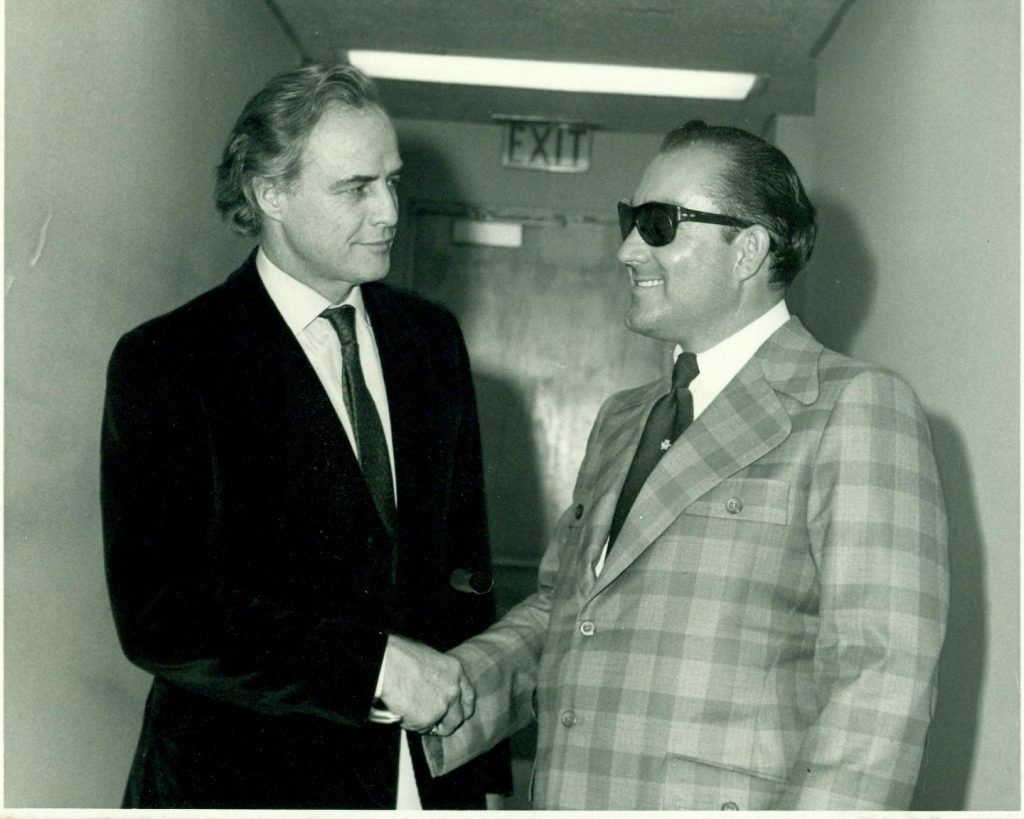 What did Elvis Presley and John Lennon hire you for?
I worked on Elvis Presley's problems. He had a lot of girl problems. One of the latest one that he had before he died was a girl by the last name Thompson, a beautiful girl. He was worried about her cheating on him. He was a nice guy, good guy, a good person. John Lennon's director hired me because they had kidnapped John Lennon's boy; it was not his boy it was his wife's son. The biological father had taken him and, of course, I found him.
Was there a case you weren't able to solve?
I have a contract that I negotiate with my clients; I tell them, you hire me, you hire my services but you cannot get anybody else involved. There are cases that I've started but then they start getting attorneys involved and I withdraw.
What are the most common cases you get hired for?
Missing persons. We have a lot of family problems that we deal with; wayward husbands and wayward wives. We do industrial investigations, industrial espionage, industrial sabotage, or attempted homicide. You can walk in with any type of case and we can handle it. We work all over the world.
What is your favorite weapon?
My favorite weapon is the American 180. That's my signature weapon because the American 180 is a machine gun and you can put it on your arm and shoot it with one arm and put your aim on the target and its that accurate. To carry would be my revolver; thats what I prefer.
How many times have people tried to assassinate you?
Well, let me tell you, there's been so many assassination attempts. When you take a case, 50% of the people love you. The other 50% hate you because you've helped incarcerate their brothers, sisters, cousins, husbands. They don't realize why. They hire you to conduct an investigation and you get the evidence and they get sent to prison. They feel that you're the one who sent them to prison. That's why they attempt to assassinate you. To me, its part of the work.
You're a fan of exotic animals?
I've had every type of animal you can imagine; a baby elephant, black panthers, cheetahs, ostriches, emus, african lions, rhinoceros, tapirs, porcupine, you name it. We had a chimpanzee that used to carry Jay on her arms. Right now, I have some white tigers with blue eyes.
How did you get into training exotic animals?
There's a bible phrase that says, "and when the beast of the wild shall be led by the child, this is when the coming of the lord is near," and you know, we are the children of the Lord. He makes everything possible. I started training animals since I was a kid. When I was a kid, I had a Heinz 57 dog. You know what that is? He's related to every dog in the neighborhood. That's why they call him Heinz 57. So then, I said, "one of these days I'm going to have every type of animal I can afford."
You were approached by Stan Lee about creating a super hero of you. Can you tell me a little about that?
He was fascinated when he heard about me. We flew in to California and met with him several times. He wanted to do a movie and comic books. I was under contract and I couldn't go with him but he says, "you know, any time you want."
www.spymall.com/investigators/
TEXT: ALEX DURAN