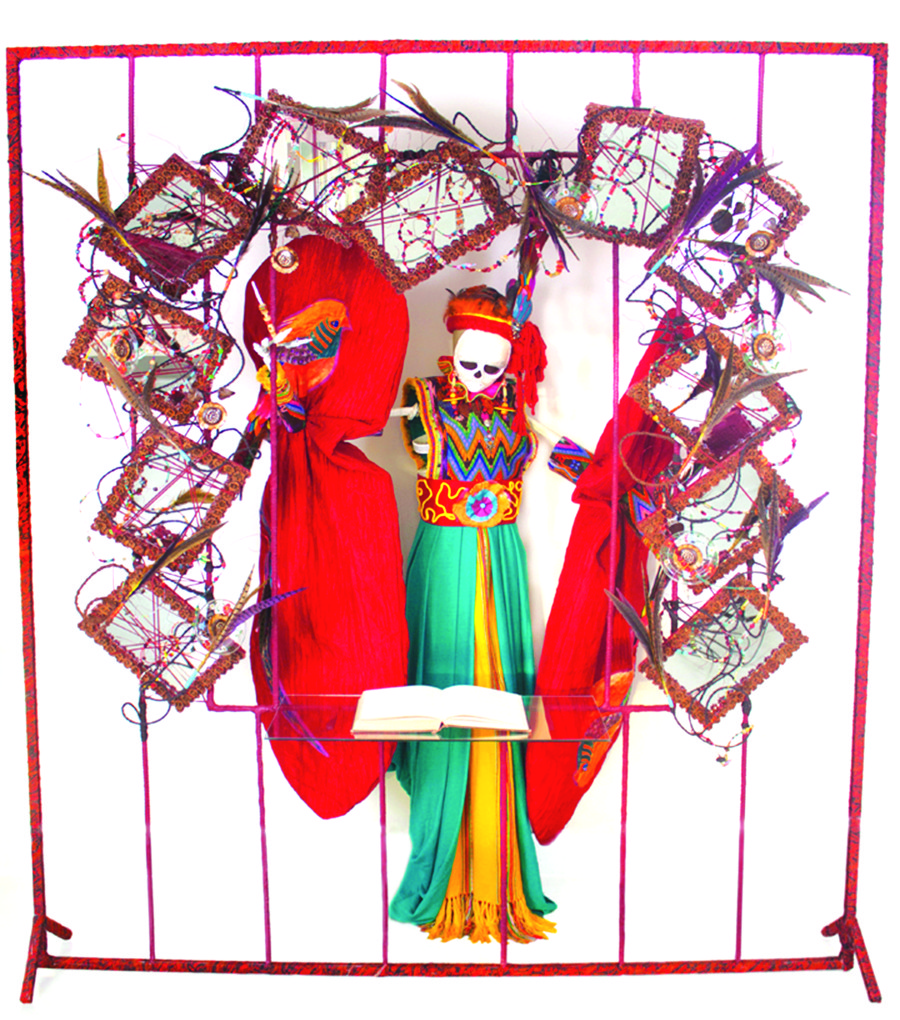 Text: Valeria Contreras |  Photo: Courtesy of Wayne Hilton
 La Calavera Catrina—coquette, elaborately dressed and beloved by many, stands front and center in Wayne Hilton's latest exhibition at the El Paso Museum of Art—"Hermosos Huesos." In this exhibition, Hilton has carefully created 14 mesmerizing Catrinas, small and large, out of completely recycled materials and found objects. Each Catrina is unique and inspired by themes such as political satire, sensationalized news and sexuality; themes also explored by Mexican printmaker José Guadalupe Posada.
"Most people associate my exhibition "Hermosos Huesos" with Día de Los Muertos because of La Catrina," Hilton said. "But it is more of an homage and broader recognition of what José Guadalupe Posada contributed to Mexican art."
Jose Guadalupe Posada was a political and satirical printmaker during the time of the Mexican Revolution who ultimately paved the way for major influencers like Diego Rivera. Today, several artists continue to draw inspiration from Posada, including Hilton.
"La Catrina has become this cultural icon. There are so many different ways she's portrayed and they all come from the artist's mind. It was natural for me to take the narratives represented in Posada's prints and use the Catrina to tell those stories," Hilton added, emphasizing several narratives from Posada's collection of over 20,000 illustrations.
One tragic narrative in particular, stands out.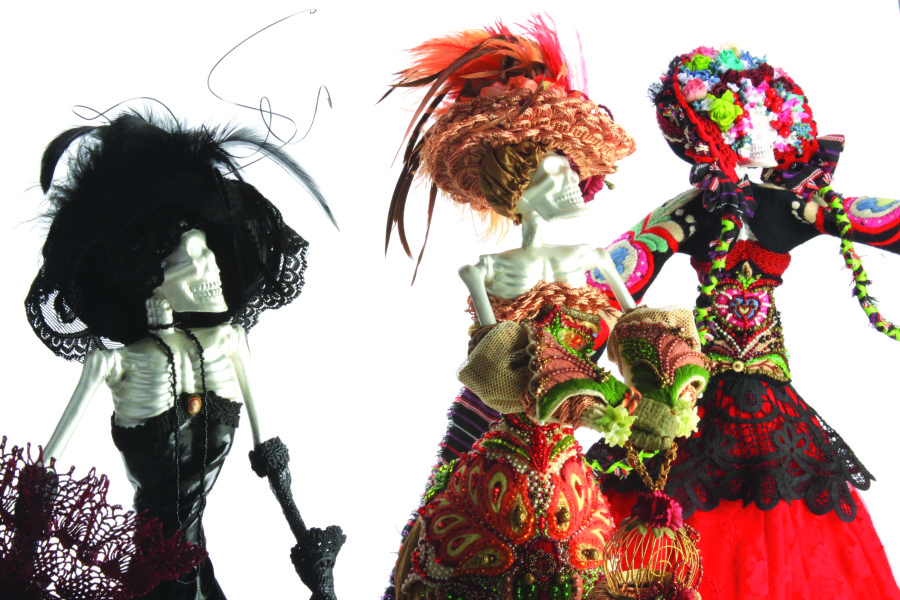 The story is known as El Baile de los Cuarenta y Uno, or The Dance of the 41. In 1901, a group of unaccompanied men dressed in women's clothing were arrested at a private party. Forty-one of them were subsequently sent to labor camps. Since then, the number 41 remains taboo and derogatory in Mexican culture.
In the original image, Posada portrayed several men with their mustaches, wearing dresses, and dancing cheerfully with one another. Hilton, intrigued by this illustration and its historical context, pushed the narrative further by using La Catrina as a medium.
"I thought, 'Let's take these life-sized Catrinas and use them as a way to explore this idea that men had no opportunity to express themselves in that time period.' These men were repressed in this society and could only express themselves by wearing lady's clothes, false busts and make up."
Without this context, the life-sized Catrinas, such as "La Mariposa," may pose a few puzzling questions. Wearing mustaches and false eyelashes, they are not the typical female skeletons we are accustomed to.
In fact, Hilton's life-sized Catrinas are actually men in drag. Although the true story ended in tragedy, he creates a new space where these male Catrinas can celebrate their beauty. He reminds us that we should celebrate the equality found in death, just as Posada argued with his creation of La Catrina.
This makes Hilton's inclusion of men dressed as La Catrina both bold and revolutionary. With this exhibition, Hilton has put LGBTQ issues and the related discrimination front and center by introducing the narrative of an extremely underrepresented demographic in not only the art world—but also the world of Mexican folklore and culture. Hilton does this by using a powerful cultural icon that is near and dear to those in Mexico and the Paso del Norte Region, a region he loves.
"I use this exhibition to comment on the strength of the El Paso art scene and the talent you can find in the region because Las Cruces, El Paso and Juarez are what I've considered my homeland for my entire life. I've always resonated with this community, this region is where I found my identity and my art,"
And whether or not you are familiar with the work of Posada, or the history that influences Hilton's pieces, we can all appreciate one thing about this exhibition:
Every. Single. Catrina. Is. Stunning.
Because after 3 years and over 5,000 hours of hard work, Hilton has demonstrated not only excellent artistic skill but also an immense amount of detail and passion for artistic expression.
"I hope people, even if people don't know the story or the context, they can come away with a sense of integrity in the craftsmanship of the pieces," Hilton said. "Because when I hear people have a positive response to the work, it warms my heart. I have a sense of deep gratitude for the opportunity to impact people through art."
Hermosos Huesos is on view until January 8, 2017 at the El Paso Museum of Art.