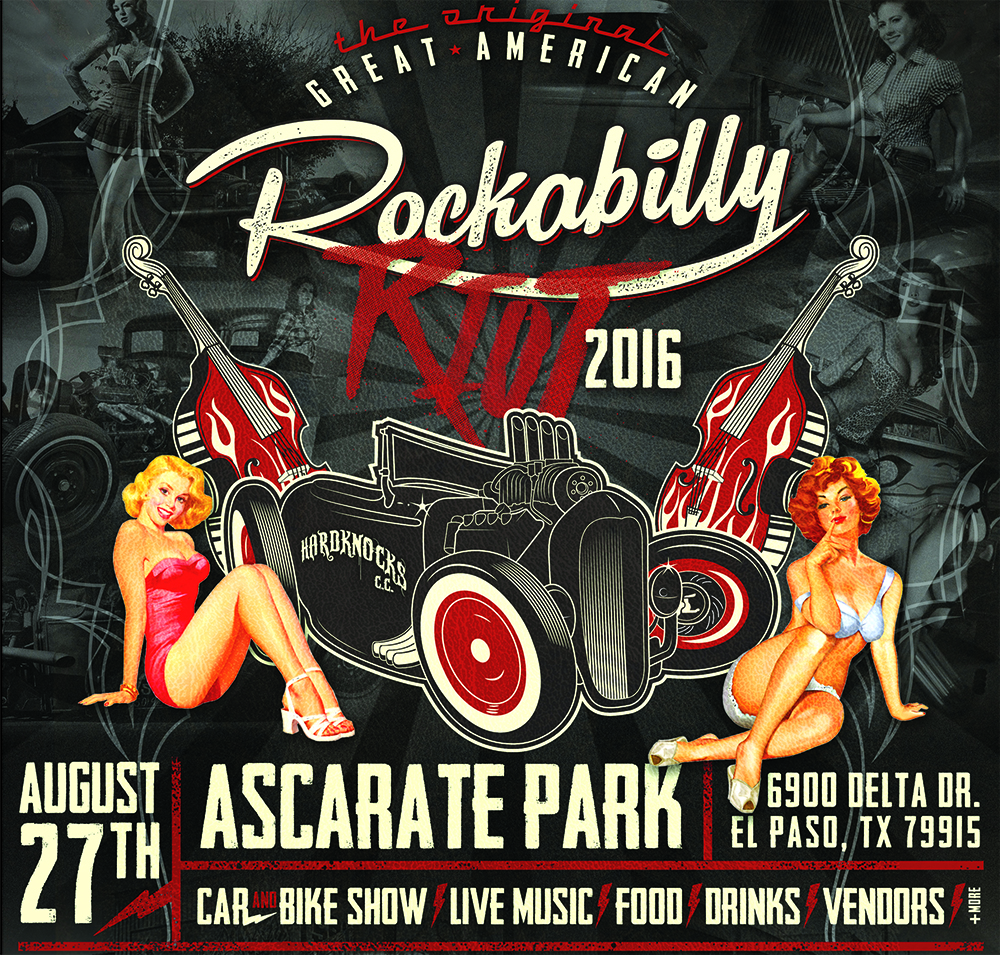 Text: Denise Nelson-Prieto
Art comes in many forms. From erudite artists such as Monet, Da Vinci, and Vermeer, to oft-considered "lowbrow" artists Banksy and Von Dutch, the differentiation lies not in the style, but simply the medium. Saturday, August 27th, art and passion unite to create a one-of-a-kind event. The fifth annual Great American Rockabilly Riot takes place at Ascarate Park. In years past the event has been a cultural hot spot buzzing with cool cars, hot babes and great music.
The event is organized by Jake Baca, founder and president of HardKnocks Car Club, which has members in El Paso, New Mexico and Nevada. Baca said the Rockabilly Riot was incepted as a birthday celebration for him and his seven-year-old son. The event is a nod to what's known as Kustom Kulture, a movement that started in post-war America during the 1950s. A somewhat more optimistic mood had swept the country, as evidenced by somewhat racier forms of dress, a la Danny Zuko and the Pink Ladies in the hit movie/musical Grease, the pinup girls of the time, [think Betty Page, the head mistress of sex appeal and sizzle] and the tricked out automobiles that populated main streets across the country.
Baca explained what Kustom Kulture is to him:
[Kustom Kulture] is based on ratrods, lead sleds, punk-rock and 50s style rockabilly, rock n roll and psychobilly.
For Baca the appeal of Kustom Kulture has expanded from a hobby to a lifestyle choice. He and his family own and operate Pumping Ink Tattoo Parlor, the Vintage Barber Shop and the Great American Land & Cattle Co on Alabama St. In his younger years he was a music promoter and involved in the skate board and BMX bike scene. The combination of all these elements naturally progressed to the Kustom Kulture mode of living, a scene Baca has been fiercely promoting here in El Paso.
"I'm trying to bring this scene to the community. We're always a hop and a skip out of the circuit. I travel a lot to L.A. and other cities, and people there think we're still riding horses. They think of that old town with the tumbleweed blowing down a dirt street. But we're pretty cutting edge for being far west Texas."
A major component of the Rockabilly Riot is a car show. Baca said the show will likely be comprised of about 200-300 cars. There are 13 different categories including Best Custom, Best Hot Rod, Best Truck and Best of Show.
Mercury's, Buicks, Plymouths, Fords and other makes will be on display at the show. Rat rods, lead sleds and classic are some of the hot rod designations the cars go by, and simply refer to modifications the owner has made.
This is the first year the riot will be held at Ascarate. In years past, the event took place at the Great American on Alabama. Due to sky high attendance last year with more than 6000 people showing up at the Riot, Baca and his co-organizers decided to accommodate the larger crowd size by modifying the venue.
"Last year we had a lot of people bringing their cars, like from Austin and L.A., but they couldn't even get into the parking lot because it was so packed, so we decided to expand."
Some of the featured entertainment at the event includes local rockabilly bands; The Shadowmen, Hillside Gamblers and Sorry About Your Sister are part of the 8 local band lineup. Headliners for the event are The Paladins and the Reverend Horton Heat.
Baca said this is also the first year the Riot has expanded to a 3 day extravaganza. Beginning Friday the 26th the Great American [Alabama St.] and Dominic's Italian Restaurant will host a Pre-Show Shindig. The parties will serve as a chance for sponsors and pinup girls to grub and mingle. The Strangemen will perform at the Great American location.
There is also an after-party at the Airport Radisson. There, Austin-based rockabilly stalwarts The Octanes will perform. The crowning of the pinup pageant winner, Miss Rockabilly Riot, along with the first 2 runner-ups will also take place at the after-party.
This year the pinup pageant has evolved into more of a bona fide contest. Pageant organizer and plus-size pinup model Dolores Fuentes, AKA "Miss Mozzy Dee," said in years past girls would sign up for the contest at the event. This year however, contestants had to pre-apply online.
"It's pretty legit this year. The girls had to apply online and submit professional photos. We have about 14 sponsors donating prizes to the winners."
She designed a set of Kustom Kulture related questions to ask each contestant between band sets at the show.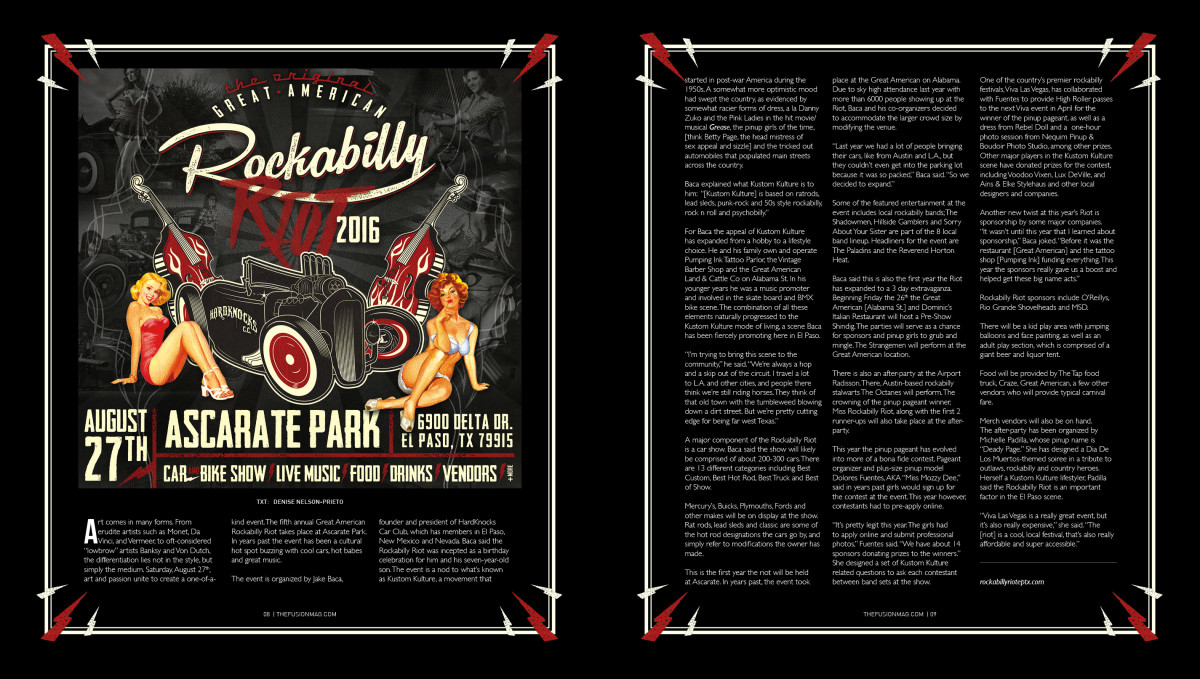 One of the country's premier rockabilly festivals, Viva Las Vegas, has collaborated with Fuentes to provide High Roller passes to the next Viva event in April for the winner of the pinup pageant, as well as a dress from Rebel Doll and a  one-hour photo session from Nequim Pinup & Boudoir Photo Studio, among other prizes. Other major players in the Kustom Kulture scene have donated prizes for the contest, including Voodoo Vixen, Lux DeVille, and Ains & Elke Stylehaus and other local designers and companies.
Another new twist at this year's Riot is sponsorship by some major companies.
"It wasn't until this year that I learned about sponsorship," Baca joked. "Before it was the restaurant [Great American] and the tattoo shop [Pumping Ink] funding everything. This year the sponsors really gave us a boost and helped get these big name acts."
Rockabilly Riot sponsors include O'Reillys, Rio Grande Shovelheads and MSD.
There will be a kid play area with jumping balloons and face painting, as well as an adult play section, which is comprised of a giant beer and liquor tent.
Food will be provided by The Tap food truck, Craze, Great American, a few other vendors who will provide typical carnival fare.
Merch vendors will also be on hand.
The after-party has been organized by Michelle Padilla, whose pinup name is "Deady Page." She has designed a Dia De Los Muertos-themed soiree in a tribute to outlaws, rockabilly and country heroes.
Herself a Kustom Kulture lifestyler, Padilla said the Rockabilly Riot is an important factor in the El Paso scene.
"Viva Las Vegas is a really great event, but it's also really expensive," she said. "The [riot] is a cool, local festival, that's also really affordable and super accessible."