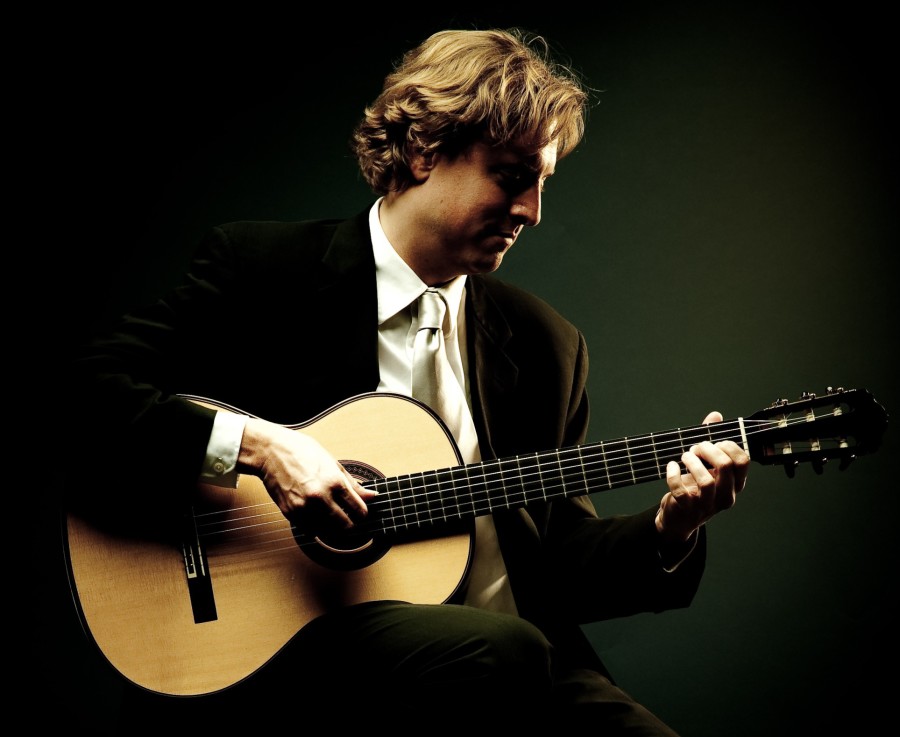 Grammy-winning classical guitarist Jason Vieaux will travel to El Paso for three "Viva España" programs. The first concert, presented by El Paso Pro Musica, will be a free Bach's Lunch at 12pm on Thursday, January 19, 2017 at the El Paso Museum of Art (1 Arts Festival Plaza) with a program of Tarrega, Albeniz, and Sor announced from the stage. On Friday, January 20 and Saturday 21 at 7:30pm, Vieaux will perform Rodrigo's Concierto de Aranjuez with the El Paso Symphony Orchestra under the baton of Music Director Bohuslav Rattay. The concert also includes Rimsky-Korsakov's Capriccio Espagnol, op. 34 and De Falla's Three Cornered Hat. El Paso Pro Musica will present Vieaux in a full-length recital of works by works by Giuliani, Bach, Barrios, Bellinati, Henze, Metheny, Jobim, Ellington, and Merlin on Sunday, January 22 at 2pm in the Fox Fine Arts Recital Hall (500 W University Ave M301).
Concierto de Aranjuez was one of Joaquín Rodrigo's first compositions and immediately established him as one of the most significant Spanish composers of the twentieth century. The piece was inspired by the Palacio Real de Aranjuez and Rodrigo described the concerto as capturing "the fragrance of magnolias, the singing of birds, and the gushing of fountains" in the gardens.
Of the piece Vieaux says, "So many people are familiar with this wonderful work for guitar and orchestra, and there are many others who may not know it by name but certainly know the second movement tune. That theme has been in movies and commercials, interpreted by jazz musicians like Miles Davis and Chick Corea, and even featured during extended improvisations by Led Zeppelin during their 1977 tour. I've probably performed Aranjuez over 200 times at this point in my career, but the experience of performing it for a live audience only gets richer and more meaningful for me with each concert season. I look forward to working with Maestro Rattay and The El Paso Symphony Orchestra in sharing this great music with audiences in Texas."
Grammy-winner Jason Vieaux, "among the elite of today's classical guitarists" (Gramophone), is the guitarist that goes beyond the classical. NPR describes Vieaux as, "perhaps the most precise and soulful classical guitarist of his generation." His most recent solo album, Play, won the 2015 Grammy Award for Best Classical Instrumental Solo. In June 2014, NPR named "Zapateado" from the album as one of its "50 Favorite Songs of 2014 (So Far)."
Vieaux has earned a reputation for putting his expressiveness and virtuosity at the service of a remarkably wide range of music, and his schedule of performing, teaching, and recording commitments is distinguished throughout the U.S. and abroad. His solo recitals have been a feature at every major guitar series in North America and at many of the important guitar festivals in Asia, Australia, Europe, and Mexico. Recent and future highlights include returns to the Caramoor Festival, Philadelphia Chamber Music Society, and New York's 92Y, as well as his Ravinia Festival debut and performances at Argentina's Teatro Colon and Oslo, Amsterdam's Concertgebouw, and Norway's Classical Music Fest. Vieaux's appearances for The Chamber Music Society of Lincoln Center, Bard Music Festival, Music@Menlo, Strings Music Festival, Grand Teton, and many others have forged his reputation as a first-rate chamber musician and programmer. He collaborates in recitals this season with Escher Quartet, acclaimed harpist Yolanda Kondonassis, and accordion/bandoneón virtuoso Julien Labro. Vieaux's passion for new music has fostered premieres of works by Avner Dorman, Dan Visconti, Vivian Fung, Keith Fitch, Kinan Abou-Afach, David Ludwig, Jerod Tate, Eric Sessler, José Luis Merlin, Jeff Beal, Gary Schocker and more.
Jason Vieaux has performed as concerto soloist with over 100 orchestras, including Cleveland, Houston, Toronto, San Diego, Ft. Worth, Charlotte, Buffalo, Grand Rapids, Kitchener-Waterloo, Richmond, IRIS Chamber, Chamber Orchestra of Philadelphia, Chautauqua Festival, and New Hampshire Music Festival. Some of the conductors he has worked with include David Robertson, Donato Cabrera, Miguel Harth-Bedoya, Jahja Ling, Stefan Sanderling, Michael Stern, David Lockington, Steven Smith, and Edwin Outwater. During the 2016-2017 season, Jason Vieaux will make appearances with 11 symphony orchestras throughout the US and Canada, including return engagements with the Santa Fe and Edmonton Symphonies, Piazzolla's Double Concerto with Julien Labro and the Arkansas Symphony, and engagements with the symphonies of Niagra, Stockton, Illinois, and West Virginia. Vieaux will also be performing Dan Visconti's new guitar concerto, Living Language, which he premiered with California Symphony in May 2016, with the symphonies of Reading, Fort Wayne, and Richmond.
Vieaux continues to bring important repertoire alive in the recording studio as well. His latest album, Infusion with bandoneonist Julien Labro, was released in October 2016 on Azica Records and features Vieaux and Labro in Labro's arrangements of Leo Brouwer's Tres Danzas Concertantes and Piazzolla's Escualo, his arrangement of Radamés Gnattali's Suite Retratos with bassist Peter Dominguez and percussionist Jamey Haddad, Pat Metheny's Antonia, and Vieaux's arrangement of iconic 1980s British rock band Tears for Fears' Everybody Wants to Rule the World. Vieaux recently recorded Alberto Ginastera's Sonata for Guitar Op. 47 for a Ginastera Centennial album produced by Yolanda Kondonassis, which was released in October 2016 on Oberlin Music and features additional performances by Kondonassis, violinist Gil Shaham, and pianist Orli Shaham. His duo album Together, with harpist Yolanda Kondonassis, was released in January 2015.
Vieaux's previous albums include a recording of Astor Piazzolla's music with Julien Labro and A Far Cry Chamber Orchestra; Images of Metheny, featuring music by American jazz legend Pat Metheny (who after hearing this landmark recording declared: "I am flattered to be included in Jason's musical world"); and Sevilla: The Music of Isaac Albeniz, which made several Top Ten lists the year of its release. Vieaux's albums and live performances are regularly heard on radio and internet around the world, and his work is the subject of feature articles in print and online around the world, including such magazines as Acoustic Guitar, MUSO, Gramophone, and on NPR's "Deceptive Cadence." Vieaux was the first classical musician to be featured on NPR's popular "Tiny Desk" series, on which he made a rare repeat performance in 2015 with Yolanda Kondonassis.
In 2012, the Jason Vieaux School of Classical Guitar was launched with ArtistWorks Inc., an unprecedented technological interface that provides one-on-one online study with Vieaux for guitar students around the world. In 2011, he co-founded the guitar department at The Curtis Institute of Music, and in 2015 was invited to inaugurate the guitar program at the Eastern Music Festival. Vieaux has taught at the Cleveland Institute of Music since 1997, heading the guitar department since 2001.
Vieaux is affiliated with Philadelphia's Astral Artists. His primary teachers were Jeremy Sparks and John Holmquist. In 1992 he was awarded the prestigious GFA International Guitar Competition First Prize, the event's youngest winner ever. He is also honored with a Naumburg Foundation top prize, a Cleveland Institute of Music Alumni Achievement Award, and a Salon di Virtuosi Career Grant. In 1995, Vieaux was an Artistic Ambassador of the U.S. to Southeast Asia.
El Paso Pro Musica Bach's Lunch – "Viva España"
Thursday, January 19, 2017 at 12:00pm
El Paso Museum of Art | 1 Arts Festival Plaza | El Paso, TX
Free and Open to the Public | www.elpasopromusica.org
"Viva España" with The El Paso Symphony Orchestra
and Music Director Bohuslav Rattay
January 20 and 21, 2017 at 7:30pm
Plaza Theatre | One Civic Center Plaza | El Paso, TX
Tickets: $11-42 at www.epso.org
El Paso Pro Musica Recital
Sunday, January 22, 2017 at 2pm
Fox Fine Arts Recital Hall | 500 W University Ave M301 | El Paso, TX
Tickets: Adults $25, Seniors/Military $20, Students $5 at 
www.elpasopromusica.org