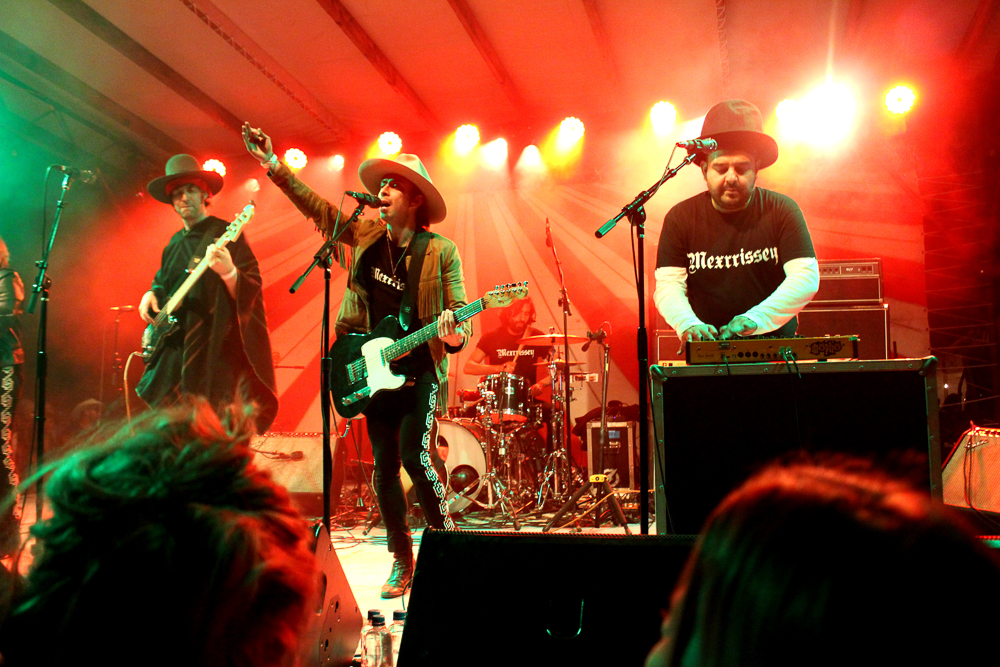 Before this month, I had never visited the isolated, yet psychedelic, hipster mecca known as Marfa, Texas. Although the art oasis in the middle of the West Texas desert is only a short, three-hour drive from El Paso, what would a busy, single mom with multiple jobs, like me, do for fun in Marfa? Visit contemporary art studios to ogle at art that I would pretend to understand? Try to eat something new at one of the local restaurants, only to find that the management hadn't felt like opening that day? Or, perhaps I could I dip into my savings so that I might be able to snag a few ironically marked-up 'thrift' items from a hole-in-the-wall boutique? Beggar-chic is so 'hot' right now, after all. 
The 11th Annual Trans-Pecos Music + Love Festival became my reason to take my first dedicated trip out to Marfa. I purposefully set aside all my preconceived notions about the town, joined the Trans-Pecos Festival's private Facebook Group to stay in-the-know, and started packing. My accommodations for the next three days would be a patch of land hosted at the unconventional and colorfully quirky El Cosmico campgrounds. As a camping enthusiast, I prepped all the essentials: my tent, a camp stove, food for three days, a small tank of water, a sleeping bag, my emergency kit, and a battery operated radio. 
Once we arrived at El Cosmico, however, I quickly realized that this would not be the typical kind of camping. The grounds were filled with yurts, brightly painted vintage Airstreams, teepees festooned with colorful banners, and glitzy tents lined with delicate fairy lights.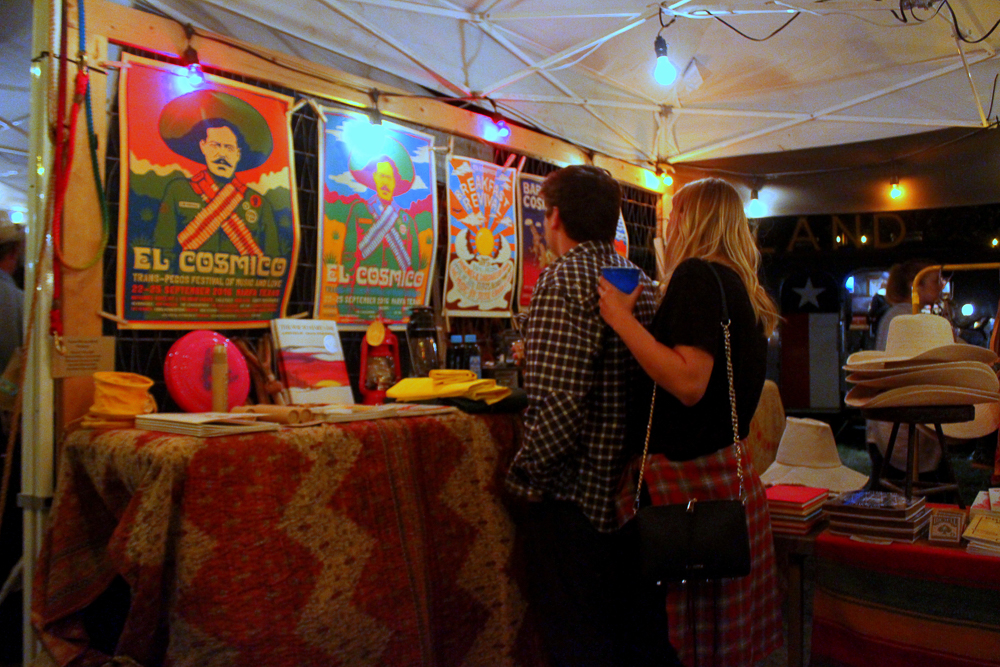 My small family made up of my fiancé, 11-year-old son, and two pit bulls joined along for the trip. Once we set up camp and had some time to unwind, I took some time to walk around El Cosmico and do a bit of people-watching. Before this trip, I assumed that Marfa was a place where young, affluent Austinites came to get away from big-city living. The fact is, the festival and the campgrounds were incredibly family friendly. Children aged 13 and younger attended the festival for free and bringing your four-legged companions was more than welcome. A majority of the attendees were Millennials and Gen-X'ers. Most people let their dogs roam free, kids explored the festival on their bikes, and were often seen cuddling with their parents, or playing tag with newfound festival friends. 
The energy at the Trans-Pecos Music + Love Festival was, appropriately enough, peaceful and joyful. Attendees plugged their iPhones in at various outlets around the campground, then abandoned them there for most of the day. Food trucks and trendy clothing merchants bordered one side of the festival. Fortune tellers, yoga mats, and a store stocked with bath products lined the other. Days were filled with tie-dying workshops, screen printing demonstrations, and plenty of free, ice-cold Topo Chico, one of the sponsors of the festival.
When six o'clock rolled in, live music began on the main stage. Though it wasn't the kind of music I had come to expect from such a gathering. Instead of obscure bands, the stage lit up with country, bluegrass, indie, soul, and a little techno. Ballads about trailer park gossip (Kacey Musgraves), Morrissey songs in Spanish (Mexrrissey) and biographical punk (Neko Case) surged through the air and filled every corner of El Cosmico. When the sun went down, the moon rose high into the sky, and the light pollution from the festival did nothing to dim the brightness of the stars above. Even though daytime was a sweltering heat cave typical of West Texas, the nights were shockingly cold. I was glad to have brought my thickest blankets.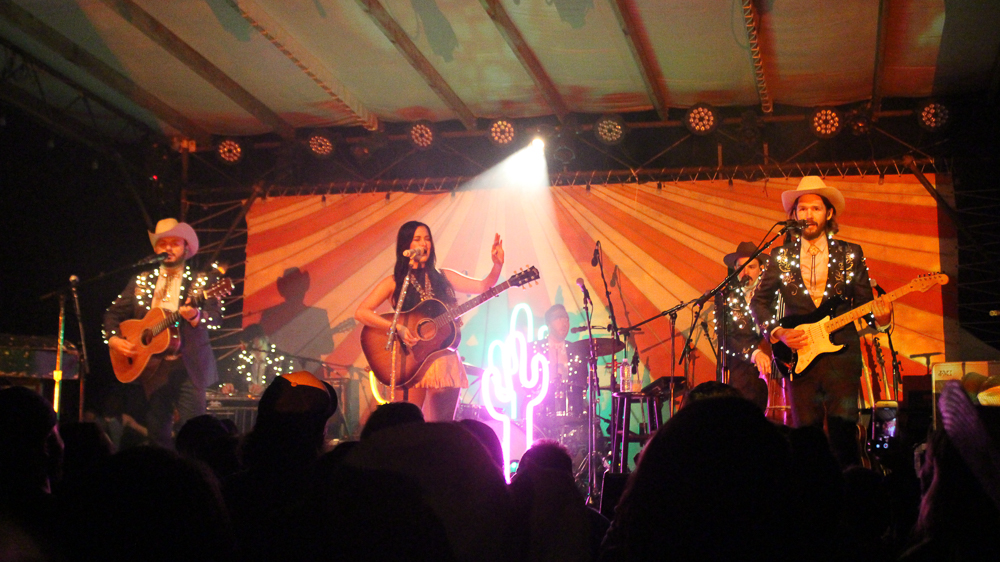 The vendors set up at the festival were varied, but much of the stuff being sold shared a few common keywords such as 'vintage', 'artisanal', or 'locally sourced'. One thrift store merchant sold a 1980's high school sweatshirt, with visible scuffs and small tears in the collar, and it cost $85. Another vendor who sold crystals, oils, and other ointments with promises of health and vitality, offered to clear your chakras amid the increasing decibels around the fest. Another vendor, a young white hippie, sold Native American jewelry that was 'handmade by Lakota Indians' – each piece went for $500 – $1000 dollars.
Overall the festival was fantastic, and the energy felt like it was in a great place with the right intentions. The Trans-Pecos Music + Love Festival lays the foundation for what a three-day festival should be like: family friendly, inclusive of our four-legged friends, surrounded by the amenities that kept attendees comfortable so that they could get lost in the grooves of amazing music. Marfa's unique obsession with all things artisanal and contemporary slightly tarnished some of the Earthiness that the festival was trying to propagate, but not enough to discourage me from giving Marfa another go. 
Get Connected:
Txt & Photo: Crysti Couture