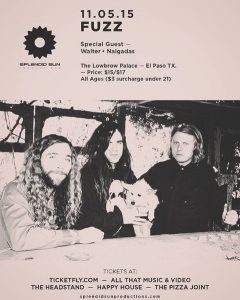 FUZZ is the new west coast trio comprised of Charlie Moothart (guitar), Roland Cosio (bass) and Ty Segall (drums, vocals). Ferocious, with a sludgy, psyched-out, proto-metal sound steeped in shredding fuzztone guitar, FUZZ more than lives up to their name. Comparisons to Blue Cheer, The Jimi Hendrix Experience and Black Sabbath have been made and are not far off the mark.
The band's two 7″ singles sold out in about ten minutes each, while early live shows caused a frenzy and multiple cases of tinnitus on both coasts.
FUZZ's show at The Lowbrow Palace, November 5th, with special guests, Walter and Nalgadas. All ages.
Tickets at:
All That Music & Video
The Headstand
Happy House
The Pizza Joint
Listen to FUZZ's "Pollinate"
www.panacherock.com/artists/fuzz
For more info about Ty Segall: