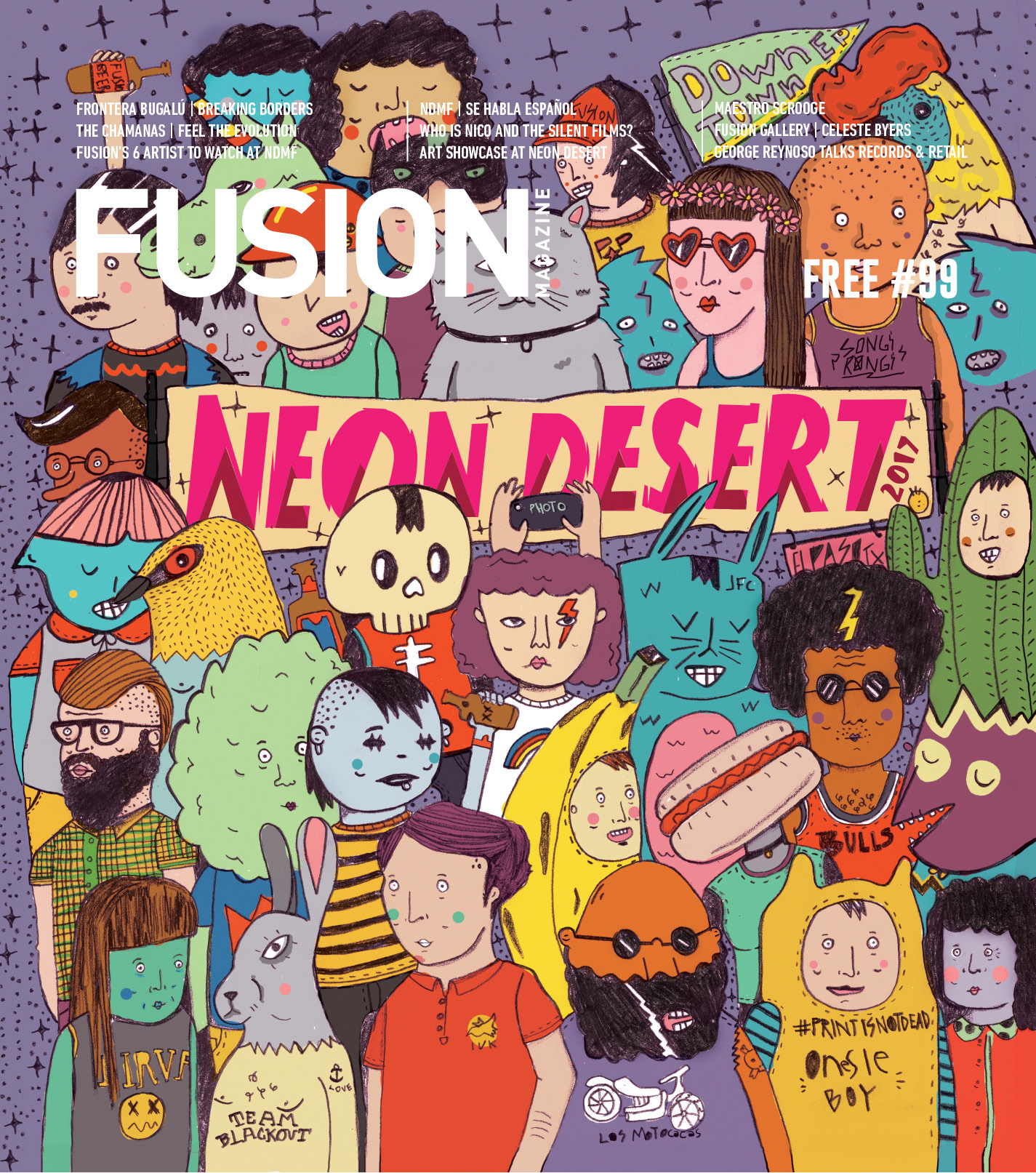 Get your sunscreen ready and your cool shades on—it's Neon time! Every year, Neon Desert brings to the Sun City a diverse line-up of artist. This year once again, the mix bag of artist makes for a unique experience under the El Paso sun. The layout is awesome—right smack in the middle of downtown. The music resonates perfectly and bounces off the buildings.
Our 99th Issue features all things NDMF! We feature your local favorites, a few must see recommendations, and we dive deep into the he(art) of it all!
Cover art by: @Jellyfish Colectivo.
It is with great honor that we present Issue 99 featuring our favorite event of the year Neon Desert Music Festival! Our cover illustration was created by the talented local artists Jellyfish Colectivo.
Inside we highlight El Paso R&B sensation Khalid, electronic DJ Hardwell, garage rocker Ty Segall, singer/songwriter Mon Laferte, local rapper Yung Jung, hip-hop artist Logic, and discuss why we recommend you check them out. We speak with a few of our local favorite bands The Chamanas, Frontera Bugalú, and Nico and the Silent Films—all who are set to perform at this year's fest.
NDMF's distinct line-up is right up our alley. In our article "Se Habla Español" we cover Spanish rock artists such as Porter, Los Amigos Invisibles, and J Balvin who'll set the night and your hearts on fire!
Our NDMF edition doesn't end there! We turn the spotlight on visual artists Hoyote, Celeste Byers, Exist1981, Mr. Dvice, locals Miguel Bonilla, Thousand Grams, Christin Apodaca, The Visionaries, Federico Archuleta, amongst others—who will showcase their talent and paint live at the fest.
With all the NDMF madness going on, we didn't forget to cover a few non-festival related topics. El Paso has been developing quite the beer palate and Union Draft House is a new business that just opened up in East El Paso specializing in craft beer.
We sit down and speak with George Reynoso, owner of All That Music & Video, who's been in operation selling albums, vinyl records, and everything music related for over 37 years now!
Lastly, we round out Issue 99 with Griffin's Independent Records newly signed artist and emerging El Paso rapper Maestro Scrooge who's mixtape is an ode to Texas car culture and is quickly circulating throughout El Paso.
It's unbelievable we've hit 99 Issues! We'd like to give a special shout-out to everyone who's believed in this home grown and independently owned publication! Thank you and check us out online at thefusionmag.com or pick up our PRINT copy at any of our many distribution points around El Paso, Las Cruces, Marfa, Alpine, Ciudad Juárez, and Chihuahua locations.
¡Preparen el bloqueador y pónganse sus mejores gafas, es tiempo de Neon! Cada año Neon Desert trae a la ciudad del sol un diverso line up de artistas. Este año lo hicieron de nuevo, este mix de artistas crea una experiencia única bajo el sol de El Paso. La locación es ideal, justo en el centro de la ciudad. La música se amplifica perfectamente y rebota entre los edificios.
¡La edición #99 la creamos pensando totalmente en el NDMF 2017, recomendaciones para ver en el festival, incluyendo los locales favoritos y nos adentramos en el corázon del arte que lo acompañará!
¡La portada de esta edición corre a cargo del talento de Jellyfish Colectivo!
Dentro de esta edición traemos a la sensación R&B local, Khalid, el DJ de electronica Hardwell, la cantante/compositora Mon Laferte, el rapero local Yung Jung, el artista hip-hop Logic, y discutimos nuestras recomendaciones. También hablamos con algunas de nuestras bandas locales favoritas que se presentan este año en el festival: The Chamanas, Frontera Bugalú y Nico and the Silent Films.
En nuestro artículo "Se Habla Español" escribimos sobre Porter, Los Amigos Invisibles y J Balvin, quienes van a prenderle fuego al escenario y los corazones.
¡La edición NDMF no acaba aquí! También tenemos a los artistas visuales que presentarán su trabajo dentro del festival, tales como Hoyote, Celeste Byers, Exist1981, Mr. Dvice, y los locales Miguel Bonilla, Thousand Grams, Christin Apodaca, The Visionaries, Federico Archuleta, entre algunos.
Con toda la locura del NDMF ocurriendo no nos olvidamos de cubrir algunos temas no relacionados con el festival. El Paso ha estado desarrollando un peculiar paladar para la cerveza y Union Draft House es un nuevo negocio que se especializa en cerveza artesanal en el lado Este de la ciudad.
Nos sentamos a hablar con George Reynoso, dueño de All That Music & Video, que ha estado en operación vendiendo álbums, viniles y todo lo relacionado con la música ¡por 37 años!
Por ultimo, cerramos el #99 con Maestro Scrooge, que acaba de ser firmado por Griffin's Independent Records y hablamos de su mixtape, que está circulando rápido por todo El Paso, el cual es una oda a la cultura de carros en Texas.
¡Es increíble que hayamos llegado al #99 de esta revista, queremos agradecer en especial a todos los que han creído en esta publicación independiente y cultivada localmente! Búsquennos en línea en thefasionmag.com o tomen una copia impresa en cualquiera de nuestros diferentes puntos de distribución en El Paso, Las Cruces, Marfa, Alpine, Ciudad Juárez y en Chihuahua. ¡Gracias!