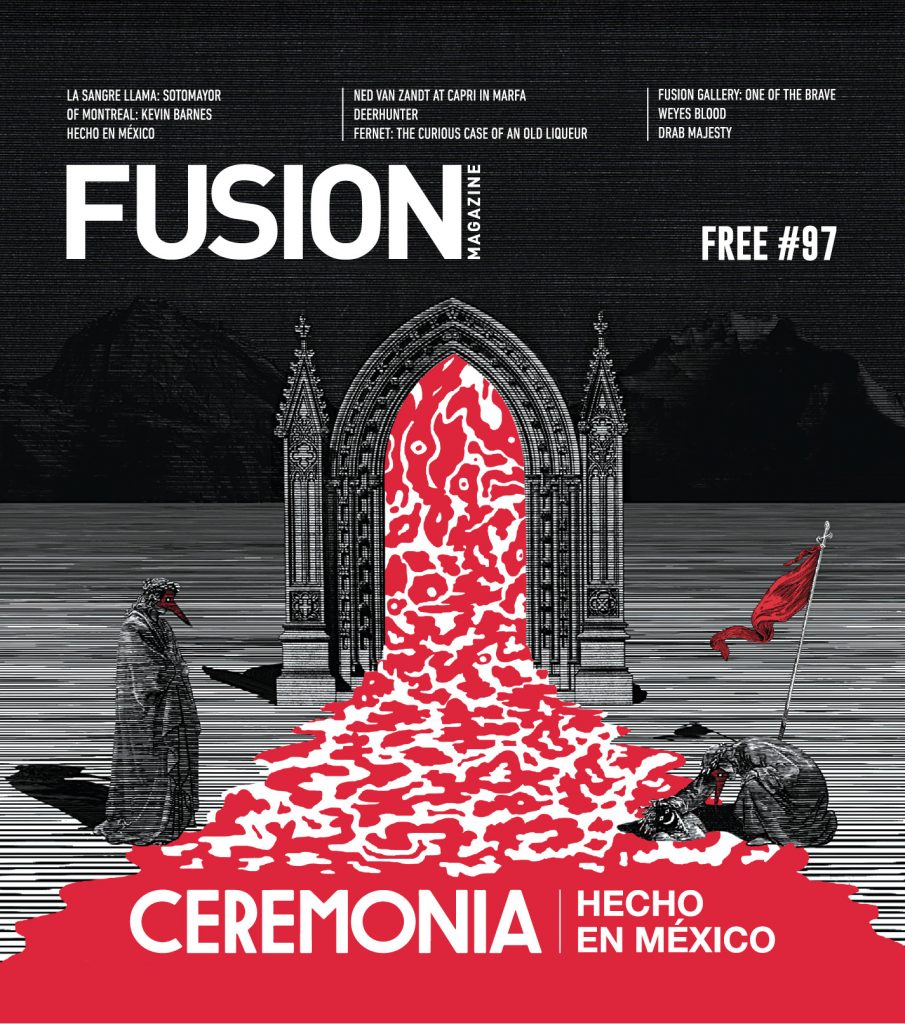 Festival season is amongst us, and things are starting to heat up south of the Rio Grande!
Our latest edition of Fusion Mag highlights Hecho En México featuring the music festival Ceremonia on our cover. With a solid lineup, old-school is present with the beats of Underworld, the rebel lyrics of M.I.A. and the virtuous musical universe of Björk as the headliners. Also performing is Beach House, James Blake, Nicolas Jaar and The Black Madonna amongst many more.
That's not all, we also feature a round-up of several music festivals in Mexico such as Nrmal, Pa'l Norte, Cumbre Tajin, Corona Capital, Coordenada and Vive Latino.
As we journey from one fest to another, we encountered Weyes Blood, who recently played Marfa Myths in West Texas. We also speak with Of Montreal's Kevin Barnes, Sotomayor, Drab Majesty and highlight Deerhunter who plays the Lowbrow Palace in El Paso this month!
Our Fusion Gallery features photographer, One of the Brave, and his amazing ability to capture beautiful images from hard to reach places.
Luis Colomo is a visual artist from Ciudad Juárez, MX, and we speak with him about his work and narrative.
We round out Issue 97 by speaking with Chef Rudy Valdes of Crave about the opening of their fourth location! Lastly, local entrepreneur Michelle Fierro talks all the deliciousness that is Fernet.
Issue 97 is out now! Pick us up at any of our distribution points.
PRINT IS NOT DEAD!
¡Ha llegado la temporada de festivales y las cosas están empezando a calentarse al sur del Río Grande!
Nuestra nueva edición de Fusion Magazine presenta Hecho en México, con el festival Ceremonia en portada. Con un solido lineup, el old-school está presente con los beats de Underworld, las líricas rebeldes de M.I.A., y el virtuoso universo musical de Björk, todos ellos marcando los headliners del festival.  También se presentan actos de la talla de Beach House, James Blake, Nicolas Jaar, The Black Madonna, entre otros.
Eso no es todo, también les presentamos una recopilación de festivales mexicanos, incluyendo a Nrmal, Pa'l Norte, Cumbre Tajín, Corona Capital, Coordenada, y Vive Latino.
En lo que viajamos de un festival a otro nos encontramos con mucho talento en bandas como Sotomayor, Drab Majesty y Weyes Blood, que tocaron recientemente en el Marfa Myths. También platicamos con Kevin Barnes de Of Montreal y  hablamos un poco sobre Deerhunter, quienes se presentan este mes en el Lowbrow Palace de El Paso.
En Fusion Gallery presentamos al fotógrafo One of the Brave y su asombrosa habilidad para capturar imágenes en lugares difíciles de llegar. Mientras estamos en el área de arte, hablamos con Luis Colomo, artista visual de Ciudad Juárez, sobre la narrativa de su trabajo.
Cerramos el número 97 hablando con el chef de Crave, Rudy Valdes sobre la apertura de su cuarto local y también con la emprendedora local Michelle Fierro, que nos cuenta sobre lo delicioso que es el Fernet.
¡Edición 97 lista! Búscanos en nuestros puntos de distribución.
PRINT IS NOT DEAD!