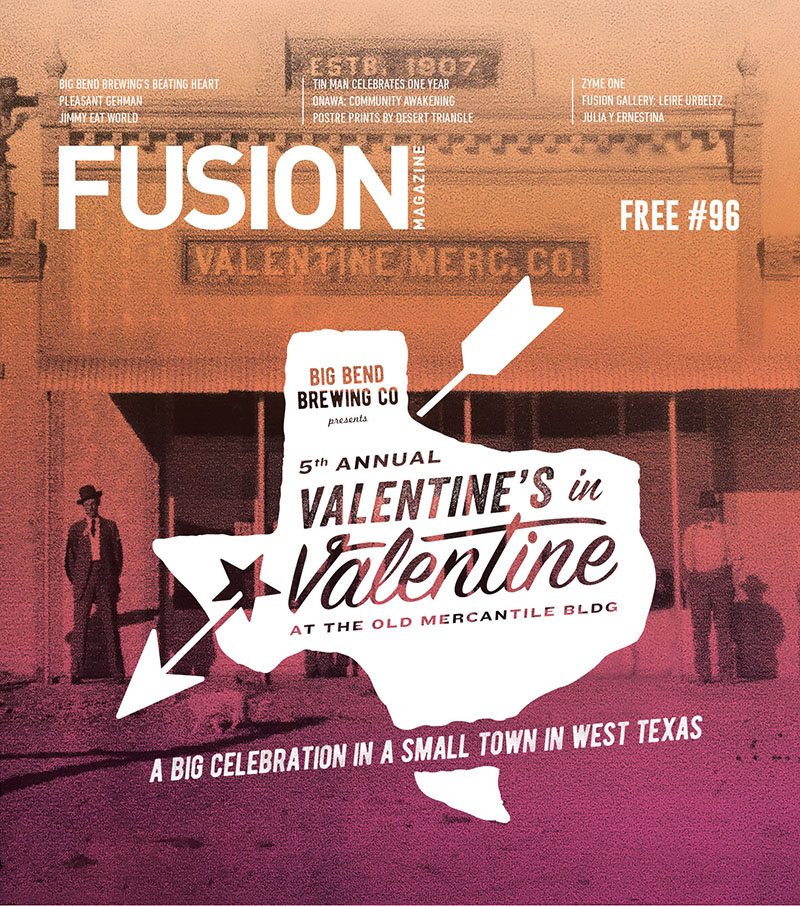 Issue 96 is complete featuring Big Bend Brewing Company's Valentine's in Valentine—an annual celebration of love, beer, BBQ, & music in the small community of Valentine, TX! 
Speaking of music, we reminisce on album Bleed American by Arizona-based band Jimmy Eat World who just so happens to perform at Tricky Falls in El Paso late February.
Locally, hip hop artist Zyme One sat down with us and gave us a closer look at his memoir and concept album Memories of Melancholy Cholas. 
Pleasant Gehman—a multi-talented artist, punk-rocker, & dance performer was recently in El Paso and she shared a few crazy punk rock stories with us.
The owners of Tin Man growler filling station have had a busy year! Those beer aficionado's celebrate their one year anniversary for their east El Paso location while simultaneously opening a brand spanking new westside location at TI:ME in Montecillo.
The Five Points business community in central El Paso has been on the up and up as of late. And yoga and wellness center Onawa has just been added to the mix to provide area residents classes in Vinyasa, Tai Chi, Yoga, amongst other stress relieving activities.
If you love and support local art we highly recommend you head out to the Purple Gallery on February 23 to check out the opening of Postre Prints by Desert Triangle Print Carpeta! If you can't make the show, no worries, we offer a sneak peak of a few artists that'll be featured at the show! 
That ain't all for Issue 96, there's more! Additionally, we highlight Ciudad Juárez business Julia & Ernestina, actor and producer Childish Gambino, and our Fusion Gallery features Ciudad Juárez artist Leire Urbeltz who presents us with Sixties Women Magical Mystery Tour—a project where she illustrated various key women who influenced music and played a major role in the counter-culture movement.
Check us out at thefusionmag.com or pick up a copy at one of our many distribution points.
Once again we thank you for keeping us alive! Print will never die!
La edición 96 está lista, presentando Valentine's in Valentine, de Big Bend Brewing Company, ¡una celebración anual de amor, cerveza, BBQ, y música en la pequeña comunidad de Valentine, TX!
Hablando de música, recordamos el álbum Bleed American, de la banda de Arizona, Jimmy Eat World, que justamente se presentan los últimos días de Febrero en Tricky Falls de El Paso.
En lo local, el artista hip hop, Zyme One, se sentó con nosotros para platicarnos más detalladamente de su biografía y álbum conceptual Memories of Melancholy Cholas. 
Pleasant Gehman, la multi talentosa artista, punk rocker y bailarina, estuvo recientemente en El Paso y compartió algunas de sus locas historias punk rock con nosotros.
¡Los dueños de Tin Man tuvieron un año ocupado! Estos aficionados a la cerveza celebran el primer aniversario de su local en el este de El Paso, y al mismo tiempo abren un nuevo lugar en el lado oeste, en TI:ME de Montecillo.
La comunidad de negocios, The Five Points, en el centro de El Paso ha estado creciendo últimamente. Onawa, el centro de yoga y bienestar, ha sido añadido a la mezcla, dando clases de Vinyasa, Tai Chi, Yoga, y otras actividades para aliviar el estrés.
Si aman y apoyan el arte local, ¡les recomendamos visitar Purple Gallery el 23 de febrero, para la inauguración de Postre Prints, por Desert Triangle Print Carpeta! Si no pueden visitar, no se preocupen, ¡les ofrecemos un pequeño adelanto de algunos artistas que estarán en el show!
¡Eso no es todo en la edición 96, aún hay más! Además, presentamos el negocio Julia & Ernestina, de Ciudad Juárez, el actor y productor Childish Gambino, y en Fusion Gallery tenemos a la artista Leire Urbeltz, quien nos presenta su proyecto, Sixties Women Magical Mystery Tour, en el que ilustra varias mujeres clave que han influenciado en la música y han jugado un papel importante en el movimiento de la contracultura.
Búscanos en thefusionmag.com o en alguno de nuestros muchos puntos de distribución.
Una vez más, ¡gracias por mantenernos vivos! Print will never die!