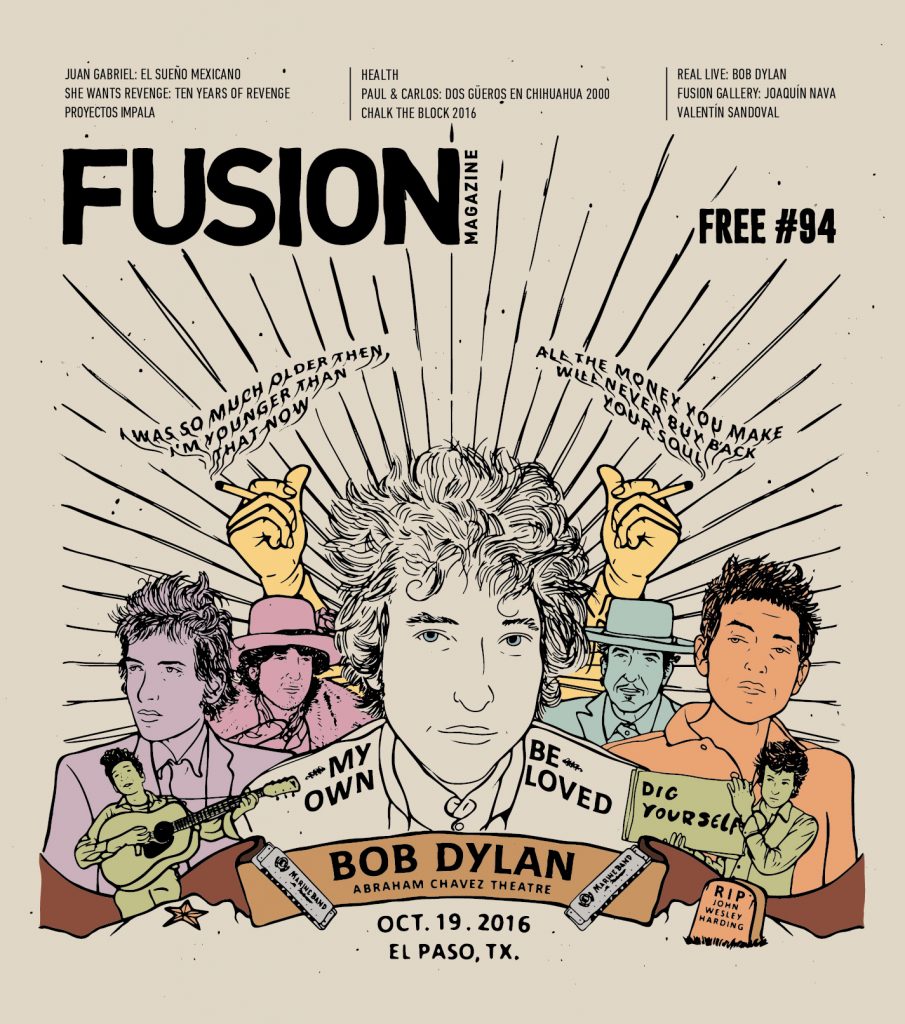 After a 10 year wait, music icon Bob Dylan visits El Paso Texas again as part of his Never Ending Tour this coming October 19 and will grace our 94th issue cover illustrated by the talented Joaquin Nava.

We spoke with Jim Ward who shared with us that he has stopped trying to have control of everything and has started to let everything flow, using the same Zen approach both in his music as well as in his personal life. After being part of several music projects including At the Drive-In, Sparta and more recently Sleepercar, his last project is called simply "Jim Ward".

This is the ninth consecutive year of Chalk the Block; the biggest arts public festival in the region. Chalk the Block is an interactive festival which focuses in the involvement of the entire community. The festival includes more than 2000 artists, performance, installations, live art, and many vendors.
Foto Frontera is launching its third edition with a photography exhibition as part of the Chicano Heritage Month celebration at Centro de Salud Familiar La Fe. This exhibit will showcase the work of 12 diverse, talented and mostly fronterizo photographers, including Alex Duran who is part of the Fusion Magazine team.

On September 3rd 2016 thousands of fans gathered outside Juan Gabriel's home in Cd. Juarez to say goodbye amid fervent tears and applause. Without a doubt his presence was deep felt in the heart of each of its attendees. His early departure portrayed the strong devotion, disposition and fervor the Mexican population displays for an idol.

Whether he is in the midst of working on material to help promote a friend's work of art, helping a colleague write dialogue for a movie or working on the next material to follow South Sun Rises, his award winning debut, you will always find Valentin Sandoval involved in some kind of artistic endeavor.

The town of Vinton, Texas and Keep Vinton Beautiful, encourage its inhabitants to plant and stay local, with the Village Vibes Fest. The first event of its kind, Village Vibes Fest, is dedicated to create conscience and gather funds for the first community garden and learning center in the area.

For Paul and Carlos the stereotype of being of Mennonite ancestry is not a detriment but quite the contrary, they claim it has helped them become known in various outlets. Aside from this, the duo has learned how to combine their knowledge to create not just music, but also to develop the general concept of their image. Their music shows constant improvement and manifests their enthusiasm to play live.

Joaquin Nava is a graphic designer from Chihuahua city who specializes in illustration and marketing in his company "Arteria El Diablo". Nava always has as a base the original strokes of pencil on paper, paying homage to those who despite technological advances still design by hand.

There is talk in Ciudad Juarez about a place in downtown Monterrey called La Casita, where the gay community let their darkest and most wild perversions out; a place "where no one gets lost and everybody is found".

Proyectos Impala is a gallery and library that specializes in spreading contemporary art in Cd. Juarez and is based out of a trailer box. The 1976 Theurer, which works as a nomadic platform, travels throughout the city and stops at several points. Impala was created in the aftermath of the social, urban and cultural impact which deeply affected the city.

After creating an incredible number of successful businesses in El Paso through Pan y Agua, Octavio Gomez decided to launch Fool's Gold; a great place to take your friends visiting from out of town for cold beverages, good conversation and of course to show them the cool side of El Paso.
The constant changes in El Paso weather cause people to constantly get sick. Fortunately Tippi Teas has the solution. With more than 75 kinds of loose tea leaves from all over the world, the majority of which possess curative properties, say goodbye to your ailments.
Después de 10 años, el icónico Bob Dylan visita de nuevo El Paso, Texas con el Never Ending Tour este 19 de Octubre y también nuestra portada número 94, la cual fue ilustrada por el talentoso Joaquín Nava.
Platicamos con Jim Ward y nos dijo que ha dejado de tomar el control en las cosas y ha dejado que todo fluya, usando el mismo enfoque zen tanto en su música, como en su vida. Después de pasar por proyectos como At the Drive-In, Sparta y recientemente Sleepercar, su último proyecto se llama simplemente "Jim Ward".
Este es el noveno año del Chalk the Block, el más grande festival público de arte de la región, el cual es interactivo y enfocado principalmente a la comunidad, incluyendo más de 200 artistas, instalaciones, arte en vivo, performance y vendedores.
Foto Frontera realiza su tercera edición con una exhibición, parte de la celebración del Chicano Heritage Month en el Centro de Salud Familiar La Fe. Esta presentación contará con imágenes de 12 diversos y talentosos fotógrafos, en su mayoría fronterizos, incluyendo a Alex Durán, parte del equipo de Fusion Magazine.
El 3 de septiembre del 2016, con lágrimas y aplausos, miles de personas se reunieron afuera de la casa de Juan Gabriel para despedirse, sin duda alguna de que su presencia se encontraba en el corazón de cada uno de los asistentes. Su partida dimensiona la entrega, la disposición y el fervor de los mexicanos por un ídolo.
Ya sea que esté trabajando en material para promocionar alguna obra de arte de un amigo, ayudando a un colega a escribir un dialogo para una película o trabajando en su próximo material, después de South Sun Rises, su premiado debut, siempre encontrarás a Valentín Sandoval involucrado en algún tipo de actividad artística.
El pueblo de Vinton, Texas y Keep Vinton Beautiful, anima a sus habitantes a plantar y mantenerse locales, con el Village Vibes Fest, el primer evento de su clase, dedicado a crear consciencia y reunir fondos para el primer jardín comunitario y centro de aprendizaje en el área.
Para Paul y Carlos el estereotipo de ser de ascendencia menonita no es una carga, sino al contrario, dicen que los ha ayudado a darse a conocer en varios medios. Fuera de esto, el dúo ha sabido cómo combinar sus conocimientos para crear no sólo la música, también el concepto general de su imagen. Su música tiene una mejoría constante y se les nota el gusto por tocar en vivo.
Joaquín Nava, es un diseñador chihuahuense que se ha especializado en ilustración y mercadotecnia con su despacho "Artería El Diablo", siempre teniendo como base los trazos en papel y lápiz, rindiendo homenaje a quienes aún con los adelantos tecnológicos, diseñan a mano.
La gente de Ciudad Juárez habla de un lugar en el centro de Monterrey llamado La Casita, donde los gays sueltan sus perversiones más oscuras y salvajes, un lugar "donde nadie se pierde y todos se encuentran".
Proyectos Impala es una galería y biblioteca especializada en difundir el arte contemporáneo de Ciudad Juárez, en una caja de tráiler Theurer de 1976 que funciona como una plataforma nómada, la cual recorre diferentes puntos. Impala se crea ante las secuelas que han impactado el cuerpo social, urbano y cultural de la ciudad.