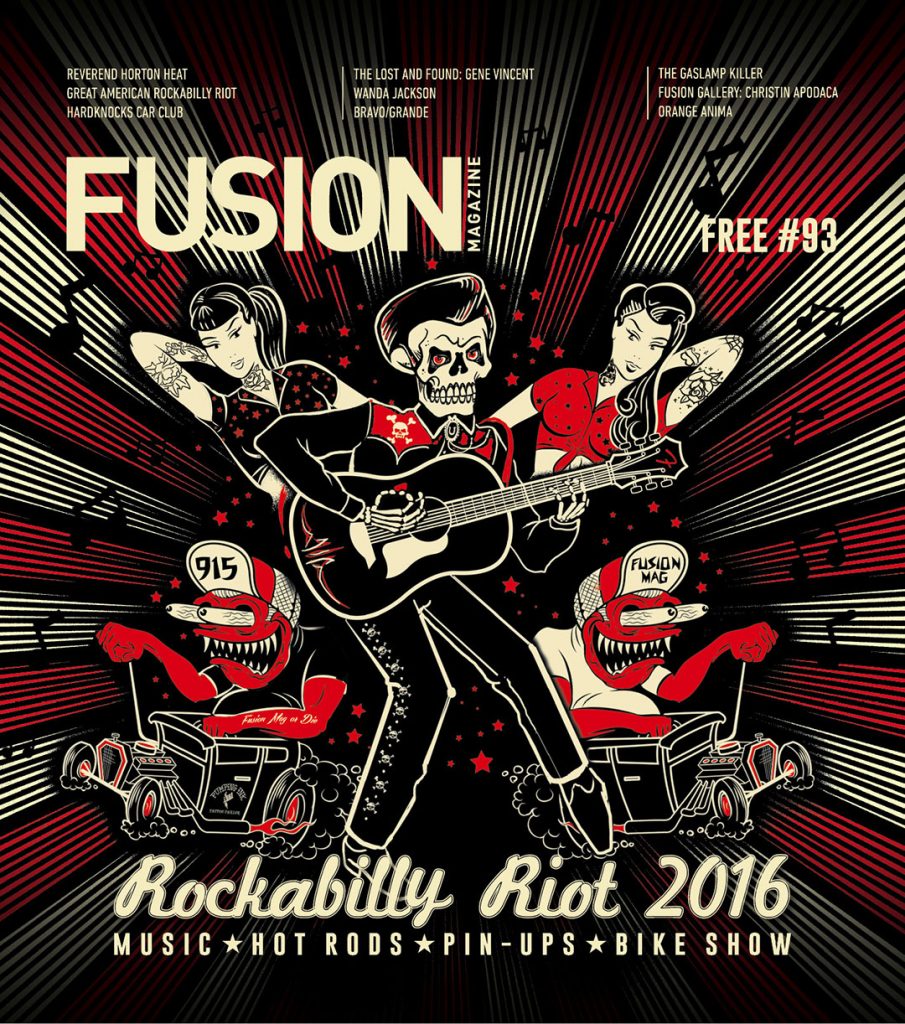 THE GREAT AMERICAN ROCKABILLY RIOT 2016 and FUSION MAGAZINE issue #93 are here! This month we highlight the Rockabilly Riot 2016, an event full of music, hot-rods, pin-ups, bike shows, food and much more, including Reverend Horton Heat, the psychobilly and rockabilly legend, along with other bands. 
This issue also features a rockabilly photoshoot by the pin-up & boudoir experts over at  Nequim Pin-Up & Boudoir Photograph Studio. We also had the opportunity to speak with rat-rod enthusiast Butch Coronado, co-founder of Hardknocks Car Club. He told us a bit about the Rockabilly Riot as well as hit favorite hot rods.
In music, we bring the legend of rockabilly and country Wanda Jackson, and in our classic section, The Lost And Found, we have Gene Vincent, the pioneer of the "Wild Sound". Also included, the mad genius of the turntables: The Gaslamp Killer, who will be at the 5 year anniversary of La Parada on September 2.  The Mother of Pearl Block Party is returning with full force this September 17, featuring artists like Dam-Funk, Juvenile, Cloud Nothings, Part Time and The Chamanas. The event is a must-see!
Food is very important for us in Fusion Mag, and in our pages we review the first annual pizza-eating contest organized by The Pizza Joint, where our competitor and editor, Alex Durán, sadly didn't win first place (bummer). In our local talent section, we have the band Orange Anima, from El Paso, whom we interviewed about their psychedelic rock sound.
Related to the border, we have the Bravo/Grande project by Zeke Peña, which seeks to create a collaborative community between El Paso, Juárez and the region of Ysleta, using the Río Bravo as a point of union. In our section Fusion Gallery, we present the work of Christin Apodaca, an artist whose work features strong strokes and a touch of spirituality. We also spoke with Tim Crowley, one of the main architects of the cultural movement in Marfa, Texas, where we discussed architecture, the new Hotel Saint George and his love for the open spaces of Marfa. Do not miss this new edition of FUSION MAGAZINE and keep your eyes open because we will be giving away free tickets to the Rockabilly Riot 2016 and many other events! 
WE ARE REAL!
WE ARE PRINT!
¡THE GREAT AMERICAN ROCKABILLY RIOT 2016 llegó y FUSION MAGAZINE #93 también!, en esta edición presentamos en nuestra portada el Rockabilly Riot 2016, un evento lleno de música, hot-rods, pin-ups, bike shows, comida y muchos más, incluyendo el Reverend Horton Heat leyenda del rockabilly y psycobilly junto a otras bandas, también tuvimos la oportunidad de hacer varios photoshoots con el Hardnocks Car Club, fotografiados por Nequim Pin-Up Boudoir Photograph Studio. En música traemos a la leyenda del rockabilly y el country Wanda Jackson, "La primera de todas", y en nuestra ya clásica sección, The Lost And Found, tenemos a Gene Vincent, pionero del "Wild Sound". También incluido, el genio loco de las tornamesas: The Gaslamp Killer, quien estará en el aniversario de La Parada este 2 de septiembre, al igual que el Block Party de la tienda de vinyl The Mother Of Pearl, regresa con más fuerza este 17 de septiembre, traerá artistas como Dam-Funk, Juvenile, Cloud Nothings, Part Time y The Chamanas, ¡no te los puedes perder!.
La comida es importante para nosotros en Fusion Mag y en nuestras páginas tenemos la reseña del primer concurso anual de comer pizza organizado por The Pizza Joint, en donde nuestro concursante y editor Alex Durán quedó en los últimos lugares (bummer). En el talento local tenemos a la banda Orange Anima, oriundos de El Paso, a quien entrevistamos en esta edición y nos platican de su música llena de psychedelic rock. 
En lo relativo a nuestra frontera tenemos el proyecto Bravo/Grande, que trata de crear una comunidad colaborativa entre El Paso, Juárez y la región de Ysleta, teniendo al Rio Bravo como eje de unión. En nuestra sección Fusion Gallery, la obra de Christin Apodaca con sus trazos fuertes y algo de espiritualidad. Entrevistamos a Tim Crowley, uno de los principales artífices del movimiento cultural de Marfa, Texas, en donde nos platica acerca de arquitectura, el nuevo Hotel Saint George y su amor por los espacios abiertos de Marfa. No se pierdan esta nueva edición de Fusion Mag y estén pendientes porque regalaremos boletos para que nuestros lectores asistan completamente gratis al Rockabilly Riot 2016 ¡y a muchos eventos más!
WE ARE REAL!
WE ARE PRINT!