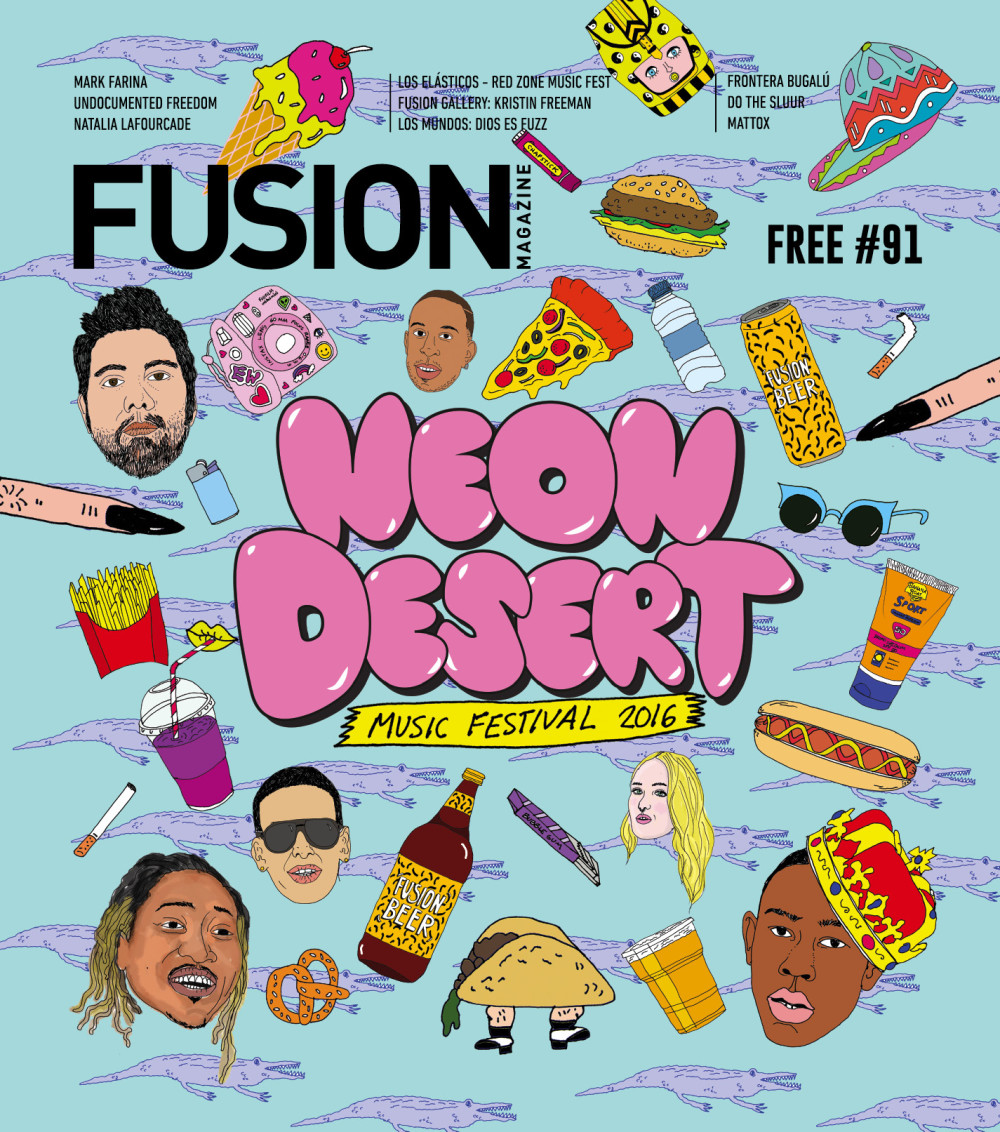 Neon Desert Music Festival​ is back ready to kick us off into festival season Memorial Day weekend with an incredible line-up of talent featuring: Tyler, the Creator​, Deftones​, Future​, A$AP FERG, Natalia Lafourcade​, Strfkr​, Carnage​, Tiësto​ and many more ready to rock the Sun City. Fusion Magazine Issue #91 covers NDMF and features interviews with indie rock and festival headliners MUTEMATH as well as Chicago house/acid jazz legend Mark Farina!  We feature Mexican pop-singer and fest headliner, Natalia Lafourcade and we sit down with local punk rockers Sluur and speak to them about the El Paso music scene. Our Fusion Gallery highlights the art of Kristin Freeman—who is set to paint live at NDMF!
Outside of covering NDMF, Issue #91 puts the spotlight on experimental/post-rock band Mattox and alternative cumbia band Frontera Bugalú who, both, recently released albums. Film maker, Laura Bustillos, sheds light on a common struggle with her documentary "Undocumented Freedom", and we had the opportunity to speak with Laura about her project. Last but not least, we interview rock band Los Elásticos and we highlight local business Kopi Coffee. Check us out digitally or pick up a PRINT copy at any of our distribution locations! We'll see you this weekend at NDMF; don't forget your sunblock!! #NeonDesert2016 .
Thanks to Andrea Gonzáles Belt for the cover!!
We are real
We are print 
El calor ya se siente y no sólo es culpa del calentamiento global, ¡el Neon Desert Music Festival está de regreso!, y FUSION MAG también con la edición #91. NDMF uno de los festivales más grandes del sur de EUA, regresa presentando a Tyler, The Creator, Deftones, Future, A$AP FERG, Natalia Lafourcade, STRFKR, Carnage, Tiësto y muchas bandas más, el verano ya está aquí y más vale estar listo con nuestro Neon Desert Party Pack, con todo lo necesario para hacer que esta quinta edición del festival sea inolvidable. También tenemos entrevistas con Los Mundos, Los Elásticos, Mark Farina, Mattox, Sluur, cine, arte y lo mejor de nuestras ciudades. #NeonDesert2016
Hablamos con el DJ Mark Farina sobre sus días de record spinning, cómo era la escena electrónica 80's-90's, y la influencia que el jazz tiene en su propia composición. *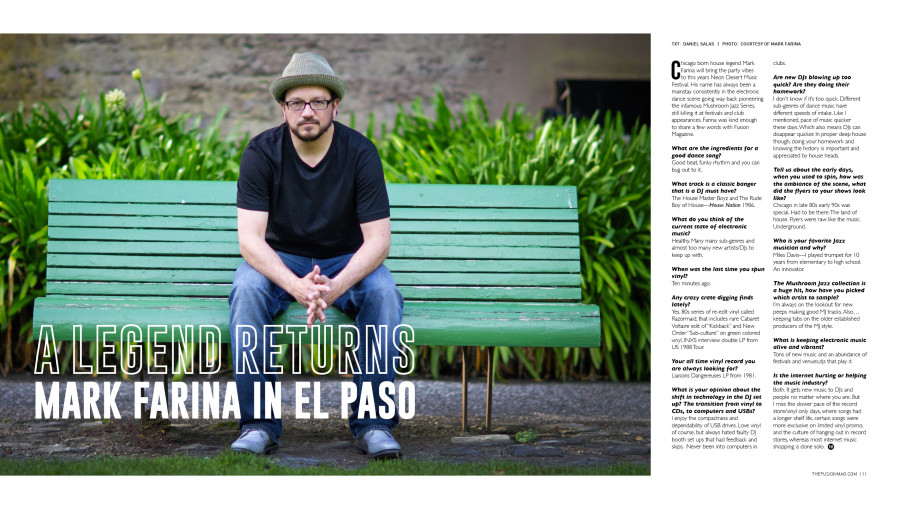 Con la vibra de festival, MUTEMATH nos cuenta cómo ha sido la experiencia como banda tocando para públicos más grandes y los cambios que han tenido en su sonido en los últimos años. *
Ciertamente todos han escuchado el nombre de Natalia Lafourcade por todos lados, pues es una de las mejores artistas de América Latina. Por acá te contamos un poco más sobre su carrera y el lugar en el que se encuentra actualmente. *
La escena musical de El Paso está teniendo un revival lleno de nuevos sonidos y calidad, Sluur es parte de esta nueva ola y platicamos con ellos sobre esto durante el SXSW.*
Siguiendo con esta línea del El Paso, Mattox, quienes se clasifican no como una banda, sino como un colectivo, presenta su nuevo álbum El País de los Desaparecidos, el cual está inspirado en un artículo de la revista proceso que habla sobre la crisis de desapariciones diarias en México.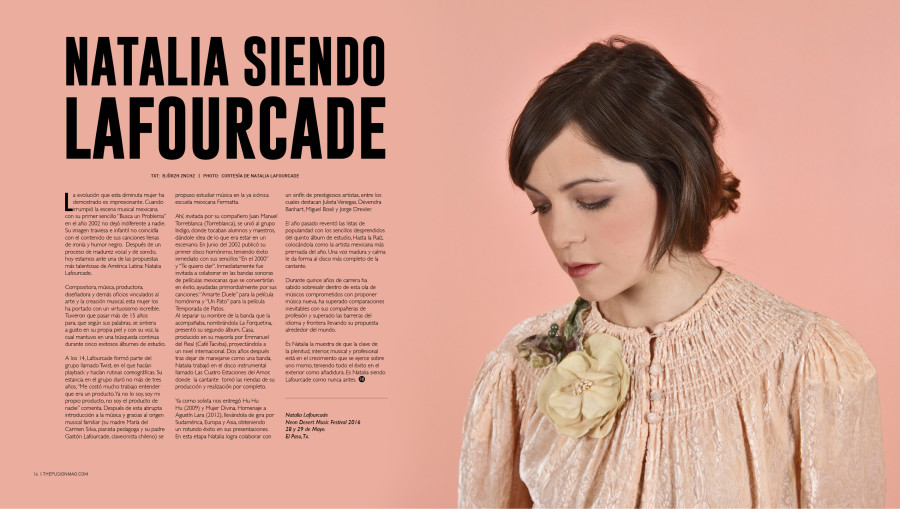 Frontera Bugalú son también originarios de esta frontera y acaban de regresar con nuevo material, Alma de Jaguar, que lleva las raíces originales de la banda y está listo para llegar a tus oídos y bajar hasta los pies.
Influenciados por la lucha libre, el rock y la cultura pop, nacen Los Elásticos. Gracias a su participación en el Red Zone 2016, tuvimos la oportunidad de platicar con ellos de dos a tres caídas y sin límites de tiempo.
Los Mundos es una banda difícil de clasificar, pero podríamos decir que es un tipo de psicodelia mexicana con fuzz envolvente. ¿No les convence tanto la referencia? entonces los invitamos a escuchar su música y leer esta entrevista que tuvimos con su vocalista, Luis Ángel Martínez.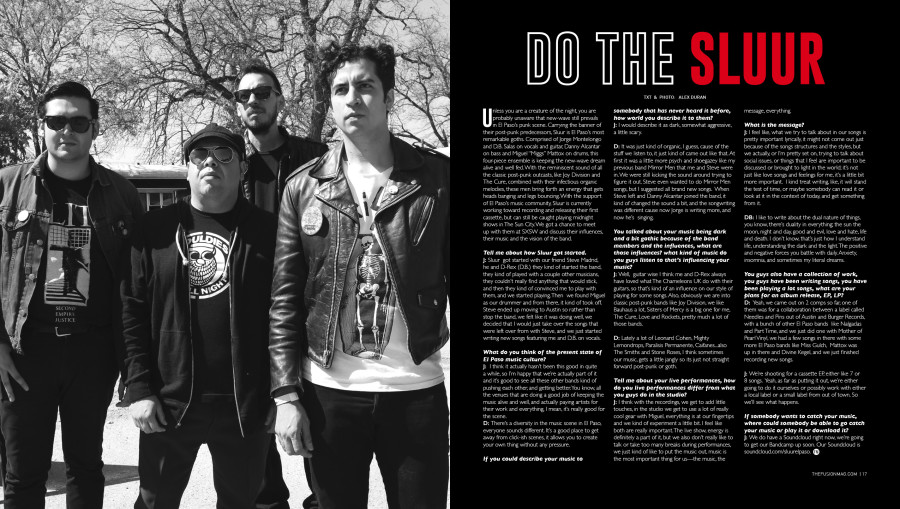 Kristin Freeman haya la inspiración para su trabajo en encuentros positivos entre la gente y en conocer nuevos lugares. Está influenciada en su vida diaria, que pasa en Austin Hill Country y sus viajes a Francia. Conoce más sobre ella en el Fusion Gallery .*
Undocumented Freedom es una serie de documentales dirigidos por Laura Bustillos. El episodio I trata sobre la vida de Beto, un chico indocumentado viviendo en los Estados Unidos, mostrando su realidad y los conflictos de ser una, de las millones de personas indocumentadas en el país.
Kopi Coffee acaba de abrir sus puertas y su dueño Amhed Orozco, está preparando algo más que tu típico capuchino o latte, descubre más en este artículo.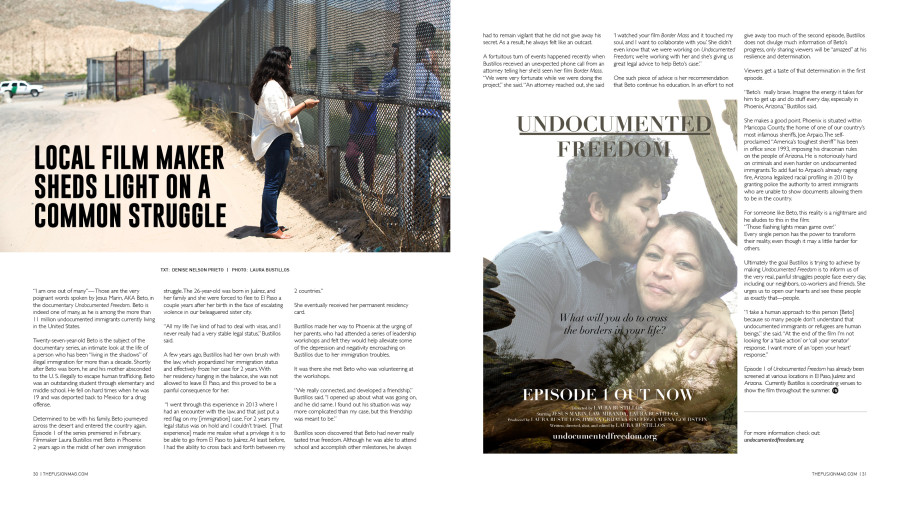 *Tocando en el Neon Desert Music Festival 2016 
We are real
We are print