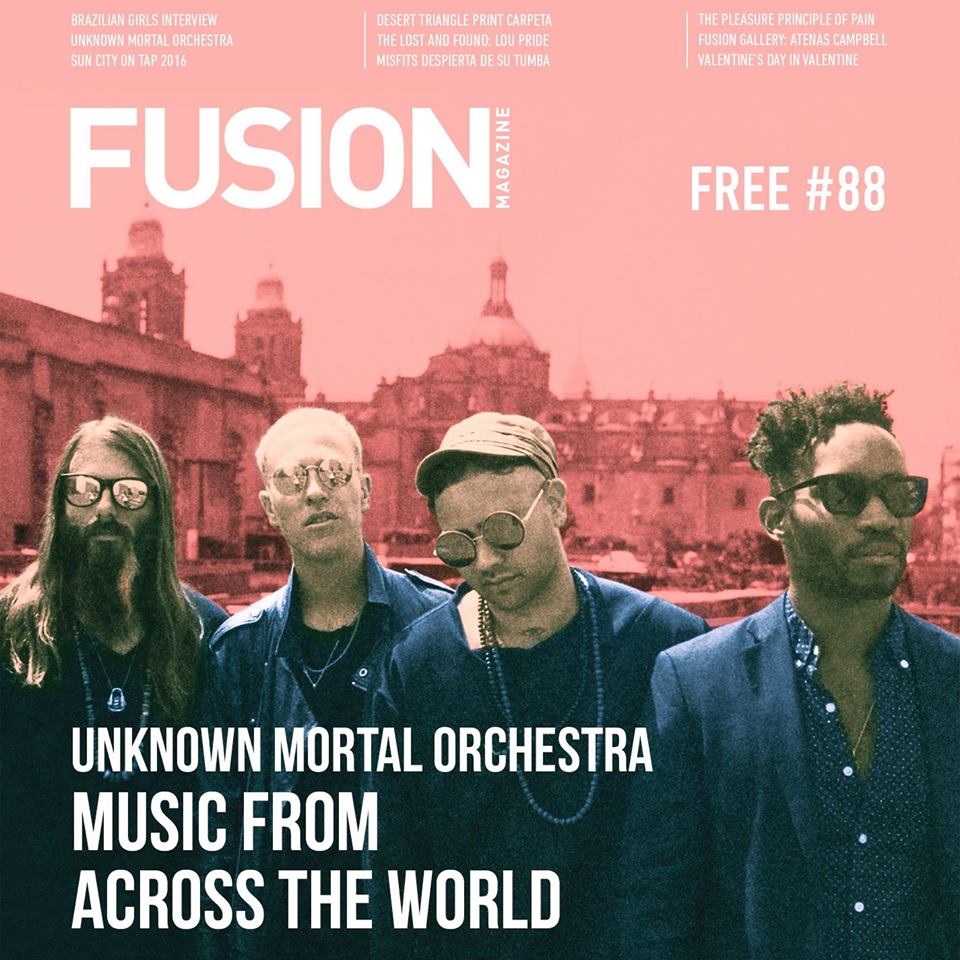 Welcome to our inaugural issue of what's already shaping up to be an exciting, entertainment filled year. On the cover of Fusion Magazine #88, is Unknown Mortal Orchestra, an American/ New Zealand rock foursome. The band will grace the Lowbrow stage February 5.
Brazilian Girls takes us on tour in their interview and talks about their unique and inspired brand of EDM.
Big Bend Brewing Co. shows folks how to get down at their annual bash. Fittingly, the party is on Valentine's Day in you guessed it– Valentine, TX. Forget the hearts and flowers. Its all about the suds!
As if it weren't phenomenal enough that iconic punk legends The Misfits are playing House of Blues Chihuahua February 17th, we, got a nice little profile of the band in this issue.
Desert Triangle Print Carpeta profiles the portfolio of this interesting group of local and national artists and printmakers. Their specialities include lithography, serigraphy and fine art prints. We had a chance to talk about them about their recent projects.
Lou Pride was indeed the pride of one of the city's few record labels circa 1960s & 70s.  Suemi Records produced Pride's hits "I'm Com'un Home in the Morn'un" and "I'm not Thru Lov'un You." You can read about it in Issue 88's beloved column the Lost and Found.
Ah the smell of leather and beatings in the morning. Read about Mr. X and how he likes to be punished in The Pleasure Principle of Pain.
Yes, they've done it again; Sun City on Tap is Townsquare Media's annual craft beer celebration. The event adds layer upon layer of entertainment with phenomenal beers, great food, live bands, games and a VIP lounge.
Gain some insight into artist's Arenas Campbell's work in this month's Fusion Gallery.
¡Bienvenidos a la primera edición del año! el cual que ya pinta a estar lleno de entretenimiento y emoción. En la portada de Fusion Magazine #88 se encuentra la banda de rock de Estados Unidos / Nueva Zelanda, Unknown Mortal Orchestra, los cuales se estarán presentando en el escenario del Lowbrow este 5 de Febrero.
Brazilian Girls nos lleva de tour con ellos en esta entrevista y nos hablan sobre su sello único.
Big Bend Brewing Co. les enseña cómo pasar un buen rato con su fiesta anual de San Valentín, como ya saben en Valentine, TX. ¡Olviden los corazones y las flores!
Como si no fuera suficientemente emocionante que la banda icónica The Misfits visita la ciudad para dar un show en el House of Blues Chihuahua este 17 de Febrero, les tenemos una pequeña reseña de la banda en este número.
Desert Triangle Print Carpeta muestra el trabajo de un interesante grupo de artistas locales y nacionales, así como también impresores. Sus especialidades incluyen litografías, serigrafías e impresiones de arte. Hablamos con ellos sobre proyectos recientes.
Lou Pride fue sin duda el orgullo de una de las pocas disqueras de la ciudad por los años 60's y 70's. Suemi Records produjo los éxitos de Pride " I'm Com'un Home in the Morn'un" y "I'm no Thru Lov'un You". Pueden leer más en la columna Lost and Found de este número.
¡Oh, el olor del cuero y los golpes por la mañana! Lean sobre Mr. X de El Paso, a quien le encanta ser castigado, en el árticulo "The Pleasure Priciple of Pain".
Sí, lo hicieron de nuevo; Sun City on Tap es la celebración anual de cerveza artesanal de Townsquare Media. Este entretenido evento contará con cervezas fenomenales, buena comida, bandas en vivo, juegos y un área VIP, todo para pasar un buen día.
Adéntrense un poco más en la visión de Arenas Campbell, el artista de este número en Fusion Gallery.