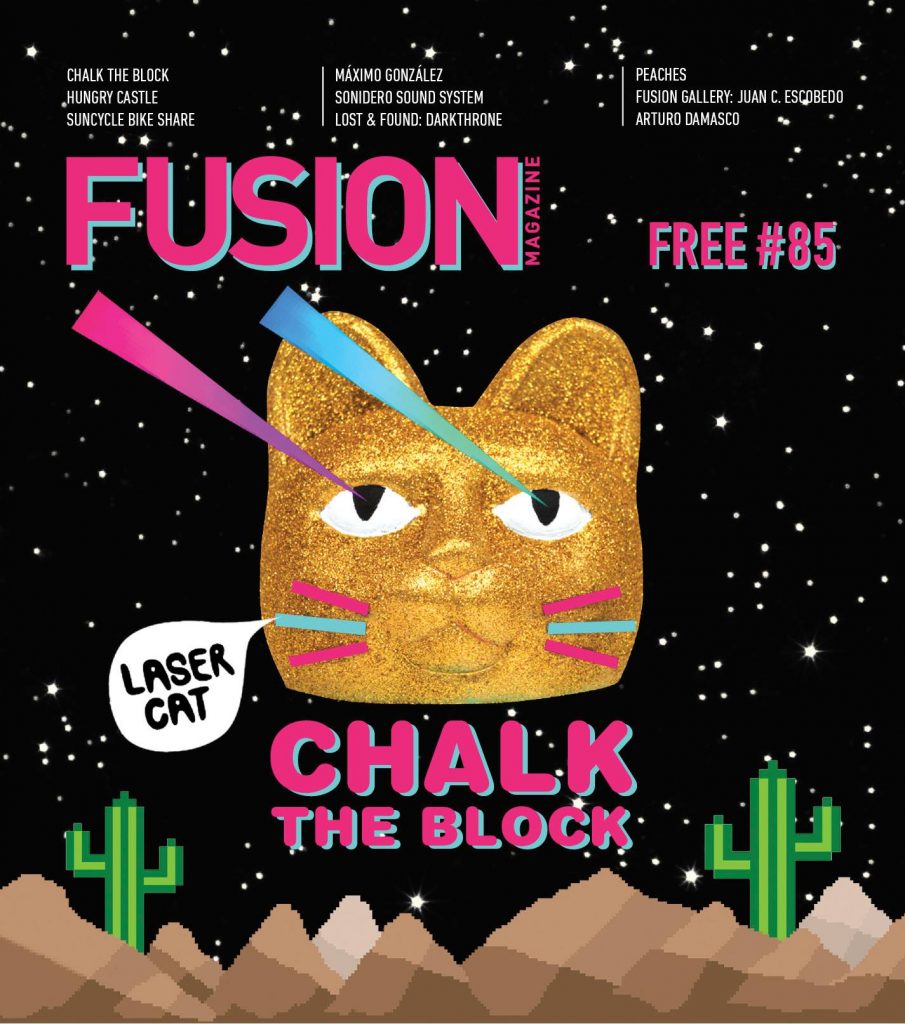 Fusion Magazine Issue 85 is out now featuring El Paso's largest free three-day public arts festival Chalk the Block!
CTB celebrates 8 years and brings together about 200 local, national and international artists from all disciplines annually. This year's CTB featured artists include Hungry Castle who brings his installation "Laser Cat," Maximo Gonzalez and his "Walk Among Worlds" and many more!
Along with CTB, Issue 85 also features Arturo Damasco Martínez—creator of the famous mural on Juárez Street in Cd. Juárez, of the Mexican pop icon Juan Gabriel.
Our Fusion Gallery highlights the work of the talented painter from El Paso, TX, Juan C. Escobedo.
The second annual Southwest Horrorfest returns to El Paso this Halloween season and offers a day of entertainment, food, competitions and of course—horror!
Staying on the theme of Halloween, El Paso radio station KLAQ is back with its famous and better-than-ever KLAQ Haunted Forest!
Aside from Halloween, the month of October offers people an opportunity to celebrate a little bit of the German culture with Oktoberfest which highlights our favorite (and preferred) beverage, beer! KLAQ helps us celebrate this delicious beverage with Oktobeerfest, a beer fest taking place at Cohen Stadium, the former El Paso Diablos home.
The El Paso Zooligical Society is hosting its second Brew at the Zoo event this November and we touched base with Analisa Cordova Silverstein, event coordinator,about this exciting event that highlights the zoo animals and of course,beer!
Issue 85 puts the spotlight on a few thrilling musicians—Cd. Juárez reggae band Sonidero Sound System, electro-clash/synth-punk artist Peaches and the classic black metal band Darkthrone are featured in this month's The Lost and Found column.
Lastly, we feature Suncycle Bike Share, El Paso's bike sharing program that launched across Downtown, El Paso Community College and UTEP in mid-September.
Once again, we'd like to thank you for keeping up with us! Remember to follow us on Facebook, Twitter and Instagram for daily highlights and updates!
PRINT IS NOT DEAD!
¡Fusion Magazine edición 85 esta aquí! Presentando Chalk the Block, el festival gratuito más grande de arte en El Paso, Texas.
 CTB celebra 8 años de brindar lo mejor año con año de 200 artistas locales, nacionales e internacionales de todas las disciplinas artísticas. Este año CTB incluye instalaciones como "Laser Cat" de Hungry Castle, "Walk Among Worlds" de Máximo González y ¡muchos más!
 Junto con CTB, nuestra numero 85 presenta una entrevista con el artista Arturo Damasco Martínez, creador del famoso mural del ídolo y artista mexicano Juan Gabriel ubicado en la calle Juárez de Cd. Juárez.
 En nuestra sección Fusion Gallery tenemos a Juan C. Escobedo, un talentoso pintor de El Paso,Tx.
 El segundo Horrorfest de Southwest regresa a El Paso esta temporada de Halloween y nos ofrece un día de entretenimiento, comida, concursos y por supuesto – ¡horror!
 Y siguiendo con el tema de Halloween, la estación de rock KLAQ regresa con su KLAQ Bosque Embrujado y ¡regresa mejor que nunca!
 El mes de octubre además de celebrar Halloween es la oportunidad de celebrar un poco de la tradición Alemana con el Oktoberfest que aparte de basarse en la celebración de la cerveza (nuestra bebida favorita, claro está), y KLAQ lo celebra con nosotros con su Oktobeerfest, un festival de cerveza que se llevara a cabo en las instalaciones del Cohen Stadium, la casa de El Paso Diablos.
 El Paso Zoological Society organiza su segundo Brew at the Zoo evento que se llevara a cabo este noviembre. Platicamos con Analisa Cordova Silverstein, coordinadora de este evento y nos cuenta los detalles acerca de Brew at the Zoo, de los animales del zoológico y claro ¡cerveza!
 Nuestra edición 85 pone en el reflector a Sonidero Sound System, banda originaria de Cd. Juárez de reggae, también tenemos todo el sonido electroclash y synth punk de Peaches que estrena nuevo disco y en nuestra columna Lost and Found tenemos a Darkthrone  banda clásica de black metal.
 Y por último reseñamos el más reciente programa de préstamo de bicis (bici pública), llamado: Suncycle Bike Share, que estará ubicado en diferentes puntos del centro de El Paso, El Paso Community College y UTEP.
 !Y una vez más, nos gustaría agradecerte a ti por seguir con nosotros! Recuerda seguirnos en Facebook, Twitter e Instagram para actualizaciones de eventos y buen contenido.
 PRINT IS NOT DEAD!